Modern pentathlete Natalya Coyle is aiming to raise the bar and have a tilt at the podium in this her third Olympics, following her ninth place finish at London 2012 and sixth in Rio 2016.
Coyle has a medal firmly in her sights in Tokyo and has learned from her two previous Olympic experiences that a medal should not be beyond the reach of the talented Meath athlete.
The 30-year-old has taken the year delay to the Games and the obstacles thrown up in the Covid-era - which ultimately contributed to her fiancé Arthur Lanigan-O'Keeffe missing out on a third Olympics due to injury – in her stride.
"I think my relationship with the Olympics has definitely changed," Coyle said.
"It's been great for me to see the passion of other teams – like when the hockey girls qualified. That really reminds you of that original love for it.
"For me now, I think it's really exciting and a great honour but I also see it more pragmatically – there's a job to be done. And especially in this Covid era, it's kinda weird – there is a job to be done and Covid has gotten rid of all the razzmatazz of the Olympics anyway.
"I think this time around, for me, I feel there's a job that I can do and that's the way I look at it."
Coyle's love for the Games has not waned, the enthusiasm and excitement is still there, but she's going in with more of a competitive edge to her approach in Tokyo.
She said: "I still love it, and I'm really excited to watch everything, but I've gone to my third Games now and when I think back to my first one, I just wanted to qualify and I was so excited.
"This time, even before I did my qualifiers I was thinking 'oh, I'm going to qualify, there's a different job to be done'.
"I still love it as much as I did the first time, but it's just a different kind of feeling."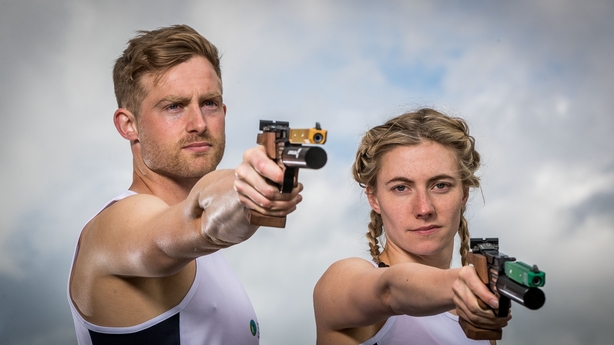 Modern pentathlon covers five disciplines – swimming, fencing, riding, running and laser shooting – and Coyle, who finished in fifth place at the UIPM 2021 Pentathlon World Cup final, says she has seen a big improvement in her fencing, which could ultimately make a difference from her previous Olympic performances.
"I think my fencing has come on an awful lot, and that's put me in good positions for the end of the day," said Coyle.
"I've a really good fencing coach, Andrei Fedotov, and he kind of inspires a lot of confidence in me
"Before London and Rio where I had really, really good Olympic performances, I really hadn't the same standard of performance in other events throughout the year.
"They were really good showcases and I'm delighted how they went, but they were a bit isolated. This time round, coming into these Games, I have a string of medals and then in my last competition I came fifth in the World Cup final.
"I've steadily been getting more consistent and better across the years, so I definitely think I can get better each Games. I've been in medal positions multiple times now, so I don't get as nervous as I used to."
The Modern Pentathlon women's final begins Thursday with the fencing ranking round beginning at 5.30am Irish time.
The competition continues on Friday from 6.30am Irish time starting with swimming, then the fencing bonus round (7.45am), riding (9.15am) and finally laser shooting (11.30am).