Kellie Harrington secured Team Ireland's second goal medal this morning with an unanimous decision victory over reigning world champion Beatriz Ferreira of Brazil.
Harrington's win has been greeted with joy around the nation as the frontline worker during the pandemic turned into an Olympic champion.
Earlier in the Games she unanimously beat Algeria's Imane Khelif to guarantee at least a bronze.
The Dubliner went on to beat Sudaporn Seesondee of Thailand to set up this morning decider against Ferreira.
From Portland Row in Dublin's north-east inner city, Harrington won her first major medal for Ireland in 2016, taking silver at the World Championships in Astana.
Her upward trajectory continued with silver at the EU Championships in 2017 and bronze at the Europeans in 2018 before she became world champion the same year at New Delhi.
The following year was disrupted by a wrist injury and she had to withdraw from the European final against Finland's Mira Potkonen. Harrington wouldn't return to the ring until January of 2020 before Covid-19 greatly disrupted the boxing calendar, and meant she didn't fight again until February of this year.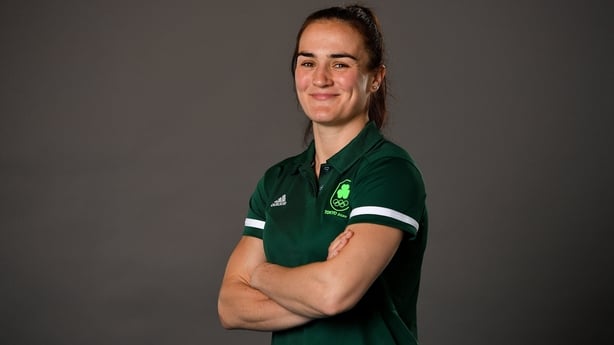 Her Olympic place was only confirmed in June of this year, but she's justified her top seeding so far in beating Italian Rebecca Nicoli in her opener, before today's victory over Khelif.
Before she stepped in the ring in these Games she was chosen as Ireland's flag-bearer, alongside Brendan Irvine, at the opening ceremony.
The 31-year-old is fiercely proud of where she comes from, and indeed home was on her mind immediately after she claimed her medal.
"Everything I've achieved I owe to Noel Burke, who is my club [St Mary's] coach at home," she told RTÉ Sport.
"I've heard that it's lit back home. I'm just so happy and my emotions really come [out] when it comes to this. To be able to give them something to be happy about and to sing and dance. Just for one person lifting the nation."
Her dad told RTE News before the Games that, "she's just magic. I'm not just saying that because she is my daughter, she is amazing. We are all proud as punch."
Harrington is revelling in Olympic experience, but is keeping things in perspective in the Japanese capital.
"I'm just fighting for myself, fighting for my own honour and what will be will be," she said after beating Nicoli.
"If I get a medal that will be great, but as long as I give it everything, as long as I step out of the ring knowing that I have given everything I will be happy."
She did that and then some.
More Harrington magic saw her join an elite group of Irish Olympic gold medallists today.