Leon Reid has missed out on a place in the final of the men's 200 metres at the Tokyo Olympics.
The 27-year-old posted a time of 20.54 to finish seventh in a fast semi-final.
The race was won by Canada's Andre de Grasse in a national record of 19.73. Kenneth Bednarek of the US was second in a time of 19.83 to book his place in the final.
Reid, who ran a season's best 20.53 in the heat earlier today, made a positive start from Lane 3, but could not stay in touch with the leaders in the final 100 metres.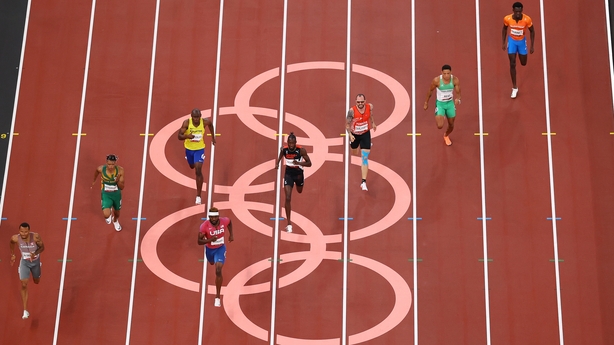 Speaking to RTÉ Sport after the race, he said: "I was just trying to hold that pace and go around and then kick off the bend, but I didn't have that kick and rhythm that I usually have. I just couldn't turn it over and go again.
"You can see people ahead of you and you've got to, not chase them, but gradually catch them in your own way, but not like hunt them down, but more like focus 'I've got to go again ...' and hopefully get closer to them.
"I wanted to be more in the mix than just on the race sheet. Back to the drawing board, I think."
Seventh in the 200m semi-final, Leon Reid gives his reaction to RTE Sport following a busy day on the track for the Irish sprinter. #RTEsport pic.twitter.com/bngZAVdMpf

— RTÉ Sport (@RTEsport) August 3, 2021
Earlier, Reid got up to finish fifth in his heat and posted the same time as Ukraine's Serhiy Smelyk.
A further inspection of the times saw Reid given the nod to compete in the semi-final in the last of the fastest times outside of the automatic qualifiers.
Marcus Lawler finished sixth in his heat in 20.73 seconds. That was also a season's best time, but not enough to go through to the semi-finals.