Aidan Walsh's father has said he has no doubt the Belfast boxer can secure Olympic gold in Tokyo.
The Monkstown Boxing Club fighter has guaranteed himself at least a bronze medal following his welterweight quarter-final win over Merven Clair of Mauritius.
He will have an opportunity to upgrade that to at least silver when he faces Britain's Pat McCormack at 4.03am Sunday (Irish time).
Speaking to RTÉ's Morning Ireland after watching the bout in the early hours of the morning, Damien Walsh said he was "very, very proud" of both his Olympian offspring.
Michaela Walsh, Aidan's sister, also qualified for Tokyo 2020, where she lost out to Italy's Irma Testa on a unanimous decision in her last-16 women's 57kg featherweight bout.
"Obviously Team Ireland have got behind him and believe that he can go for the gold medal"
"Seeing Aidan with the bronze medal in the bag, and his sister there to support him all the way and his family back at home there to support him all the way, we're very proud of him," Damian Walsh said.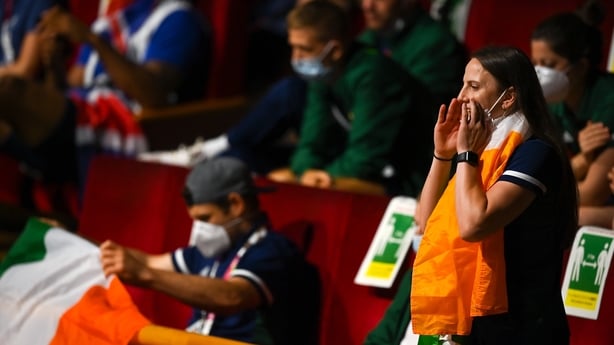 He said he was glad to see it after "all the years of hard work" put in by Aidan, as well as by those at Monkstown Boxing Club, including himself and coach Paul Johnson.
"Obviously Team Ireland have got behind him and believe that he can go for the gold medal," he said.
"I've no doubt in my mind that he can do this."
He said his son is the kind of guy who just wants to do things the right way, and said his motto is "just get in, get the job done".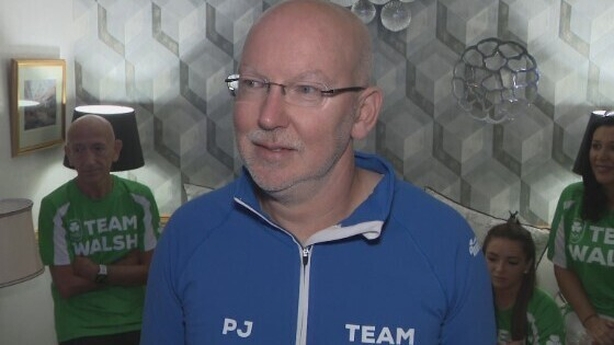 Paul Johnson described the quarter-final performance as "textbook Aidan Walsh".
"Hit and not get hit, that's been his tactics throughout his career," he said on the same programme.
Johnson admitted it was like pressure had been released now that an Olympic medal - colour to be confirmed - has been secured.
"Myself and his dad have been with him and Michaela for the last five years, Damien has been there longer, and just the dedication, the commitment these young people put into their sport, they sacrifice so much and they deserve the highest achievement.
"Aidan today has won that medal but I know he will aim for gold and his sister will be there in his corner," he said.
Paul Elliott, Aidan's uncle and the host of the late night viewing party, said it was "very emotional" for all those watching from home.
"We're coming home with a medal," he said, "we're bringing it home."
"We know he's going to go the whole way and get the gold as well. It doesn't stop here"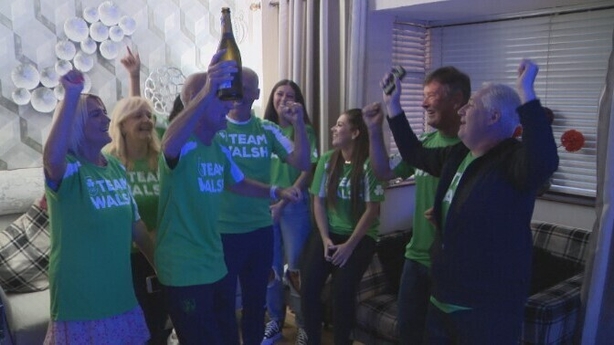 Mother Martine Walsh said she was "over the moon" and "so, so proud" of both her children following events overnight in Tokyo
She said Aidan and Michaela "do everything together and work so hard" and that hard work has now paid off for Aidan.
Speaking on Morning Ireland she said was disappointed for Michaela after her defeat earlier in the week, but added that it "wasn't meant to be".
She said she spoke to Aidan and Michaela this morning and they are "on cloud nine", with Aidan saying he is ready to go for the next fight.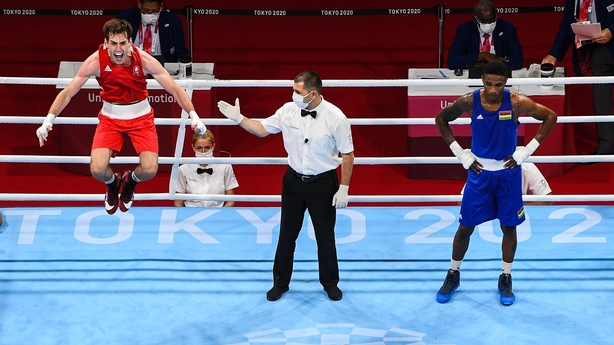 Daryl Clarke, Aidan's sparring partner at Monkstown Boxing Club, described the medal success as a "phenomenal achievement" and said "no one deserves it more".
"Everyone in Monkstown and in the boxing club are incredibly proud of him.
"We know he's going to go the whole way and get the gold as well. It doesn't stop here," he said.
"What a phenomenal achievement and we're just so proud to call him a clubmate."
Clarke said it was amazing to learn from Walsh in the ring because as well as being "incredibly hard to hit" he is a naturally talented person.
"You always learn something from him and it's just amazing to share the experience and share the ring with him, and now we can say we shared the ring with an Olympic medallist," he said.
Clarke added that they are all looking forward to the semi-final in the knowledge that Walsh is going to change the colour of his medal.