The medal-winning Irish rowing duo of Paul O'Donovan and Fintan McCarthy had no time for talking as they put the blinkers on to chase down their competitors and claim Olympic gold.
Speaking after their historic victory in Tokyo, McCarthy said the west Cork pair knew that the Italian and German boats would be ahead of them for at least part of the course at Sea Forest Waterway.
"We had a clean enough race," he said.
"It was mainly putting the blinkers on because we knew the Italians and Germans were going to be ahead for some of the race at least, so it was just about getting down the course and trying to do it faster than everyone else."
---
READ MORE
---
McCarthy admitted that he was a "little bit" concerned that they wouldn't overtake the Germans in the closing stages.
His team-mate Paul O'Donovan - already an Olympic medallist from Rio 2016 - said the team always tell themselves that they simply focus on performing as well as possible.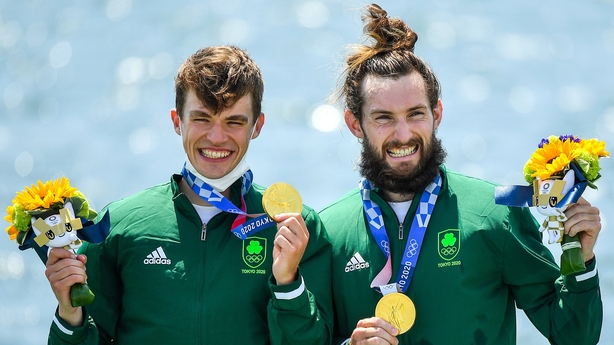 "We always say to ourselves that we can't affect our competitors and they can't affect us, so we just go out and execute the fastest race that we can do.
"You talk a little about what the other crews are going to do but they're all pretty consistent - they like to go out hard and lead from the front and that's what happened.
O'Donovan said the Irish pair had a better start than usual, which they were pleased with.
"You can't like, you're rowing hard, you can't be talking like."
"We put a lot of effort into going fast off the start and it paid off and we were good and solid down the middle of the course.
"Germany gave us a big tussle all the way down," he added.
O'Donovan said the team are constantly gauging how things are going, and how much effort they are expending during the race.
"There were a couple of times when Fintan called 'Up, go' and I was like 'A bit early for this now but I suppose we better try it alright', because the Germans were still ahead of us, but we still had a bit of a sprint in reserve for the last bit," he said.
However, he said the levels of communication in the boat are fairly limited.
"You wouldn't call it communication at all," he admitted.
"We'd be on the start line and just be like 'The plan is we'll do something similar to we always do' and then in the race Fintan just says 'up' or 'go' and that is it.
"You can't like, you're rowing hard, you can't be talking like."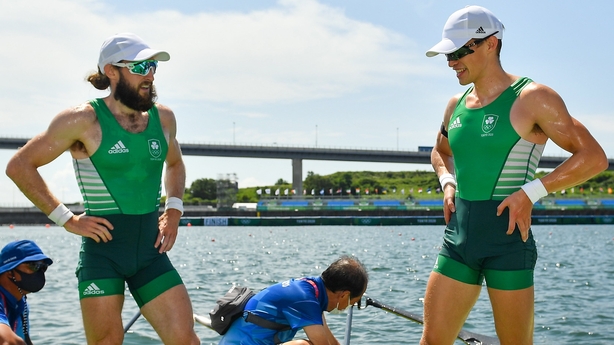 McCarthy confessed that 'Up' and 'Go' are his go-to phrases when cajoling his team-mate, with O'Donovan adding that he get confused if his Skibbereen neighbour said too much.
While O'Donovan had been there and done that before, it was a first Olympic final for McCarthy.
Not that it seemed to faze him.
"I was actually saying earlier on it was kind of bizarre, I didn't feel that nervous," he said.
"Usually there would be a little bit [of nerves], but it was just that we'd done everything we could to prepare so if it wasn't going to go our way it wasn't because we hadn't left any stone unturned.
"We'd done our best in training, we were going to put our best race out there and it was kind of just 'go and do it'."
He said there was a "fierce burst of excitement" crossing the line, but said it probably hasn't sunk in properly yet.
The welcome and love for @TeamIreland rowing gold medallists Fintan McCarthy and Paul O'Donovan as they return to the Olympic village pic.twitter.com/UaXU2ivwLl

— Gary Lemke (@GaryLemke) July 29, 2021
The duo received a hero's welcome on their return to the Olympic Village, with most of Team Ireland rersident there to celebrate them with a guard of honour.
"That was a nice moment coming back to the village alright," McCarthy said.
"It's kind of a good time as well because most of the people who are on Team Ireland are there at the moment so it was good to get everyone out and see everyone again."
O'Donovan, the old hand at winning Olympic medals, remained cool, calm and collected.
"I think people think you'd be more excited than what you actually are," he said.
"From my experience, its fine, you're very happy winning but at the end of the day you forget about it and get on with life."
He also downplayed the fact that they are just the seventh and eighth Irish athletes to win Olympic gold medals.
While he said it was nice for headlines, he attributed it to the fact they were "born early in the history of time".
"In a million years I'm sure we'll have a lot more gold medallists from the Olympic games so we can't take credit for that - its just a bit of luck being born when we were."