Three-time Olympian Sanita Puspure flew the flag for Irish rowing when no one else was flying it, team manager Feargal O'Callaghan has said.
On a somewhat bittersweet day for Irish rowing, the Old Collegians rower missed out on a place in the women's single sculls final with a fifth place finish in her semi-final.
It came shortly after the gold medal winning performance by Paul O'Donovan and Fintan McCarthy in the men's lightweight double sculls final.
Speaking after the races, O'Callaghan paid tribute to Latvian-born Puspure, saying she has been the "spearhead" of Irish rowing for the past decade.
"Sanita was flying the flag for Irish rowing when no one else was.
"I think she's been a credit to her country, she's a two-time world champion and we should never forget that," he said.
Puspure competed in London 2012 - becoming Ireland's first female single sculler at an Olympics since Moscow 1980.
"She's inspired young boys and young girls all over the country to take up rowing and other sports."
She followed that up in Rio in 2016, missing out on a semi-final spot by the narrowest of margins.
The 39-year-old went on to claim gold medals in the single sculls at the the World Championships in 2018 and 2019 - and the 2019 and 2020 European Championships.
O'Callaghan said he felt "gutted" for Puspure, but said she has "done rowing in Ireland proud" and "can hold her head high".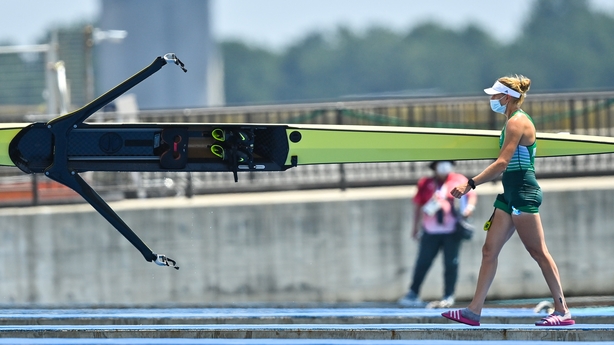 He said her legacy was not solely in the performances that saw her reach three Olympic Games and win numerous international medals.
"She's inspired young boys and young girls all over the country to take up rowing and other sports.
"We came here with the biggest team we ever had and while Sanita hasn't gotten the result she would have liked she has been the spearhead, along with Paul [O'Donovan] for the last couple of years.
"She drove it forward when no one else was doing it," he said.
Irish Rowing Team manager Feargal O'Callaghan on the disappointment of Sanita Puspure not making an Olympic final - 'She's a credit to the country - Sanita was flying the flag for rowing in Ireland when nobody else was' #olympics #tokyo2020 #RTESport pic.twitter.com/i2r1UkOy0O

— RTÉ Sport (@RTEsport) July 29, 2021
O'Callaghan added that he "can't imagine" how Sanita feels at present, having missed out on a place in the final.
Instead, she will compete in the B final in the early hours of Friday morning (9:05am Tokyo time).
"I know Antonio [Maurogiovanni] and the coaches will meet with her, she's got a race tomorrow, they'll meet with her and do an analysis and see what needs to be improved for tomorrow.
"I can't imagine how she feels to be honest myself, I feel devastated for her."
He said that regardless of the results, the Irish rowing team - and all Olympians - deserve respect
"We've to give credit to these rowers - to come here and put yourself on show in front of the world.
"Whether you perform well or not so well, it takes a huge amount of guts regardless of what way the result goes.
"There are not many people would put themselves out there like these people do and we have to take our hats off to them."