When Paul O'Donovan and Fintan McCarthy stepped on the gas to win the lightweight double sculls final in the early hours of Thursday morning, it brought Ireland's haul of gold medals at Olympic Games up to ten.
We've taken a look back on the other men and women who have delivered on the grandest stage of all since the nation entered the Games in 1924.
---
DR PAT O'CALLAGHAN
Year: 1928 Amsterdam Games & 1932 LA Games
Event: Hammer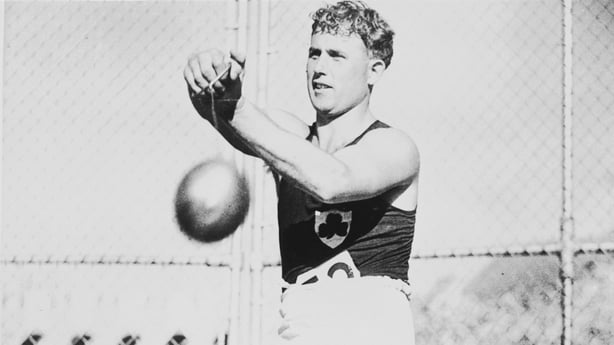 The first athlete to win an Olympic gold medal - or any medal - under the Irish flag, Corkman Pat O'Callaghan was part of a remarkably strong sporting family. His own interests were initially focused on Gaelic football and hurling but when he moved to Dublin to study, O'Callaghan discovered rugby and hammer-throwing. After winning two national titles throwing a home-made hammer made up of ball-bearings and a bicycle pedal, he travelled to Amsterdam for the 1928 Games to represent Ireland in the event. Against the odds, he won gold when he borrowed Swedish rival Ossian Skiold's hammer and achieved a throw that was unmatched. Four years later he went to Los Angeles and repeated the feat.
---
BOB TISDALL
Year: 1932 LA Games
Event: 400m Hurdles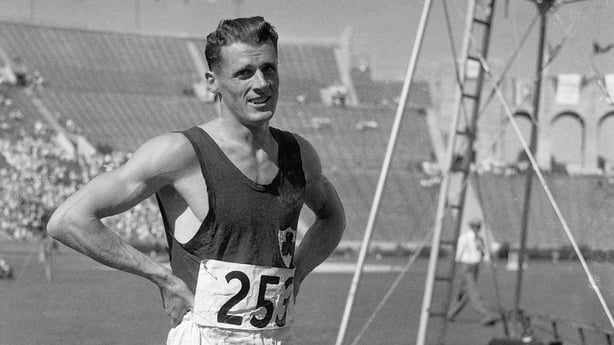 Tisdall lived in Sri Lanka until he was five before moving back to the family home in Co Tipperary. Another competitor who came from great sporting stock - his dad was a fine sprinter and his mother played hockey for Ireland - he later studied at Cambridge where he excelled in multiple track and field events. Tisdall's Olympic glory is entwined with O'Callaghan's - just an hour before the hammer-thrower claimed gold in Los Angeles, his compatriot blew the field away to win the 400m hurdles final.
---
RONNIE DELANEY
Year: 1956 Melbourne Games
Event: 1500m
The Wicklow man's talent had been obvious in the years leading up to the 1956 Games but it was still a shock when he won gold Down Under. He'd made the 800m final at the 1954 European Championship and two years later, in the build-up to the Olympics, Delaney became the youngest athlete to break the four-minute-mile barrier. Still, he was the underdog in the 1500m in Melbourne where Australian John Landy was fancied to deliver a home gold. In a perfectly paced performance, Delany steamed away from Landy on the final lap to take the victory and write himself into Irish sporting folklore. "Tactically, I wanted to win and I raced to win. In the Olympic final, I ran the perfect race," he told RTÉ Sport 60 years later.
---
MICHAEL CARRUTH
Year: 1992 Barcelona Games
Event: Boxing (welterweight)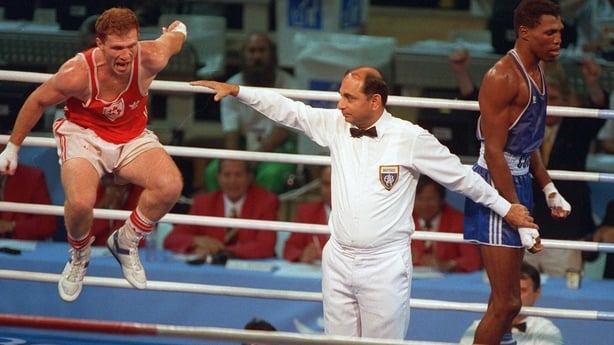 The first Irish boxer to win gold at a Games, Carruth's majesty on a tense morning in Barcelona was one of the great Olympic performances. He'd come through bouts with Mikaele Masoe of American Samoa, Germany's Andreas Otto and then Arkhom Chenglai of Thailand to give himself a swing at gold but it was hard to see how Carruth could get past the slick Cuban Juan Hernández Sierra. There was a secret weapon however: another Cuban, Nicolas Cruz Hernandez, was in Carruth's corner as a coach and he helped the Dubliner produce a masterclass in controlled, disciplined boxing.
---
MICHELLE SMITH
Year: 1996 Atlanta Games
Event: Swimming (400m & 200m individual medley/ 400m freestyle)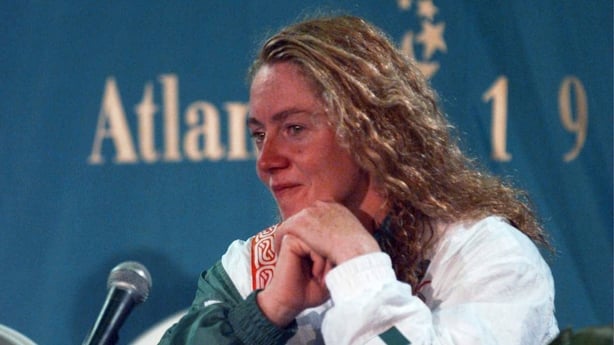 Ireland's most successful Olympian hogged headlines all around the world 25 years ago when she dominated the pool in the Atlanta. As well as her three golds, Smith also took bronze in the 200m butterfly. Just two years after the Games, she was banned for four years for allegedly tampering with a urine sample in a routine drug test at her home in January 1998. It was the end of her swimming career, though she was not stripped of her Olympic medals. Smith now works as a barrister.
---
KATIE TAYLOR
Year: 2012 London Games
Event: Boxing (lightweight)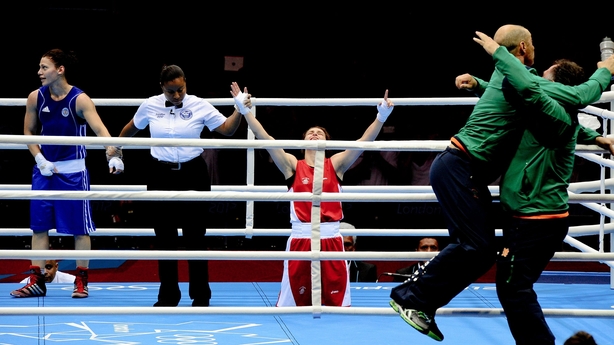 An overnight sensation a lifetime in the making, Katie Taylor used the London Games to show the world what Ireland already knew: she was a boxing superstar. Having received a first-round bye, she ground down Great Britain's Natasha Jonas in a cracking contest to make the semis and then outclassed Mavzuna Chorieva of Tajikistan. Roared on by an unbelievable crowd, she then edged out Russian opponent Sofya Ochigava to spark amazing scenes inside the ExCel Arena. After six successive European Championships and five consecutive World Championships, Taylor had the medal she craved the most. An Olympic official later said the decibel level during the fight hit 113.7, the highest at the Games - not far behind the 140 decibel roar of a jet engine.
---
PAUL O'DONOVAN & FINTAN McCARTHY
Year: 2021 Tokyo Games
Event: Rowing (lightweight double sculls)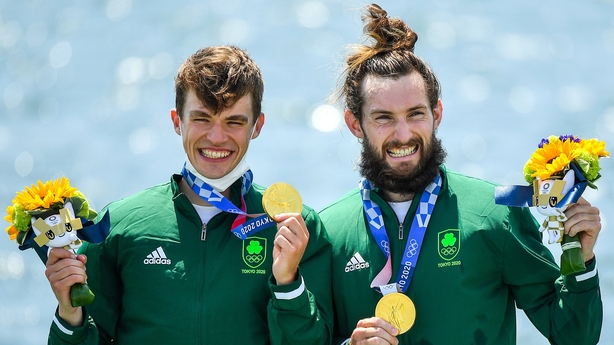 "That is one more chapter of magnificence from the men from County Cork!" George Hamilton captured the mood as O'Donovan and McCarthy surged across the finish line at the Sea Forest Waterway to claim Ireland's first ever rowing gold at an Olympics. But this had been coming. O'Donovan and brother Gary won silver in the same event five years ago in Rio, and these two were strongly tipped to go all the way just 24 hours after the women's four had earned bronze. "You don't really take in the history of the moment. You'd be well tired after the race," the ever laid-back O'Donovan asserted afterwards. Ireland's stunning progress in rowing generally had climaxed with the ultimate reward.