What do you do when your son has won an Olympic gold medal and you're home alone at 3am?
Open a bottle of champagne, of course.
These strangest of Games have meant that family and friends cannot be in Tokyo in person, but joy was still unconfined in the McCarthy house in west Cork on Thursday morning after watching Fintan and his crewmate Paul O'Donovan claim Ireland's first ever rowing Olympic gold medal.
Fintan McCarthy's mother Sue, father Tom, sister Kate and twin brother Jake were over the moon with his triumph in the wee small hours of the morning.
"Words can't explain it. I'm beyond proud of both of them. It's been amazing watching them," said Sue.
"Its so overwhelming, we're absolutely delighted," said father Tom.
"They've worked so hard. And they were pushed and they delivered and, yeah, it's amazing," added father Tom.
"I think the delay and the issues of Covid were challenging for everybody and they took that as an opportunity to focus it down and make the best of it," added Tom.
"He's been remarkably calm about it all," said Sue of her son and team-mate, who are renowned for their light-hearted post-race interviews.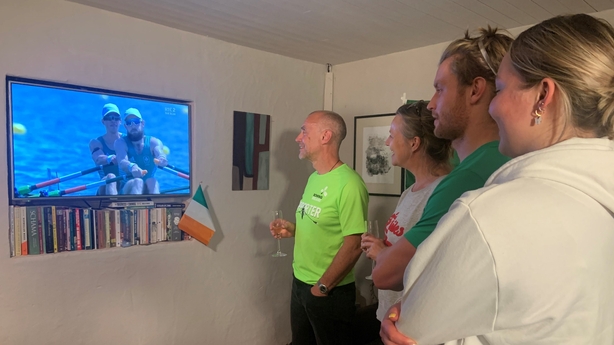 The parents described the last few years as 'relentless' and a 'rollercoaster', with 'lots of eating'.
"We hoped beyond hope that they would win, they were on form - they've been on form all season - and it seems that no one could touch them. So we just hoped that that would be the case again today and they didn't let us down," said Sue.
The first thing Fintan's parents want to do is give him a "big cuddle, see his face and say hi".
Added Sue: "It hasn't really sunk in yet, but we're beyond, beyond proud. You know, Fin's had this in his sights for a long time, and he did it. He just went out and did it."
Twin brother Jake, who rowed with Fintan, was wondering 'what next?'.
"We don't really know to be honest, we're just at the house. It's all over now and we're kind of thinking, oh, what do we now?
"It's nearly 3am and nobody's here so we can't really do anything."
On training in the now world famous Skibbereen Rowing Club, Jake detailed the hard work behind this gold medal.
"[Coach] Dominic Casey is kind of slave driver when it comes to training, it's non-stop grinding which obviously has worked. So put yourself in a hole and hope you come out I'd say!"
But now wasn't training time, it was champagne time.
Meanwhile nearby in west Cork, Trish O'Donovan said she does not want to experience another day like yesterday again.
Speaking on RTÉ's Today with Claire Byrne, Paul O'Donovan's mother said that being unable to watch her son and Fintan McCarthy in person was terrible and she wanted the race to be over so they could move on.
She said that she went to bed from around 5pm until 7pm for a power nap or she would not have been able to stay awake for the race.
She said it was horrible watching her son compete because she wanted to be there cheering him on.
However she added that they were fairly confident that Paul and Fintan would win from early on.
Describing her famously relaxed son, she said if he was "any more laid back he'd be dead", adding "nothing shakes him up".
She also revealed it was a real family affair in Tokyo when it came to Olympic medals as Emily Hegarty - a bronze medal winner with the women's heavyweight four earlier this week - is Paul's third cousin.