Ireland's Derek Burnett is in 25th place after the first day of the Trap Shoot competition.
Burnett, competing in his fifth Olympics, had a sluggish start missing out on three shots with a score of 22.
The Longford man improved in his next round, going wayward once, to score 24 which he also repeated in his third round, leaving him on a total of 70, four behind the top score of 74.
51-year-old Burnett sits 25th in the 29-man field with the last two qualifying rounds to be completed tomorrow.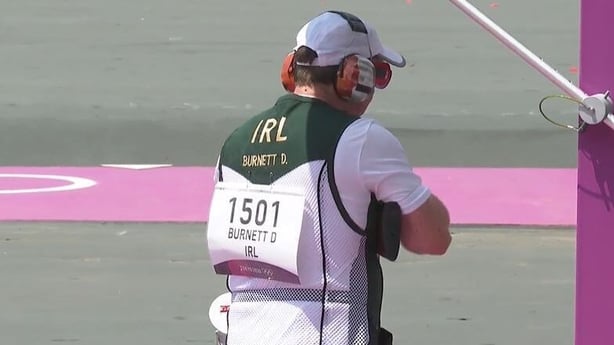 The top six qualify for the final with the field being led by Kuwait's Abdulrahman Al Faihan, followed by Thailand's Savate Sresthaporn and Italy's Mauro de Filippis who are all on 74, with Al Faihan leading on the count back.
Speaking to RTÉ Sport, Burnett said: "I had three misses which is a little hard to come back from, pushing the whole time to make up the deficit.
"I got two 24s then, so while it is decent, the level that's here is very high so it is hard to keep up."
As for his hopes of making the top six and getting a spot in the final, Burnett said: "If I could have a really good day tomorrow I'd have an outside chance."
The competition resumes Thursday at 1.50am Irish time.
Derek Burnett admits he has a battle ahead tomorrow after a shaky start to the trap #shooting#tokyo2020 #RTESport #olympics #rowing
?? Watch live - https://t.co/b2OI4OoWVJ
?? Report – https://t.co/gFVycsR3oO pic.twitter.com/AOx3g2dnne

— RTÉ Sport (@RTEsport) July 28, 2021