The father of one of Ireland bronze medal winning rowers has said it hasn't really sunk in yet after watching his daughter and her team-mates stage a late comeback to take their place on the podium.
The quartet of Aifric Keogh, Eimear Lambe, Fiona Murtagh and Emily Hegarty overcame a poor start to surge from fifth to third to pick up the first Irish medals of Tokyo 2020.
Speaking on RTÉ's Morning Ireland, Jim Keogh said he watched the race at his home in Furbo, Co Galway with his wife Susan and daughter Ciara, and admitted it was "scary enough for a while", before the Irish boat reached the medal positions.
"I think around 1,500 metres we could see they would get the bronze, they had gotten the better of GB. It was scary for about 500 metres," he said.
He said the family spoke to Aifric just before coming on air, and the team were "highly excited and still celebrating."
It was tough to miss out on "trip of a lifetime" to Japan to see Aifric compete in the Olympics, and tough for the athletes not to have their families there, he said, but added that they will make up for it.
He was joined on air by Rory O'Brien, who coached Fiona Murtagh at Galway Rowing Club, who also confided that he had his doubts early in the race.
However he said the team showed phenomenal character and "sheer guts" to overtake the Chinese and British boats.
"The character they showed to come through the two boats, especially with 500m or less to go, I thought to myself that takes unbelievable character to do that, and they had it.
"That's down to their training, its down to their sheer guts if you want to call it that. Just kept going."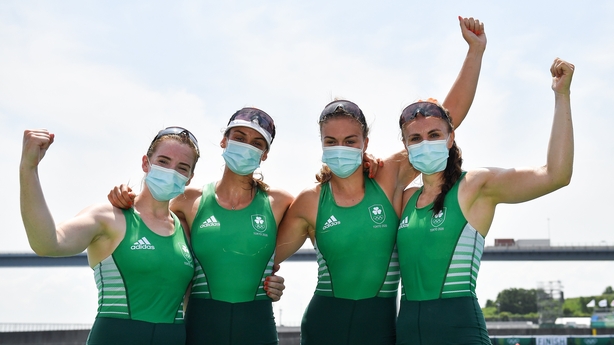 O'Brien said he was in contact with Fiona during lockdown, who told him the team were training away via video call throughout the Covid restrictions.
Once the restrictions were lifted for elite athletes the team were "back in the water straight away", he said.
Jim Keogh said that while the restrictions were undoubtedly tough for the athletes, it was nice to be able to spend time with his daughter.
"Naturally we don't see them very often when they're training," he said.
"For example this year we've only seen her once since Christmas, but for lockdown we had her for maybe two or three months out the back here on the deck.
He said he built a space out the back to house Aifric's weights, and she had rowing machines in situ to keep up with her training.
"It was great," he added.
The Keogh family are now looking forward to welcoming Aifric back to Galway, with the latest indications that the team will be home this weekend.
He said its currently "like an Olympic village" between Spiddal and Furbo in anticipation of the heroic homecoming.
We need your consent to load this comcast-player contentWe use comcast-player to manage extra content that can set cookies on your device and collect data about your activity. Please review their details and accept them to load the content.Manage Preferences