An aspiring young Gaelic footballer, it's been seven years since Aoife O'Rourke walked into the local boxing club in Castlerea looking to improve her fitness for her sport of choice.
Seventeen years old and looking to make her name with the local women's football team, little did O'Rourke know that her path was about to take a dramatic turn.
The Roscommon youngster was soon to start trading in a different brand of leather; the O'Neill's football was kicked to touch as she laced up her gloves and started to learn the craft of the sweet science.
"I went to a local boxing club to try to bring me on in the football, but I ended up loving the boxing," said O'Rourke, speaking to RTÉ Sport ahead of the Olympics.
"I was playing with the women's intermediate team but the boxing took over. I gave up the football and here I am today."
Growing up in the small town of Castlerea, O'Rourke had never really heard of the Olympics, and she only learned of its significance in amateur boxing when she joined the High Performance Unit in 2018.
By her own admission, O'Rourke learned about the toughest of sports on the job, and recalls the time she came to Dublin for her first amateur fight, not even knowing about the concept of the pre-fight weigh-in.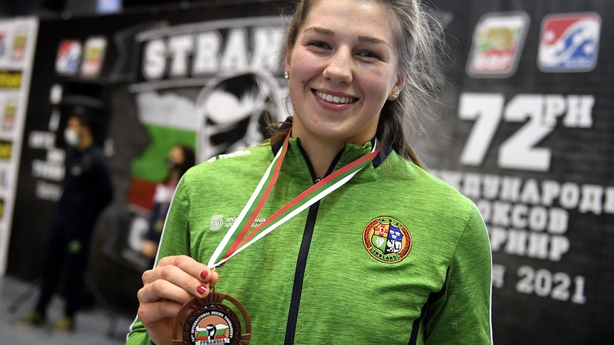 Yet just five years on from that chance happening in the local boxing club, O'Rouke was atop the podium at the 2019 European Championships in Madrid, where she won the gold medal in the middleweight division.
"My first amateur fight was a semi-final up in the National Stadium, and I didn't know what I was getting into. I didn't even know you had to weigh in, it was completely new to me.
"I wasn't familiar with the Olympics during my childhood, it was only when I came up to Dublin for the high performance in 2018 that the Olympics was first mentioned to me.
"From then on I was motivated and worked hard knowing that I could potentially qualify for the Olympics."
Team Ireland's boxing performance director, Bernard Dunne, said that O'Rourke is a "different animal" once she steps inside the ring, and he is convinced that the 24-year-old has a bright future ahead of her.
"You would never guess what Aoife is like when she gets inside a boxing ring," said Dunne. "She's such a lovely person, a lovely individual, but once she steps inside that ring, it's like she flicks a switch and off she goes.
"She mows people down, she really does. She's a European gold medallist and now she's an Olympian. She has so much ahead of her. She is a fantastic athlete."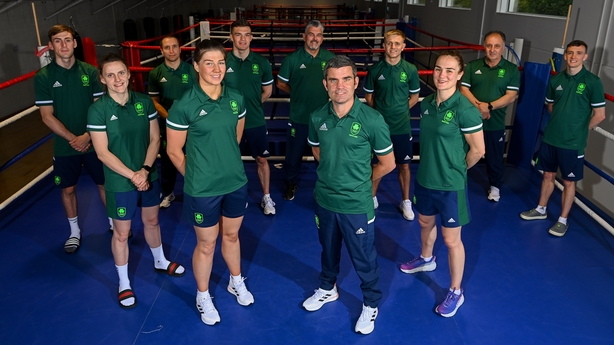 O'Rourke makes her Olympic debut on Wednesday as she fights China's Qian Li for a place in the middleweight division quarter-finals (10:18am Irish time).
She believes that it was her suitability to the sport that has brought her all the way on this journey, as she feels she can achieve anything she puts her mind to.
And it has become a family affair in the O'Rourke household as her younger sister, Lisa, was coerced into becoming her sparring partner and "thrown in at the deep end" during the early stages of the Covid crisis.
"I like that it's an individual sport. You're doing it for yourself, while playing Gaelic football, you are part of a bigger team and you are relying on other people to their part in training.
"When I put my mind to something and want to achieve something, I can do it. It's all about putting your mind to it."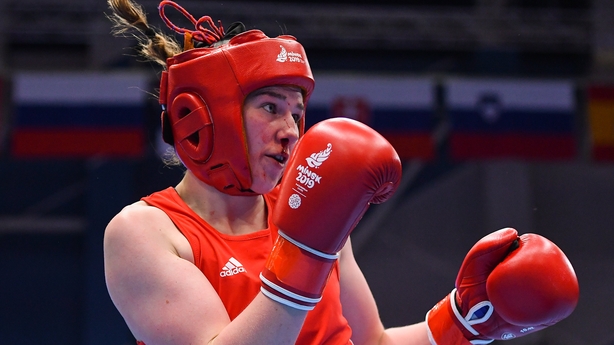 And looking ahead to her Tokyo task at hand, O'Rourke said that she is just looking to enjoy the experience, take each fight as it comes, and most importantly, listen to the coaching staff, who will guide her throughout.
"It's an individual sport, but I'm part of a team here as well and everyone is so supportive, we all push each other in training, and we're all here to help each other. Outside the ring we're like a big family.
"I let the coaches come up with the plan for each fight, and I'll stick to the plan. If it needs to change during the fight, I'll listen to my corner.
"It's new and exciting. I'm looking forward to it."
Roscommon may not be renowned for its contribution to the Irish boxing history books, however, O'Rourke knows that the whole county are behind her and are very proud of her achievements.
And while she may never have heard of the Olympics, she was always very aware of Katie Taylor and the London 2012 gold medallist and current undisputed world lightweight champion remains an inspiration.
"Castlerea is a small but supportive town. I had a big homecoming after winning the European Championships, which I never expected, so it just shows how good the people are there. And they are all excited to see me competing at the Olympics.
"Katie Taylor has been a big role model. If I could achieve half of what she achieved, I'd be a very proud woman."