In 2008 when David Gillick reached the Olympic Games it was the culmination of years of hard work and effort.
For most athletes it's the pinnacle of their careers and Gillick wanted more than anything to perform in Beijing for his family and friends back home.
Unfortunately, things didn't go to plan, he finished fourth in his heat of the 400m, failing to progress to the semi-finals. His dreams shattered and long journey home to face.
"It's not a great place, I'm not going to lie, I ran the slowest time of my season, and you know what, it was the worst experience," said Gillick speaking on We Become Heroes, an RTÉ Sport podcast.
"I went back into the village and it's not like you're jealous, you want your teammates and the people that you train with to do well, at the time my training partner went on to come sixth, and as much as he's a good friend and as much as I wanted him to do well, I wanted to do better, you know, and that was hard.
"I can remember flying back to Dublin and we landed in the airport, and it was very straightforward. They call out the medal winners and it's right you're off to the front of the plane because you're going to walk out first and then it was literally, who else done well, and then it was like the rest of you, you just fall in behind, and that was it and you're kind of going, this is brutal. So yeah it is hard."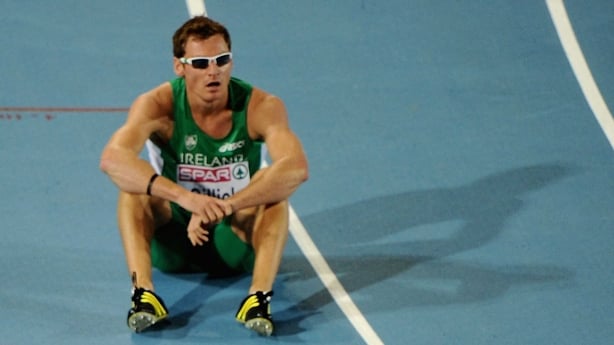 In the aftermath of an unsuccessful Olympic Games there is a lot to deal with and process. It is a difficult and emotional time for an athlete and so many questions can remain unanswered. For Gillick the most important thing was to learn from it.
"You go through all the emotions, you are embarrassed you feel you've let your coach, family, friends and country down. All those feelings come to the fore, you just want to get away from people, if you could just switch off the Olympics you would," added Gillick.
"When I look back at 2008 I suppose I went through a journey when I came off the track, I just I didn't feel well I didn't feel right and I kind of pushed it away.
"I didn't want to have excuses and I kind of buried it for a few days and then it eats you inside, you're going why didn't it work and what did I do wrong and you know you're trying to debrief and you're trying to take learnings from it.
"I think that's probably the first step to deal with it, it's like going through that whole change curve where you're trying to understand what to do now and how to deal with all those emotions of like denial and frustration and anger.
"I sat down with my coach and he went through what happened, it was literally just a conversation about what we did and what we can take from it."
Gillick is currently in Tokyo working for RTE Sport and although all the memories of Beijing came flooding back when he landed he's able to enjoy the experience of being at the Games.
"It definitely brings you back to Beijing 08 and how I felt when I landed in Beijing and my first impressions and I suppose the enormity of it.
"This time and I'm on the media side, you take it in a lot more because when you're an athlete, you're very much focused on your job and you know your competition is coming up so you tend to kind of stick to your own ways and your own routines and trying to manage that so it's almost like you're not kind of coming up for air, you're not looking around to see what's going on.
"Whereas this time, I can kind of take in the experience, I've been there and done that but also look around a little bit and kind of enjoy it a little bit more, take it all in because it's huge, an Olympic Games is absolutely massive and it's great to be able to have both perspectives."
We need your consent to load this YouTube contentWe use YouTube to manage extra content that can set cookies on your device and collect data about your activity. Please review their details and accept them to load the content.Manage Preferences
Watch it in full above or listen and subscribe on Spotify, Apple Podcasts or Soundcloud.
We Become Heroes is a podcast hosted by RTÉ Sport journalist Marie Crowe, featuring some of Ireland's biggest sports stars.
You can watch the interview with David Gillick above or listen on Apple Podcasts, Soundcloud, Spotify or wherever you get your podcasts.