Described as a thoroughbred by Team Ireland's boxing performance director, Bernard Dunne, Aidan Walsh makes his Olympic bow in Tokyo on Tuesday.
And former world champion Dunne is convinced that the young Belfast native is going to show no fear at the Games, and is on a par with the number one seed in the welterweight division.
"Aidan is world class. He has great reflexes, great speed, he is a thoroughbred athlete and probably the fittest athlete in the squad," said Dunne.
"If he stays focused on himself and focuses on his game-plan, Aidan can beat anybody.
"He had a very close fight recently with Team GB's Pat McCormack, who is the top guy in the world, and Aidan is right on par with him.
"There is no-one that Aidan is going to fear going into these Games, and anybody who comes up against him is going to have a huge challenge."
By his own admission, Walsh is lacking the international experience of some of his team-mates in the seven-strong Ireland squad that travelled to Tokyo, which includes his older sister Michaela, who has twice won silver at the Commonwealth Games.
However, having himself secured the silver medal at the 2018 Commonwealth Games and ended up on the podium at the recent European qualifiers, the Monkstown ABC fighter is full of confidence going to the Games.
Walsh believes that he has been helped "massively" from the delayed Games as the extra year has allowed him to mature into the weight and mature as a person ahead of his Olympic debut.
"It's been a hard year for everyone, but it has been a blessing in disguise for me and it has worked out in my favour," said Walsh, speaking to RTÉ Sport ahead of the Tokyo event.
"I've developed more of an athlete, I'm just getting more knowledge, and getting more experience and maturing into the weight.
"I'm a big 69kg, as I'm tall, and I've come back this year even stronger than I was last year. In the gym and in the ring, I can see everything improving and the extra year has helped me massively."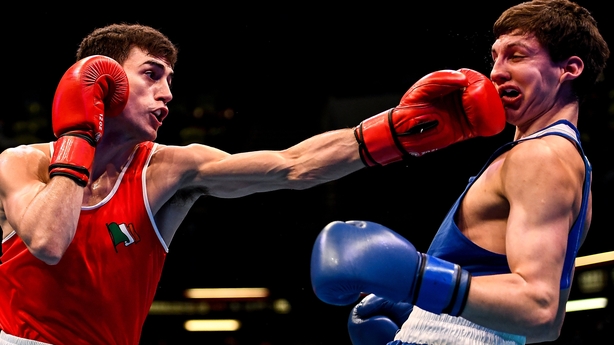 Walsh is drawing on the experience that he has encountered throughout his international career, most notably from his trip to Australia for the Commonwealth Games in 2018, where he felt that it all passed by in the blink of an eye.
So the west Belfast man is planning to enjoy every minute of his Olympic experience, which he believes will also help him to remain focused on getting the best possible performance inside the ring.
"It's only the start for me, as I haven't even been around the Irish team for a full Olympic cycle," said Walsh.
"I'm looking to enjoy it as much as I can. I want to soak it all in, as it's my first Olympic experience."
"It's just about staying focused and enjoying the experience.
"To have that Commowealth Games experience, knowing what to do and what to expect. I remember being at the opening ceremony and then, before I knew it, I was back on the bus.
"So now I want to enjoy every minute and take it all in so I can look back on it when I'm older.
"And I want to perform, get my performances right."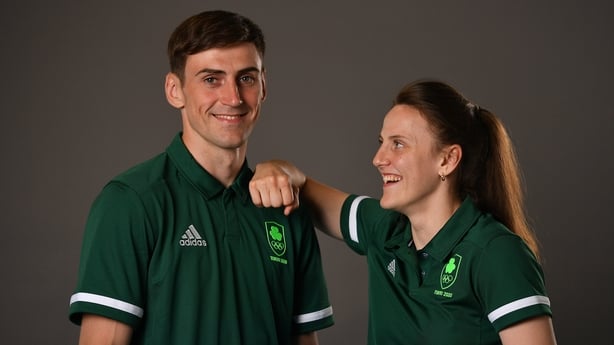 Walsh has been picking the brains of the experienced heads around the Irish camp and specifically spoke to Brendan Irvine, as the fellow Belfast fighter was at the Rio Games in 2016.
The stylish welterweight has also drawn inspiration by those Irish fighters who went before him and brought home medals from previous Games, whether fellow Belfast boxers Paddy Barnes (2008, 2012) and Michael Conlan (2012), as well as former flyweight, Hugh Russell, who took bronze back at the Moscow Games in 1980.
"It gives me goosebumps thinking about it all. Those guys are legends in Irish boxing, so to be in the same category as them is incredible.
"I've spoken to Brendan Irvine about what it was like at the Rio Olympics, and I was recently talking to Hugh Russell who got a bronze medal in the Olympics many years ago, and he gave me great advice.
"And I think it's the one percent that can make a difference in the Olympic Games."
Walsh's recent form will make him one to watch in the welterweight division, and he had gained a lot of self-belief from the Paris qualifiers, where he beat number four seed Yevhenii Barabanov from Ukraine en route to the semi-finals where he was beaten by eventual winner McCormack.
Walsh also lost the 2018 final on the Gold Coast to English star, and the Team GB fighter is once again the man to beat in the ever-competitive welterweight division.
"He's world number one, and every time I fight him, I know I am getting better and getting closer and closer.
"But it's the Olympics and it's all about on the day and what draw you get.
"Obviously, if you're the best you're not going to worry about the draw, so I'm going over to take each fight as it comes, each round as it comes, and each minute as it comes.
"I've prepared fully, so I'm just going to do the business."