Emmet Brennan will follow in the footsteps of his Olympic hero Darren Sutherland when he steps into the ring in the late Sunday session in Tokyo.
The Dubliner makes his Olympic debut against the highly rated Dilshod Uzmetov from Uzbekistan in the light-heavyweight division (12:42pm Irish time), and while most grateful to qualify, he is determined to make an impact at the Games.
Brennan began the Olympic cycle as a middleweight and won the elite title in 2017, however, making weight became an issue for the Dublin Docklands' fighter and he moved up to the heavier division with Tokyo in mind.
Fighting out of the St Saviour's Boxing Club in Dublin, Brennan watched on in awe as clubmate Sutherland went to the Games in Beijing in 2008 and secured a bronze medal for Ireland.
The gifted middleweight, who tragically died in 2009, was beaten by future world champion and 2008 gold medallist James DeGale in China, and now Brennan wants to emulate Sutherland by taking home a medal from Tokyo.
"My favourite Olympian is Darren Sutherland," said Brennan, speaking to RTE Sport ahead of his Olympic debut.
"I used to box with Darren in St Saviour's Boxing Club many moons ago. As a kid, he was my biggest role model in boxing, and is someone who I aspire to be like."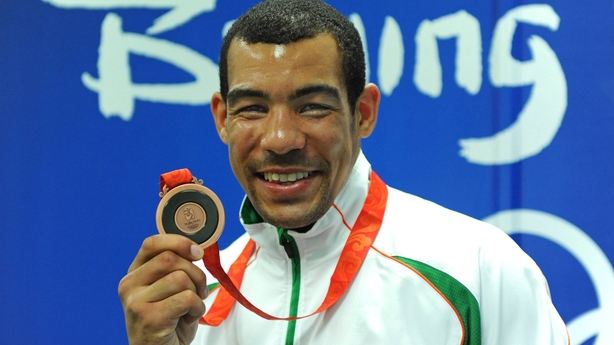 By 2019, Brennan had established himself as the number one light-heavyweight, following Joe Ward's move into the professional ranks, and secured the 2019 elite title, which brought with it a ticket to the Olympic qualifiers.
Brennan left it late to qualify – very late as it happened – as he became the final Irish fighter to qualify for the Games, winning a box-off at the recent European qualifying tournament in Paris.
"It's probably been the best move that I have made in my boxing career," said Brennan, in relation to his move up in weight.
"Joe Ward went pro so there was a chance there, and I jumped at it. There were about seven or eight lads looking for that spot.
"Now since moving up, I have got faster, and in terms of fighting ability, I have got better, as I can put training into learning technical ability rather than focus on losing weight.
"I used to be drained at middleweight. I'd go to championships, win the first two fights but then by the third fight, I'd be drained."
The 2008 Ireland team contained two Dubliners, Ken Egan and Sutherland, and both came home with medals, and this time around, two more Dubs are part of the seven-strong squad.
Remarkably, Brennan and number one lightweight seed, Kellie Harrington, grew up a stone's throw from each other in the north-east inner city.
The duo spent time together at club level before hooking up again on the national team, and Brennan believes that they have both pushed each other to success in their respective divisions.
"I boxed with Kellie at club level for five or six years, and now with the national team for a few years. It's the same as it was ten years ago, we are both pushing each other on."
And like Harrington, Brennan believes that boxing has helped him in his personal life and gave him a focus, having stepped away from the sport in his early twenties.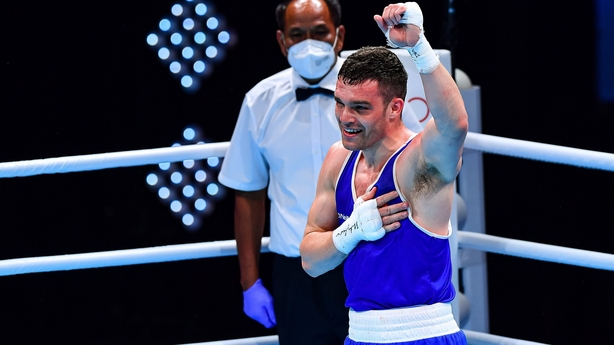 "There were lots of ups and downs. For me in my early twenties, I fell into a life that I wasn't really happy with, and then in my mid-twenties I got back into boxing.
"And it was 'are you going to give it a proper shot and go after the Olympics, or just come back and train?', and in fairness I dropped everything, workwise, social life, I sacrificed all that and it paid off in the end."
Now Brennan has achieved both of his childhood ambitions, to win an elite Irish title at the iconic National Stadium in Dublin, and to represent his country on the highest stage.
"You can't beat fighting in the Stadium," said Brennan. "National elite finals night is my favourite night on the calendar. As a kid, I had two dreams, become elite champion and to be an Olympian.
"And now I have achieved that, it feels great, but I want a medal.
"Athletes want to better themselves, so it's great for a day or two but then it's back to work. You want that medal."
And looking ahead to his Games debut, Brennan is not fazed by whoever stands in front of him inside the ropes, and while it is a world silver medallist in his first bout, the genial Dubliner is not intent on making it his last.
"I don't care who I fight. It's nine minutes.
"My style now is going forward, I'm a pressure fighter, while before I was a counter puncher, so I can do both.
"If I'm in a fight and I have to fight, I'll do it, but if I have to box, I can do that as well.
"In terms of an opponent, I'm a nightmare for people, they don't know what they're going to get."