Billy Dardis presses down the collar of his crisp Team Ireland Olympic T-shirt and straightens his stance to face the camera.
"It's all happening very quickly," he grins. "I mean, we only qualified two weeks. And now…"
Victory against favourites France in a crucial Paris repechage clash last month earned Ireland the final available spot for the Games, a feat captain Dardis describes as "a weird, bizarre feeling... to achieve something that you've worked so hard for".
Nothing is bigger than an Olympic Games, and a lot of this squad have their own attachments to its long history. Here's a few:
In 1912 Wexford cyclist Bernard Joseph Doyle competed for Great Britain at the Olympics in Sweden. Over the next couple of weeks his great grandson Terry Kennedy, in the colours of Ireland, will add another chapter to a proud family tradition.
Harry McNulty grew up in New York obsessed with ice hockey. He once played - and scored - on the same Lake Placid rink where the famous 1980 Winter Games 'Miracle on Ice' took place between the USA and the Soviet Union.
This will be Greg O'Shea's second Olympics experience - he competed in the 100m at the 2011 European Youth Games, finishing sixth.
Ian Fitzpatrick went to the same creche as two-time Paralympic swimmer James Scully, who also won World and European bronze medals in a stellar career. Fitzpatrick cites his fellow Meathman as one of his biggest sporting inspirations.
Over the next few weeks, this team will hope to write their own Irish Olympic stories as they jostle with 11 other nations in what is an incredibly competitive playing field.
The rugby sevens competition is wide open, with Ireland housed in a tough looking Pool C alongside South Africa - the bronze medallists in Rio - USA and Kenya.
There are three pools of four teams with the top eight advancing to the quarters. Ireland are capable of living with the best, but the margins are fine. Nothing will come easy. But then again, nothing has come easy at any point for Anthony Eddy's team.
Progress has been impressive but hard earned.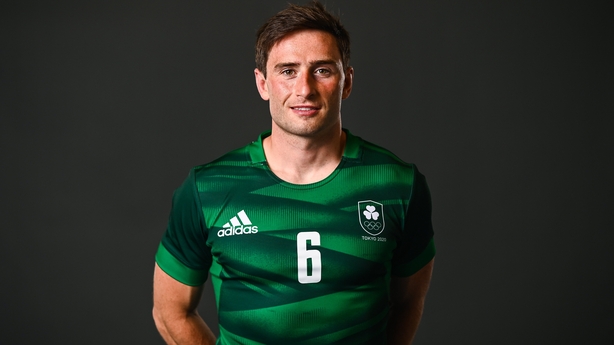 Dardis - who came into the fold in 2016, about a year after the IRFU had relaunched the men's and women's rugby sevens teams programmes - has distinct memories of the early days.
"I joined when we got into Division C of Europe. I got my first cap against Latvia in Malmo, Sweden, playing in front of one man and his dog. We went and tried to qualify for the World Series. We failed at our first attempt.
"That was absolutely devastating. It shook us all, really took the wind out of our sails. But it only took us a month or so to get back on the road.
"We went back over to London and when we did get our first experience of the World Series we came third, shocking everyone. That's where the fire started to light. It was like, 'we can mix it with everyone here'.
"We went to the World Cup in San Francisco a few months later, won a challenge trophy there beating World Series teams and playing in front of a brilliant crowd.
"We went on to qualify for the World Series in Hong Kong the following year [2019] and that was one of the biggest days of our lives. It was the most pressure we felt.
"We knew that if we didn't win the tournament, most of us were going to be going out looking for 9 to 5 jobs on the Monday morning. We won it.
"It was a slightly different [feeling] to qualifying for the Olympics in that it was just relief. That day was just pure relief. A weight off our shoulders."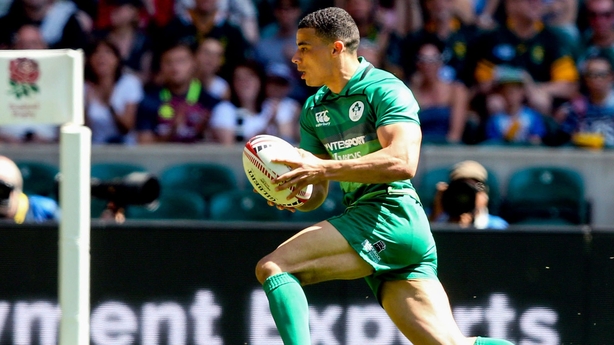 That victory really was a watershed moment for Ireland. A 28-7 win over Hong Kong in the final meant they would be one one of the 15 core sides on the following season's World Series as the likes of O'Shea - whose granddad emigrated to Limerick from Hong Kong in the 1950s - Kennedy and Jordan Conroy rose to prominence.
Looking to inject pace into the team back in 2016, head coach Eddy asked Foster Horan if he knew anyone quick. Conroy - a good friend of Horan's - had recently run the length of the field to score a try for Tullamore just 21 seconds after the kick-off. The try had been uploaded on to YouTube. Eddy watched it, Conroy got the call, and a Sevens star was born.
Those sort of connections happened a lot in the early days of the programme and though it took a while, Eddy's diligence began to reap rewards. Ireland have continued to flourish as they have risen up the ladder.
"I think we'd been scared to believe we could qualify before [the France game]," adds Dardis.
"You don't want to jinx anything or get ahead of yourself, but it was pretty bizarre. Everyone went berserk. We went to the dressing room and people were still walking around thinking, 'we're going to the Olympics'. Even saying it was strange. We had a few drinks that night and got to enjoy it but it was a weekend to remember, that's for sure.
"It's a big physical group. I don't think you'll get an easy group in this Olympics, especially with there being only 12 teams. That's 12 of the top teams n the world. You're just not going to get an easy game.
"Athletes can overthink things and get too excited. That can be overwhelming and damage your performance. We've been on this crazy journey."
So where will it end? RTÉ Sport asked each of the 13-man panel what their ambition was for the Games and every one of them gave the same answer: Ireland are heading to Japan with eyes on coming home with a medal.
We need your consent to load this comcast-player contentWe use comcast-player to manage extra content that can set cookies on your device and collect data about your activity. Please review their details and accept them to load the content.Manage Preferences
"Like everyone, we're going out to get a medal, and a gold medal at that," Dardis emphasises.
"That's the thing when you play in these tournaments, every team is targeting the exact same thing. We're no different.
"We've a tough group but we're going to focus on every game, every minute. That's what I say to the lads before each game - you've got to win every moment. If you win every moment the result will look after itself.
"We shouldn't be afraid to say we're going over there to get a medal. We're confident in ourselves, that's the most important thing, that we back ourselves and know what we're good at.
"That's what we said after France - if we thought it was good qualifying, how special would it be to bring home a medal? I think that would light a fire in Irish sevens rugby, to have the chance to inspire a nation like that especially in a sport like rugby sevens.
"It's another platform and opportunity for kids to play for Ireland and go to an Olympics.
"It's pretty cool to think we're the ones going over there to have the opportunity to play in front of the whole nation. We want to put smiles on kids' faces.
"We want to give everyone a sense of pride."
---
IRELAND'S POOL C FIXTURES (Irish time)
Monday 26 July: Ireland v South Africa, 3am
Monday 26 July: Ireland v USA, 10.30am
Tuesday 27 July: Ireland v Kenya, 3am
Tuesday 27 July: Quarter-finals if qualified, 930am-11.30am
We need your consent to load this YouTube contentWe use YouTube to manage extra content that can set cookies on your device and collect data about your activity. Please review their details and accept them to load the content.Manage Preferences
Follow all the action from Tokyo 2020 with our 24-hour coverage on RTÉ.ie/sport and the RTÉ News app, watch live on RTÉ2 or RTÉ Player and listen to updates and live commentaries on RTÉ Radio.