The European Union and Japan have backed Tokyo's hosting of the Olympic Games this year, with EU-produced vaccines helping Japan in its battle against a fourth wave of infections.
"We support the holding of the Olympic and Paralympic Games Tokyo 2020 in a safe and secure manner this summer as a symbol of global unity in defeating Covid-19," the EU and Japan said in a joint statement after a summit.
Japan's vaccination drive has been slow, with just over 5% of the population having had a shot, and several polls have shown the majority of the Japanese public are opposed to holding the Games.
European Commission president Ursula von der Leyen said the European Union had authorised the export to Japan of more than 100 million vaccine doses, enough to inoculate about 40% of the population.
"We have of course said we are looking forward to the Olympics Games," she told a news conference, adding that the vaccine shipments were a strong sign of EU support for preparations of a safe event.
The Olympic Games run for just over two weeks from 23 July, with the Paralympics due to start on 24 August.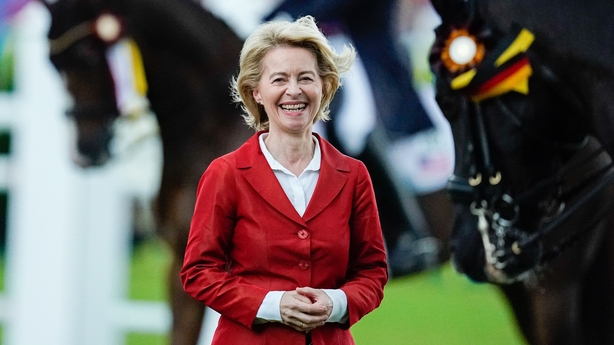 Foreign spectators have been banned and a decision on domestic ones is expected next month.
The head of Japan's doctor's union warned on Tuesday that hosting thousands of athletes and officials could lead to the emergence of an "Olympic" virus strain.
"We have indicated we are engaged with the authorities of his country to take all the precautionary measures required," European Council president Charles Michel said after his video meeting with von der Leyen and Japanese Prime Minister Yoshihide Suga.
The leaders also discussed cooperation on climate change, trade and foreign and security policy, saying they were committed to a "free and open" Indo-Pacific region, unconstrained by coercion.
Japanese deputy chief cabinet secretary Naoki Okada told a separate briefing that the two sides agreed to oppose unilateral attempts to change the status quo in the East and South China Seas, echoing a G7 statement on the disputed waters earlier in May.
Meanwhile, the chief executive of the Olympic Federation of Ireland has said that very detailed protocols developed by the organisers of the Tokyo Olympic Games in conjunction with the World Health Organisation will provide the necessary protection for Team Ireland to safely participate in this year's summer games.
Peter Sherrard told RTÉ's News at One that the OFI's medical team is satisfied with protocols put in place by the Japanese government, Tokyo 2021 organisers and host camp organisers.
"Without doubt this is the most challenging Games that we have ever entered a team into," he told the programme.
"There will be challenges, there will be difficulties. Notwithstanding that, and notwithstanding the very altered experienced the athletes will have to endure during their time in Japan... we believe it can be done.
"We have to provide the levels of support around them to allow them to have as good an experience as they possibly can."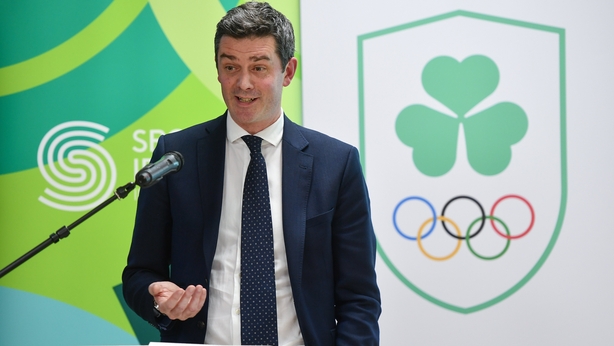 Athletes will face daily Covid-19 testing, records of their daily and hourly movements and will be forbidden from mixing with the Japanese population. Much of their time will be spent alone in their rooms, while training will be similarly solitary.
Exemptions from these rules will only be allowed in what Mr Sherrard called "extremely rare circumstances" that would see the athlete in question travelling with a Japanese public health official.
"It is unfortunate because it does mean the athletes will have a very difficult experience but nonetheless the athletes are very keen to see this go ahead," he said.
"I understand that because they've been working most of their lives towards it.
"The easiest thing to do is to sit back and say, 'it's too hard - we'll leave it.' I do think we need some positivity in the world. We've seen the benefit of big sporting events elsewhere.
"It is something that means a lot to people, first and foremost the athletes that we represent. We do have to be careful to see the wood from the trees and understand that if we felt that the safety measures being put in place weren't of the required standard we'd have to call it.
"But at the moment we're very satisfied that they are and that they're being done in the proper manner."
Mr Sherrard pointed out that test events have taken place in Japan, as well as other places around the world he said that "largely these events are carrying off safely."
The ICU occupancy in Japan is at 38 per cent nationally, and 75 per cent in the worst-hit areas, with daily Covid-19 case numbers of around 4500 cases. Mr Sherrard said that these would translate to about 180 cases a day in Ireland.
"They are having to deal with a lot [and] we have huge sympathy for that," Mr Sherrard added.
"But we do feel that by abiding by these very strict protocols and ensuring the vast majority of athletes, coaches and staff who will be travelling are vaccinated, we will be able to help in that effort."