Liam Jegou details the intense preparation it requires to be an elite canoe slalomer and then chuckles: "We're known for our chicken legs!"
Gym sessions, pull-ups, bench presses and daily spins on the water are part of building up the necessary strength to excel in a devilishly difficult sport but the legs, important to aid direction more than generating power, can be less strenuously exercised.
Canoe slalom is a race against the clock. Competitors kneel into their canoe, which is slightly wider than a kayak, and use one blade to negotiate poles, similar to alpine skiing.
The green poles must be cleared when going downstream; red poles confront you when battling back upstream. Touch any of the poles and it's a two-second penalty; fail to navigate one of them correctly it's a 50-second penalty - effectively an elimination.
It requires serious physical strength and a technical excellence that takes years to hone. Jegou has been sharpening up for 20 years.
His story has taken him from France to Switzerland but it was in Co Clare where he first tasted life on the water.
The 25-year-old made history last November when he became the first Irish paddler to win gold in the canoe slalom event at the World Cup after a brilliant performance in Pau, France, where he's based.
GOLD FOR IRELAND!!! 🥇🇮🇪 Liam Jegou wins the World Cup in Pau in a time of 100.35 seconds 🏁 A brilliant run in the final to bring home Irelands first ever Gold Medal in the C1 category 🥇🚣 Such a fantastic performance from this young athlete 💪@sportireland @TeamIreland pic.twitter.com/wyWca3RSSo

— Canoeing Ireland (@CanoeingIreland) November 8, 2020
He's one of just two Irish athletes who have officially secured their place at the upcoming Tokyo Games - taekwondoin Jack Woolley being the other - and he heads to Japan believing he has the potential to get on the podium.
"My family travelled a lot," he told RTÉ Sport, having recently returned from a training camp on the remote Indian Ocean island of Reunion.
"I was born in Brittany, moved to Switzerland straight away, then my parents moved to Ireland and when I was seven we moved to the east of France. Now I'm in the southwest of France to pursue my dreams.
"My dad is a paddler. He would bring me to the river all the time when I was younger. He owned a sea kayaking business in Ballyvaughan in the early 2000s, so that would have been the first time I'd have been introduced to kayaking. I was young, four or five years old.
"It's a very complete sport. We're paddling on a river, the water's changing all the time around us. You have to able to adapt to the conditions. If it's windy the poles are swinging... it takes a lot of technical training but also a lot of physical training. It's about 90 seconds to 100 seconds' effort, which is pretty difficult. You feel that lactic acid pretty badly at the end of a run."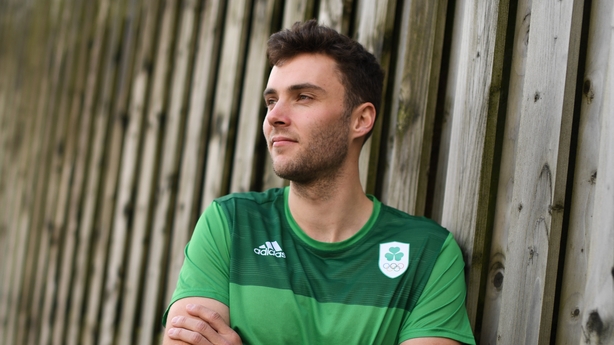 Only one other man has represented Ireland in the canoe slalom event at an Olympics: Mike Corcoran, who made it to Barcelona in 1992 and Atlanta four years later.
A chance meeting three years ago led to Corcoran and Jegou striking up an important alliance.
"I know Mike very well. In 2018 I met him at La Seu d'Urgell [in Spain] where he competed at the Barcelona Olympics. We got talking and he actually decided to sponsor me for that year.
"He did the same the next year and this year as well. He's been my biggest sponsor leading up to the Olympics. I'm on the phone to him regularly. It's great to have him on board, he has loads of experience.
"It's just about directing my focus on what I can control... on what I can do on the water. Then you block the rest out. All I can is go to the gym, go paddling, and do my best every day."
The month on Reunion Island was, he admits, like being in "a bubble". He has been starved of competition due to the pandemic so it was a chance to completely focus on tuning up before May's European Championships.
"A lot of international paddlers were training there. I got some great training down in warm, humid conditions, similar to what we can expect in Tokyo in the summer. We even had a small race organised over there on the course.
"The competition schedule is looking a bit more certain now and I'm really fired up to start racing. We've got European Championships coming up in May, two World Cups in June and then the big one in Tokyo in July.
"It was a bit like being a bubble for that month where we were just really focusing on training. We've had to kind of block out the noise as well. I've tried to not to read all the articles about Tokyo, whether it's going ahead, whether it's not going ahead. I'll be ready come July, and that's it."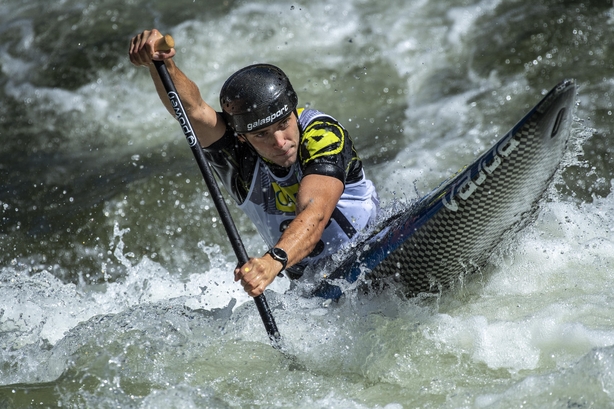 And that really is it, for Jegou and for all of Ireland's Olympic hopefuls. Controlling the controllables is the name of the game as he looks to gauge exactly where he is in relation to his rivals.
The Europeans will offer precious insight but Jegou is feeling strong and quietly confident that he can at least challenge for a medal in Tokyo. With Corcoran in his corner, he's hoping to prove his World Cup feats were no flash in the pan.
"I think I have a chance. I think I've gotten much better over the pandemic period so I'm looking forward to racing these first races of the season to see where I'm at. I'm definitely going to try and gets a result.
"I'll do my best. And if my best is good enough for a medal, then that's brilliant."