Irish Paralympic hopeful Martin Gordon says everything can be traced back to 2007 and trekking across the country on a tandem bike.
He decided to set off on the annual Mizen to Malin charity cycle in aid of the Irish Guide dogs, a charity close to his heart and was immediately hooked.
"The spark that lit the flame," the barrister tells RTÉ Sport.
He nearly achieved the dream of making the Paralympics in 2016, but fell just short, a puncture on the final lap in a race in South Africa ended those dreams.
Gordon found himself at a crossroads. He never felt he was ideally suited to endurance cycling "I'm not really built for it", and toyed with rowing before deciding to focus on sprinting.
It was late in 2016 when he was discussing his future plans with Conor Fitzgerald, a Strength and Conditioning coach, and brother of Sarah, his tandem partner for Mizen to Malin.
Connections were made and Gordon teamed up with his pilot, Eamonn Byrne.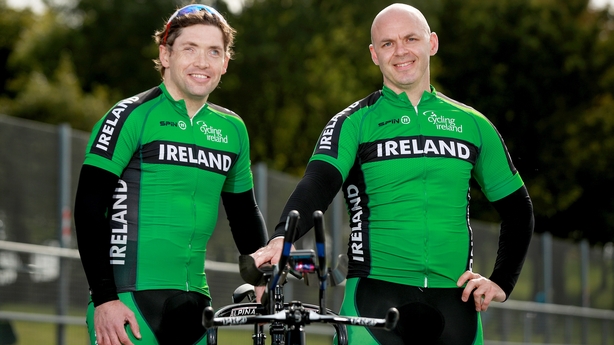 "Everything has started and come from there."
He graduated from the Cycling Ireland Para-Cycling development team to compete at his first Para-Cycling Track World Championships in 2017, but the difference between then and now is night and day as far as the Sligo cyclist is concerned.
"There's no comparison," he says. "In 2017, we were wet behind the ears in these events. We had the potential and physiology, but we did not have all the effective training and input. Since then we have become a top bike in the world.
The last three World Championships has seen Ireland finish sixth, sixth and fifth. Alongside Eamonn he has a World Cup medal from 2018 and a national record time in the 200m sprint event.
Does the increased expectation add to the pressure?
"The only pressure put on us comes from ourselves. If you are in and among the best, why should you not back your ability?" asks Gordon, who lost his sight in 2002.
The pandemic has naturally brought its own issues. He hasn't competed in the Velodrome since last February. While endurance cyclists can still hit the road, the track sprinters have had to think different.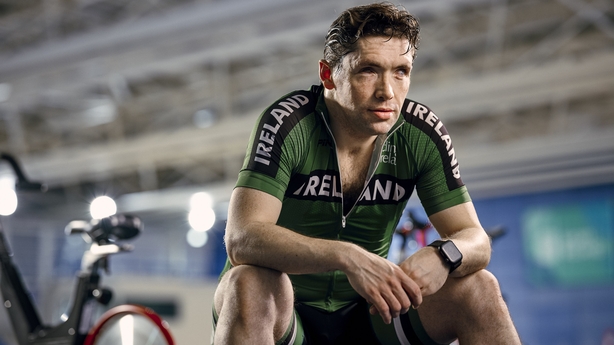 "We took that year to get stronger, fitter, stronger. There were still opportunities there if you want to find them."
With no competition, and no other events on the horizon, this weekend sees the Irish track cyclists compete in time-trials. With three bikes qualified for Tokyo, it is essentially make-or-break, with the best put forward to represent Ireland at the Paralympics.
"I'd like to think that I'm within the mix. If my times so far are anything to go by, I'm in with a very, very good shout of taking one of those spots."
Gordon was speaking at the launch of Paralympics Ireland's fundraising initiative, 'The Next Level', a campaign aimed to raise vital funds for para-athletes in Ireland and support Team Ireland's journey to Tokyo 2021 and beyond.
With more than €70,000 raised to date, he has been heartened by the public response.
Martin Gordon | Irish Para-Cyclist

The pain barrier? Born to break it!

Support our Para-Athletes take it to #TheNextLevel by donating at https://t.co/KtOG3kL8Pl pic.twitter.com/KmQr250ZdT

— Paralympics Ireland (@ParalympicsIRE) March 11, 2021
"It's invaluable to not only these Games, but the future Games and future of para-sport. There is a massive funding gap, it needs to be filled. By people pledging their support in any way they can, it will make all the difference."
The absence of supporters will be keenly felt by all athletes, but Gordon says it is the correct call in the circumstances, and either way, expects a carnival atmosphere at his parents' house if restriction have eased by time the competition rolls around.
I'm not going over to Tokyo to make up numbers, I'll be going there to get amongst it
The main motivation comes from wanting to do his partner Louise and five-year-old daughter Nora proud.
"Leaving her [Nora] is always tough, she hates to see me go. All the sacrifices I make, or more importantly my family make for my sport, that's not going to be in vain. That's the attitude I take.
"We all dream of medals, that's why we compete at a high level. It's always the ambition, but I'm not going over to Tokyo to make up numbers, I'll be going there to get amongst it.
"I don't see why I shouldn't get amongst it, I'm of that standard."