Taekwondoin Jack Woolley believes he can prove "unstoppable" in Tokyo after his place on Team Ireland for this summer's Olympic Games was officially confirmed.
Woolley qualified for the Games back in December 2019 having won gold medals in the Australian and Turkish Open. It was a historic feat - no Irish athlete has ever before competed in taekwondo at the Olympics. Now, he's aiming to go all the way and bring home what would be a truly remarkable gold medal.
The 22-year-old Tallaght native started the sport when he was six years old, following in the footsteps of his older brother.
Having narrowly missed out on qualification for Rio in 2016, Wooley knuckled down with his coach Robert Taaffe to deliver peak performances at key points on the pathway for Tokyo. The strategy has paid off spectacularly.
"I'm Ireland's first athlete in the sport of taekwondo to qualify for an Olympic Games," Woolley told RTÉ Sport.
"It's a big achievement for myself. It's such a dream to get there.
"I started when I was six. I'd never have guessed then [I'd make an Olympics]. Maybe my parents would have. They saw a lot of potential in me and they did all they could to get me to this position, but I was a bit of a messer when I was a kid!
"I saw my brother doing it. I was sat down at the back, too young to start, and I wanted in. On my sixth birthday I started it and I loved it. Now I'm here... something must have worked well!"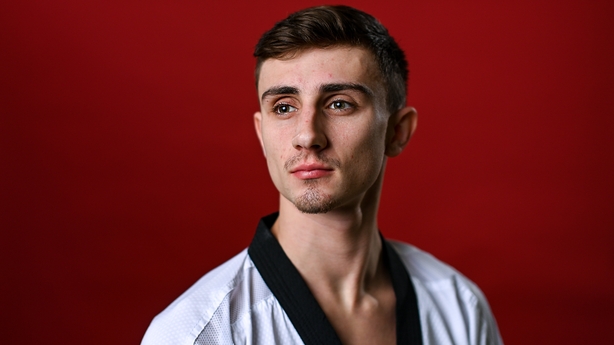 Woolley joins canoe slalom racer Liam Jegou as the second officially selected member of Team Ireland for the Games, which run from the 23 July to 8 August.
He appreciates the enormity of making it to Japan, but Woolley - who will compete in the minus 58kg category - is not afraid to declare his hunger for glory.
"I have a completely different outlook on the Olympic Games to what I did years ago. I saw it as the best thing you could do in the sport and I wanted to get there. Now I've got there, I don't want to just participate. I want to go out and get an Olympic gold medal.
"It's taken a lot of hard training to get there but now we're training even harder to come away and be an Olympic champion.
"Everybody is going to say the same thing: they are going for gold. But in my case, if I'm fighting 100pc, I know I'm unstoppable in the sport. I've gone head to head with a lot of the athletes already qualified.
"I've won some matches, I've lost some matches. The ones I've lost have been very, very close. I don't see why, if I'm fighting 100pc, I can't go out on the day and take home that gold medal and become Ireland's taekwondo Olympic champion.
"I've got the talent, I've got the ability, now all we need is for it to fall into place on the day."
Taekwondo competitor @jackwoolley_tkd on realising his potential in being selected to compete for @TeamIreland at @Tokyo2020 #rtenews #rtesport pic.twitter.com/8GqR5qf16D

— RTÉ Sport (@RTEsport) March 18, 2021