Olympic Federation of Ireland CEO Peter Sherrard has warned that Irish Olympians are losing ground on their European and global rivals because of Ireland's Covid-19 restrictions.
The OFI wants to see measures put in place to assist prospective Olympic and Paralympic athletes during the current crisis, including permission to travel to national training facilities.
Sport Ireland has been in talks with Department of Transport, Tourism and Sport, Department of Health and Government ministers for a special dispensation for Olympic hopefuls, but to date, have been unable to secure any concessions.
Under the current phase of Ireland's easing of the Covid-19 restrictions, some sports facilities have reopened, but athletes have been unable to access them because of the 5km travel restriction.
When asked about relaxing measures for athletes training for the Olympics in 2021 at this evening's media briefing, chief medical officer Dr Tony Holohan said: "Our message is still to stay at home... as we move on to the next phase we'll be looking at our message of 5km, but we're not at that point today."
Sherrard believes that this is leaving Irish Olympic hopefuls at a distinct disadvantage as their rivals from Europe and further afield are under no such restrictions.
Speaking on RTÉ's Morning Ireland, Sherrard said: "Really it's just a bit of nuance and flexibility to be shown to approximately 200 Olympic and Paralympic athletes throughout the country.
"We're not asking for a massive amount, but to give you a fairly simple example, our Olympic rowers can't get to the National Training Centre because it's more than 5km from their houses and yet rowing clubs throughout the country are open in line with phase one Government protocols.
"There's no problems with rowing itself, it's just a waiver to get to the centres. That's the kind of thing that with a little responsiveness, we could arrange for our athletes.
"Sport Ireland has been working very hard with the departments and the officials to request this, and unfortunately we haven't had green lights from health at this stage.
"It is becoming an issue because across Europe national training centres and Olympic training centres are reopening for that very small group of athletes who have very detailed health protocols.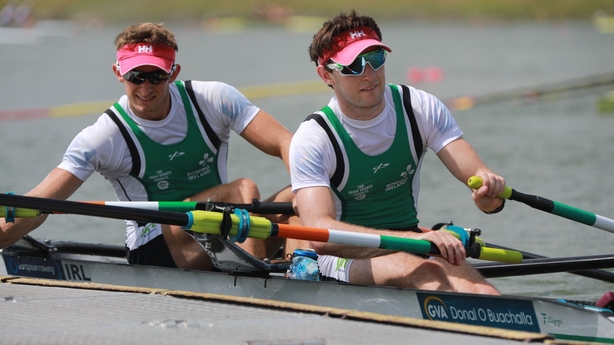 "Our athletes are being left behind. They're seeing their counterparts across Europe return to training and return to stability, albeit in a different manner because of the protocols. It's leading to a great sense of frustration from them and it makes it very difficult because they see they are losing touch with their competitors."
Sherrard believes that Irish athletes have coped well and responded in the right way to the lockdown, but that now is the time to prioritise their return to training.
"Irish sport and Irish athletes have been incredibly respectful throughout lockdown and will continue to support all the measures that need to be implemented," he said.
"While phased plans have been agreed for a recreational return to sport, we believe that the Olympic and Paralympic athletes who represent us internationally need prioritisation to return without delay.
"As a group, the athletes of Team Ireland have shown true resilience and have been role models to us all throughout this crisis, but the longer they are away from their high performance training environments, the harder it will be for them to return to optimum fitness and their peak performance in time for next year's Games."