Officials, management personnel and players who were gearing up for the 2020 Olympic and Paralympic Games have experienced a maelstrom of emotions on foot of the decision to postpone their Olympic adventures until 2021. However, all are united in shared belief that the decision taken on Tuesday was a correct one.
A joint statement from the IOC and the Tokyo 2020 organising committee confirmed the news, following a conference call.
Both bodies had long insisted the Games would go ahead as planned from 24 July but, as the coronavirus spread, opposition mounted, leaving little alternative but to declare a postponement.
Katie Mullan, captain of the Irish women's hockey team said: "As players we are gutted with the announcement to postpone the games as our excitement has been building, however we totally understand why this decision has been made.
"What matters most is players health and wellbeing, as well as our families and friends, and we hope everyone is staying safe and healthy at this difficult time.
"As a team it has been strange doing so much individual training, but everyone has been pushing on with home-gym programmes and trying to increase their fitness with running and cycling. This is a big change for so many people, but everyone is the same situation. We'll be doing our best to use this as an opportunity."
The goal posts have moved but the dream lives on 🇮🇪 #Tokyo2021 pic.twitter.com/R6YtGxLSI7

— Leona Maguire (@leona_maguire) March 24, 2020
Golfer Leona Maguire, an Olympian in 2016, who was expected to compete again in Tokyo with Stephanie Meadow, tweeted: "The goal posts have moved but the dream lives on."
She added in a statement: "It's disappointing for everyone involved, not only the athletes but all the support staff who have spent countless hours training, planning and preparing for this summer's games.
"That said, as athletes we appreciate that making sacrifices is part and parcel of sport and life. But this is bigger than sport, this is a global pandemic that hopefully we will never have to face again in our lifetime."
Sprinter Phil Healy said:"The correct decision was made to postpone the Olympics for the safety and welfare of all involved.

"That doesn't mean the work stops... Tokyo is 2021... but 2020 is now.. Make it your year to work on your own goals for 2021 to happen."
Today @SportsfileSam came to visit us! 📷

The Correct decision was made to postpone the Olympics for the safety and welfare of all Involved.

That doesn't mean the work stops... Tokyo is 2021... but 2020 is now.. Make it your year to work on your own goals for 2021 to happen 🙌🏻 https://t.co/rmPuQ4lO1k

— Phil Healy (@philhealy2) March 24, 2020
Brendan Boyce, who was sixth in last year's 50km walk at the World Championships, tweeted that the rescheduled Games had "the potential to be the greatest show of unity, of life and of sport the world has ever seen."
Yesterday, in anticipation of the postponement, the Donegal man tweeted "Life is 10% what happens to you and 90% how you respond to it. Let's drive it on."
Marathon runner Stephen Scullion, who set a PB when qualifying for the Games in January, wrote: "I'm not fully over the Olympics moving yet but a great (way) to look at it, is if you weren't a medal prospect, then having an extra year is a gift. For the medal prospects, then it will simply make your Olympic dream a little harder. For most of us, it's a gift."
Scullion elaborated on his thinking to RTÉ Sport: "I think for now I'm just dealing with plans constantly being changed, which is frustrating, but from a performance stand point, it's great news.
"More time to prepare and improve. I've gotten faster every year in the marathon, so with performance at the games in mind it's a huge boost for me."
Gymnastics world bronze medallist Rhys McClenaghan tweeted: "Postponed until 2021... The vision stays the same."
Olympics Postponed until 2021... The vision stays the same 🥇 pic.twitter.com/XPDvP4h1sC

— Rhys Mcclenaghan (@McClenaghanRhys) March 24, 2020
Modern pentathlete Arthur Lanigan-O'Keeffe said on Twitter that while the postponement it was the correct decision he "can't help feeling gutted about the 2020 season".
"I went through a huge amount of pain and sacrifice training this winter and I was undoubtedly in the shape of my life."
He also called on UPIM, the sport's governing body, to cancel the modern pentathlon World Championships scheduled for Mexico in May, and to start counting Olympic qualification from this time next year to "ensure a level playing field" for athletes.
Natalya Coyle, who finished six in the modern pentathlon in Rio, tweeted: "I'm a mixed bag of emotions. Sadness for all the years I've worked towards this goal and relief for the fact I can't prepare as I'd like/putting myself & others at risk even trying to train.
"I'll be ready whenever I need to be for the Olympics."
Two-time world rowing champion Sanita Puspure's child suggested she could have another to pass the time until 2021.
"Just a thought from my child. You could get pregnant now, have a baby girl and then get back training for Olympics. Must love the positivity."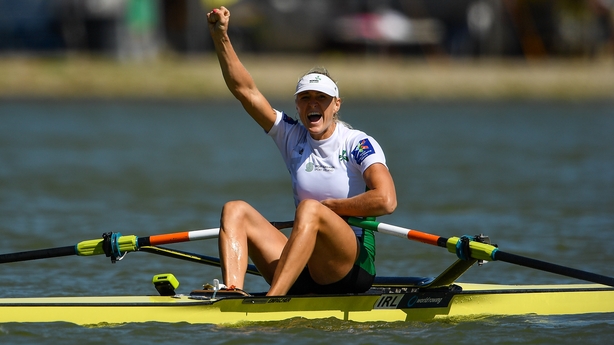 Her fellow Rowing Ireland High-Performance Athletes Philip Doyle and Aifric Keogh said: "We are obviously devastated with the news even though we have seen it coming the last few weeks.
"The team has been working so hard and we have been doing so well physiologically this year with erg scores and boat speed better than ever, but we need to take a step back now as a group and plan for the next 16 months or so.
"It's hard not to lose perspective when it's a decision so meaningful to us as a group of athletes but we can't lose sight of the reason why they were postponed. We as a team are thankful every day that we haven't experienced the loss of some countries and people out there from COVID-19. We want to thank all front-line staff for their work and extend our sympathy to athletes who have experienced loss from this pandemic."
Rio Paralympics silver medalist Colin Lynch, now retired, pondered on Twitter whether official Tokyo 2020 merchandise would now be worthless or worth more "like those stamps accidentally printed upside down".
The cyclist added: "Disappointing for those athletes due to go to Tokyo 2020 but the Games are suspended and not cancelled. This will be a far better situation than trying to rush them through with athletes unprepared and unable to train properly.
"In the meantime, athletes can relax and refocus. And don't let anyone tell you they have been 'preparing for this for the last 4 years'. It doesn't work that way."
The @Olympics in @Tokyo2020/2021. It now has the potential to be the greatest show of unity, of life and of sport the world has ever seen. Let's crush #COVID19 #togtherapart pic.twitter.com/h3Cyj62Mk4

— Brendan Boyce (@brendanboyce) March 24, 2020
Just a thought from my child..
" you could get pregnant now, have a baby girl and then get back training for Olympics"
Must love the positivity. #tokyo2021#COVID19

— Sanita Puspure (@SanitaPuspure) March 24, 2020
I'm not fully over the Olympics moving yet, but a great to look at it, is pretty simple. If you weren't a medal prospect, then having an extra year is a gift. For the medal prospects, then it will simply make your Olympic dream a little harder. For most of us, it's a gift. #time

— Stephen Scullion (@scullion262) March 24, 2020