The Olympic Federation of Ireland has tonight confirmed that Pat Hickey will attend the European Games in Belarus next week.
Delegates at tonight's OFI AGM in Abbotstown were informed of Mr Hickey's intention to go to the games in Minsk, which begins on Friday 21 June.
OFI President Sarah Keane said it was her understanding that Mr Hickey would be attending in his capacity as a former president of the European Olympic Committee and one of the founders of the European Games.
Keane said it was helpful that they were aware in advance of his attendance. She said she was not sure if there would be any interaction between Team Ireland and Hickey in Minsk and that the Irish delegation's focus would be on the athletes.
But she did add the federation was anxious to move on from the Rio ticketing debacle.
Hickey was arrested in Rio in August 2016 on charges relating to ticket reselling. He remains self-suspended from his role as president of the Olympic Council of Ireland.
The International Olympic Committee has yet to produce a finding from its inquiry into the incident but Keane expects that may be forthcoming before next year's Olympic Games.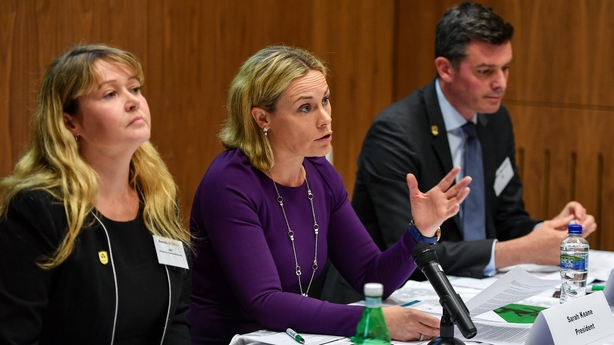 During his time as President of the European Olympic Committee, Hickey was a key figure in the creation of the European Games, the first edition of which was held in Azerbaijan in 2015.
That year, Hickey described the European Games as his "legacy".
At this evening's AGM, the OFI reported a budget surplus of €149,606.
It also announced the allocation of €250,000 worth of Discretionary Funding to 22 National Governing Bodies, as well as €70,000 Olympic Solidarity Funds related to the Youth Olympic Games to ten different sports.
Keane said that the money disbursed was an increase on 2018 and that she hoped that the federation would be in position to further increase that discretionary funding next year.