The International Olympic Committee (IOC) has lifted the Russian Olympic Committee's ban for state-sponsored doping only three days after the 2018 Winter Games' closing ceremony.
This means Russia's punishment for systematically doping hundreds of athletes, across all sports and over at least five years, lasted just 85 days.
The IOC suspended the Russians on December 5 after a disciplinary commission, chaired by former Swiss president Samuel Schmid, backed the findings of two earlier investigations for the World Anti-Doping Agency (WADA) into state-sponsored cheating.
This meant only invited Russian athletes were allowed to compete at this month's Games as part of a 'neutral' Olympic Athlete from Russia (OAR) delegation.
It was originally planned that the ban would be lifted in time for the 168-strong OAR team - the third largest in Pyeongchang - to take part in Sunday's closing ceremony as Russians, provided there were no complaints or fresh controversies.
However, curler Alexander Krushelnitzky and bobsledder Nadezhda Sergeeva both failed drugs tests in South Korea, with Krushelnitzky losing the bronze medal he had won with his wife in the mixed doubles.
Those positives cost Russia its spot in the closing ceremony but the embarrassed pair did not contest their cases, unlike almost every other Russian caught cheating in recent years, and the lifting of the ban was merely postponed a few days to make sure there were no further failed tests.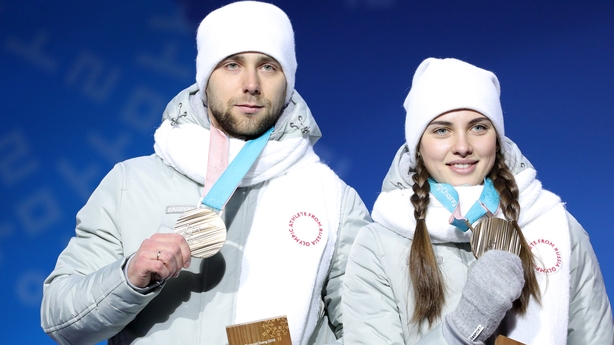 In a statement, an IOC spokesperson said: "The final notification of all remaining test results from the Olympic Athlete from Russia delegation has been received from the Doping-Free Sport Unit.
"The IOC can confirm that all the remaining results are negative.
Therefore, as stated in the executive board decision of February 25 the suspension of the Russian Olympic Committee is automatically lifted with immediate effect."
This well-signposted decision has already been criticised by national anti-doping agencies, clean-sport campaigners and Russian whistle-blowers.
They have pointed out that Russia has still not formally accepted the key finding of the various investigations into their cheating, namely that their cheating was state-directed, or made all the stored samples they have from Russian athletes available for re-analysis.
As a result, Russia's anti-doping agency, RUSADA, remains banned by WADA and only invited Russians, competing as genuine neutrals, can take part in the Winter Paralympics.