Cassie Sharpe dominated her rivals with the two best runs of the final as the 25-year-old Canadian soared to Olympic gold in the women's ski halfpipe.
Sharpe's second run of 95.80 was more than enough to defeat France's Marie Martinod and American Brita Sigourney, who completed the podium places in a final that went pretty much to form.
All three skiers had recorded two runs of more than 90 points in qualification and they brought a similar level of consistency to a final that saw the top five qualifiers duplicate their finishing order in the medals showdown.
After some low scoring to start the first round, including a fall for Sochi gold medallist Maddie Bowman, the final began in earnest when her compatriots Annalisa Drew and Sigourney established scores in the high 80s.
Martinod responded with a high-class opening attempt that scored 92.20 before Sharpe went one step further, completing a run full of variation to tally 94.40 for a healthy lead after the first round.
The Canadian's solid platform enabled her to drop back-to-back 900s on her next run to increase the advantage over Martinod to 3.60 points going into the final round.
Bowman then required medical attention after suffering a nasty fall at the end of her third run as she failed to lay down any clean routines in the defence of her title and had to settle for an 11th-placed finish out of the 12 skiers.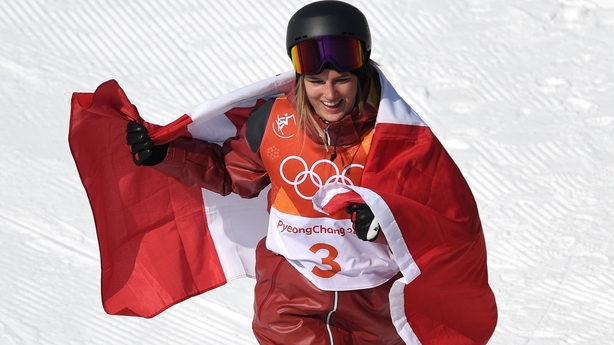 Another Sochi medallist, Ayana Onozuka of Japan, was unable to repeat her bronze medal performance from four years ago and finished in fifth place.
The medals this time came down to the final four skiers.
When Drew had climbed into the bronze medal position, the pressure was on Sigourney to respond. After a nervous wait that saw both US athletes standing together at the foot of the pipe, Sigourney was awarded 91.60 to take third by 0.80 points.
In an anti-climactic finish to the final, both Martinod and Sharpe fell on their final runs but that did not stop both athletes beaming with delight at the top of the podium.
"I am elated," Sharpe told reporters afterwards. "It doesn't really feel real yet. I think I need to go and hug my family and really feel the love, but it feels great as so much hard work has gone into this."