Tess Arbez and Pat McMillan both recorded top-50 finishes in their respective events at the Winter Olympics in Pyeongchang.
Adverse weather conditions meant both athletes had a delayed start to the Games , and Arbez made it back-to-back top 50 finishes after her performance in the Ladies Slalom.
The French woman's first run of 59.47 in the giant slalom saw her trail the leader by 11 seconds, and shaved .47 off her second run to finish with a total time of 1:58.47 and 49th overall out of 78 athletes.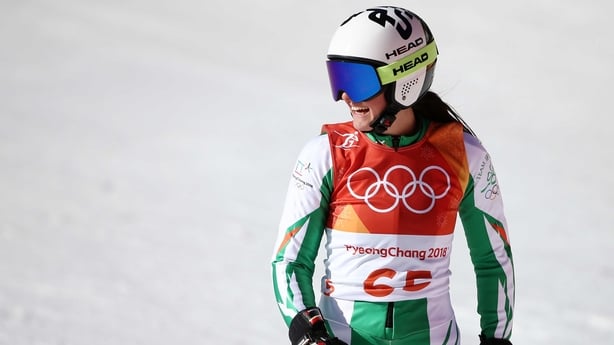 Clare native McMillan posted a time of 1:33.54 in the Men's Super G which was good enough for 48th position, following on from yesterday's 52nd placing in the Olympic Downhill.
Thomas Westgard put in a creditable showing in the 15km Cross Country event. His time of 37 minutes, 36.6 seconds was enough to secure 63rd position.
Big effort from @WestgardThomas today. He was 63rd out of field of 119. Tomas feels there is lots of room for improvement. Highlights tonight on @RTEsport #PyongChang2018 🇮🇪 pic.twitter.com/2y1exjM4qs

— Darren Frehill (@Darrenfrehill) February 16, 2018
Arbez said: "I'm really happy about another top 50. I know that for top 40 I will have to be faster the next time but I'm really happy with this. The second run was still good.
"I just want to do more of this again and again, it is amazing. I just want to live it again.
"I think it's really good to finish, not just to be here to do two gates and go out. I hope it will help girls to know that we exist and to know that a lot of girls can race here, that we can race in Ireland," she said, after becoming only the sixth Irish woman to race in a Winter Olympics.
McMillan admitted he was disappointed with his finishing position, saying: "I felt very good but I had a mistake before going into the Dragon Valley, the flat part, which meant I lost all my speed. That meant I was slower than I'd hoped but I felt I skied the top section very well.
"I wanted to do a little bit better but I guess I have to be happy with how everything went and come back stronger the next time," he added.
The Clare man only took up ski racing five years ago and has been a trailblazer for Irish speed skiing at these Winter Olympics.
"The future looks very bright for Irish skiing and I'm more motivated than ever to keep on going," he said.
"I've had a taste of what it's like now and I need to come and do it again and make a result that really stands out. Four years and eight years from now I have high hopes."