Bad weather may have delayed and frustrated them for several days but when Ireland's alpine skiers Patrick McMillan and Tess Arbez made up for lost time this morning.
McMillan (26), from Ogonelloe, Co Clare, had a flying outing in the 'Formula One' of skiing, fearlessly hurtling down the tricky Downhill course with no problems at all to finish 52nd. His time of one minute and 49.98 seconds (1:49.98) was just nine seconds slower than the new Olympic champion Aksel Lund Svindal of Norway.
Less than an hour later, on a brilliant morning for Team Ireland in PyeongChang, a daring second run in the Giant Slalom saw Arbez finish four seconds faster than her first to move up six places to finish 50th overall from a field of 79.
Pat (@mcwindy ) completes Downhill just 9 seconds behind the current leader with a time of 1.49.98 again just outside top 50#TeamIreland #PyeongChang2018 pic.twitter.com/lwMIz47pjT

— Team Ireland (@olympiccouncil) February 15, 2018
"This feels great," said a delighted McMillan (26). "Today I achieved one of my top goals in life, to ski in an Olympic Downhill and finish it and make a lot of people proud. I'm sure everyone at home enjoyed it. My mom and father will be very happy.
"A little bit more was left on the course," he said. "The (sunny) conditions probably took a little bit of time off and I lost a little bit of power towards the end.
"But the boys who won it are all in their mid-30s. They have 10 more years experience than me. I can gaurantee that in four or eight years time, when we're back here again, I'll also have that experience and make a great result.
"When you put your mind to it you can do anything," he said. "Five years ago I said I wanted to become a skier and then go to the Olympics and now I've achieved that goal. You should never give up."
Spoke to Tess Arbez following her 50th place finish out of 81 competitors  in Giant Slalom. Proud to fly Irish flag & full of praise for gold medal winner Mikaela Shiffrin @RTEsport @olympiccouncil #Pyeonchang2018 pic.twitter.com/qAcWlzXP5n

— Darren Frehill (@Darrenfrehill) February 15, 2018
Arbez, who only turned 20 last December, had an equally dazzling debut at this level. In Olympic Giant Slalom she needed to complete the first run to qualify for a second. While 11 other competitors crashed out around her she held her nerve and completed her first in one minute and 22.12 seconds, admitted her legs were shaking with nerves before she left the start-gates. 
But second time around Arbez showed absolutely no fear and was a full four seconds faster, crossing the line in one minute 18.12 seconds, a huge improvement that jumped her six places to finish in the top 50 with a combined total of two minutes 40.24 seconds (2:40.24).
"Everything is just perfect," she beamed. "The weather was amazing, my parents and my family were over there shouting for me and I cannot believe it!
"It was really important to finish to the first run. I could only do the second run if I got down first time so that was really important because I never did the second run in that kind of race before.
"I'm really happy to be there. I decided I cannot be sad if  I made a mistake or something, to just have fun!"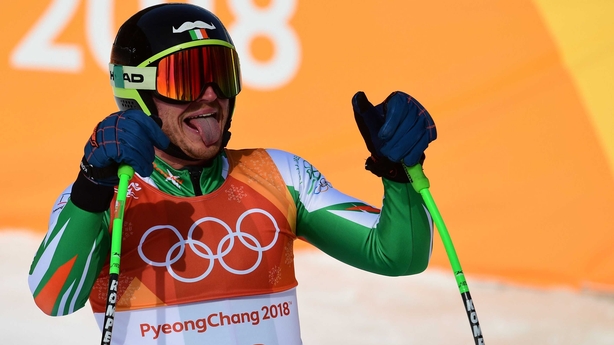 Arbez was only the seventh Irishwoman to compete in a Winter Olympics and McMillan was only the second Irishman to ever take part in the Olympic Downhill.