Fit and well, Thomas Westgaard is looking forward to the gruelling longer events after competing in the cross country sprint on Day 4 of the Winter Games in PyeongChang.
The Norwegian-born skier finished 62nd in the 1.4 kilometre event, recording a time of 3 minutes, 29.6 seconds.
"I'm very happy with that, it's one of the best sprints I've done this season so I have to be satisfied with that," he said.
"Sprint isn't my best discipline, I prefer longer races and I have two more races to come that are better for me. I feel I'm progressing well after my sickness last week and am really looking forward to the next races now."
Westgaard has two more events to come; the 15km freestyle this coming Friday and the 50km marathon, his speciality, on Saturday, 24 February.
Seamus O'Connor failed to qualify for the final in the half-pipe snowboarding event in PyeongChang, with a fall in his second run putting pay to his chances.
A top 12 was needed to progress and after the opening run, O'Connor was sitting in 13th place following a score of 65.7 points, just 1.25 points outside the qualifying mark.
But when he threw in his toughest trick in the second round and slipped slightly on the landing, he failed to improve on his first round score of 65.50 and the chance slipped agonisingly away from him.
O'Connor finished 18th of the 29-man final and while he was disappointed it was quite an achievement considering he tore all of the ligaments in his knee just 16 months ago in a fall during competition.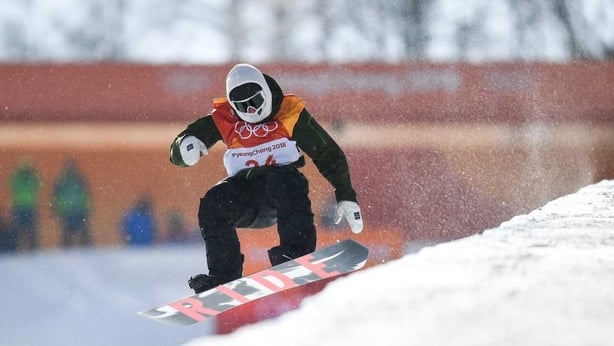 O'Connor commented following the event, "Obviously I would like things to have gone a little better but I'm down here at the bottom of the pipe in one piece with a smile on my face in my second Olympics so I can't complain," he said.
"I knew I had to go for absolutely everything in that second run. Unfortunately, just on that last landing, I kind of slipped out a little bit."
"It's the biggest trick of my run, a front-side 1260 which is three and a half rotations and here in PyeongChang was the first time I'd done it in over two years. It was really close but that's how snowboarding half-pipe is. You're either on it or really close but not quite there."
O'Connor was competing in his second Winter Olympics and had finished 15th in the half-pipe in Sochi where he was also 17th in the slopestyle event.
18th place in quals for @its_seamus ☘️ pic.twitter.com/Xxh56M0apz

— Team Ireland (@olympiccouncil) February 13, 2018
Clare skier Pat McMillan made his Olympic debut in the Combined Downhill on Tuesday where he was very happy to complete the first element - the  downhill run -  in one minute and 25.77 seconds, placing 61st overall.
"It was great to finally get into my first race and get that under my belt. I had a fairly smooth run. I had a few line errors towards the bottom and got a little bit pushed back in my seat but otherwise it was better than my training runs and great training for my main event which is the downhill."
McMillian did not complete the second slalom as he is focusing on tomorrow's Downhill.