Women's Olympic slopestyle race director Roby Moresi shrugged off suggestions the event should have been postponed for a second day due to high winds on Monday.
The conditions challenged all the competitors, with none of the 26 athletes landing both their runs.
American Jamie Anderson took gold, but some of her rivals said the International Ski Federation (FIS) should have called the event off.
Great Britain's Aimee Fuller, who finished 17th, said: "Conditions today were definitely a challenge. It was for sure not what I dreamed of for an Olympic final, but it is what it is and I'm lucky to be in one piece right now."
Moresi, however, was happy he had made the right call.
"They were saying that basically tomorrow was going to be the same situation. It was not going to be a major improvement," he said.
"We played our cards. We evaluated the situation with what we had at that moment. And at that moment nobody was pulling back. They were good to go for it."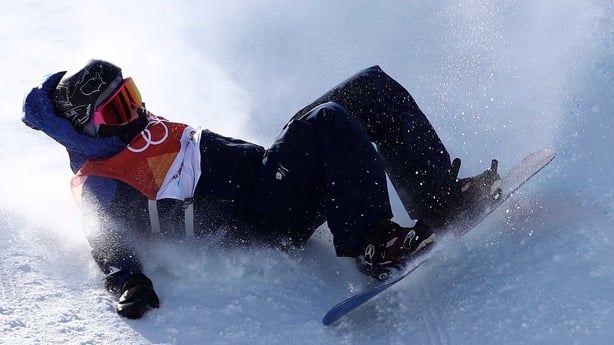 Moresi accepted the argument for making the scheduling of the event more flexible, but said that would be difficult as there are multiple ski and snowboard freestyle events being run at a single location in the mountains of Pyeongchang.
Moresi, who is an experienced member of the FIS organisational team and a popular official among the athletes, admitted the final was not the most spectacular advert for the sport of freestyle snowboarding but that issues with the weather were inevitable.
"I always like the fact that these sports should shine for the performance itself, not only from the competition point of view, but the pure spectacular sport that it can be," added Moresi, who used to coach the Italian team.
"It would always be great if we could shine for the high end spectacular sport it is, but it is not always like that. Sometimes you have to adapt to what Mother Nature gives us."
Slalom skier Tess Arbez became the second Irish athlete to have her Olympic debut delayed due to weather after the women's giant slalom was called off due to high winds and bitter cold at the Yongpyong Alpine Centre. 
Clare skier Patrick McMillan saw his opening event (the downhill) postponed on Sunday. He is also making his Olympic debut in the Alpine combined tomorrow.