Rio Olympian Bryan Keane has retired from international triathlon competition.
The 36-year-old represented Ireland at his first Games in Brazil last year, finishing 40th, having missed out on London 2012 after he was knocked down by a car whilst training on his bike.
Keane started out life as a swimmer, switched to athletics where he represented Ireland on the track and cross country circuit before he took up cycling - another sport he represented Ireland in.
The National College of Art and Design graduate then decided to combine all three sports, which led him to triathlon and after 23 top-ten placings in elite ITU races he is bringing down the curtain on an eleven-year career in the sport.
"I dreamt as a kid to go to a Games and I made it there," said the Cork man. "I went in to compete and not make up the numbers. I didn't have the performance I wanted on the day but I went there with the shape to deliver the performance."
In 2010 Keane recorded the highest ever finish position by an Irish male in a triathlon World Championship when he claimed 7th place at the ITU Elite Sprint World Championships in Lausanne, Switzerland.
But within a month Keane's world was turned upside down when he was knocked from his bike by a car during an off-season training spin near his parents home in Cork.He broke his kneecap in two from the crash - an injury that derailed his qualification campaign for the London 2012 Olympics.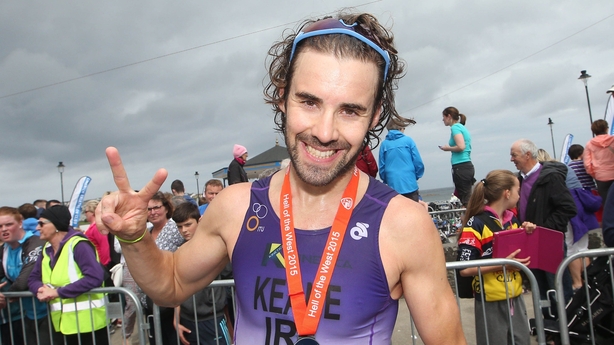 "The crash was a low point," he said. "I didn't know if I was going to be able to come back from it. I never thought it would be two years to get back and that I'd have to learn to run again."
"I don't think you can regret anything, the accident took away two years of my career and cost me a place in London. I would have loved to have been a double-Olympian but I learned from it.
"You dream as a kid to achieve something, then that's taken away from you but I got a second chance to go after it again.
"It would have been very easy to say, that's gone, in a typical Irish way of saying 'I could have been great' but I didn't want to be saying that, I wanted to actually get back and prove myself, which I did." 
Keane said he first started to contemplate retirement around Christmas, with his marriage in October one reason as he didn't want to continue to spend eight months a year away from home.
"I don't think I'll do any races for a while but maybe if I end up having kids doing the sport I will get involved, if the old race suit still fits me!
"I would definitely like to stay involved to some degree with mentoring the younger elite athletes."