By Patrick Flanagan
Unlike their Olympic peers, Paralympic athletes rarely have an opportunity to highlight their sport and sporting achievements to mainstream sports fans and audiences.
There are of course exceptions, with athletes like Jason Smyth and Michael McKillop widely recognised due to their sheer dominance in recent years.
Four-time Paralympic gold medallist Smyth lines up in the T13 100m heats next Thursday. 
Four years ago he smashed his own world records when retaining T13 100m and 200m titles in London. It took him 10.46 seconds to win the 100m final - the fastest ever Paralympic clocking.
The decision of the International Paralympic Committee to remove the 200m from this year's Games means he will have to focus soley on holding on to his 100m crown.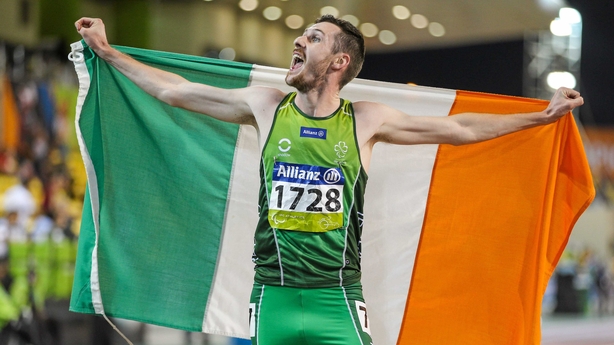 McKillop also shone across the water in 2012. He stormed to victory in the 1500m T37 classification final before claiming gold in 800m.
He's the world record holder over both distances and will be fancied to collect a fourth Paralympic gold in Brazil.
Meanwhile John Twomey and Catherine Walsh have been Irish stalwarts, participating in a combined 18 Paralympic Games, competing and medalling across many disciplines.
But who else can Irish fans look forward to watching in Rio? Who might emerge as our nation's newest sporting hero?
Might there be more anecdotes and entertainment to rival that of the O'Donovan brothers? We take a brief look at five athletes who you might not know now, but may be all you can talk about over the course of the next two weeks.
Athlete/Sport: Damien Verecker / Tandem Cycling (VI)
Blurb: Participating in his first Paralympics, Damien Verecker and his pilot Seán Hahessy will be hoping to build upon a first-place finish in the Para-Cycling World Cup in South Africa, in May. Verecker is currently second in the Road Race World Rankings in the VI category, and will hope to replicate that success in every event.

When to watch:8 Thursday – Individual Pursuit Qualifier & Final
12 Monday – Individual Kilo Final*
14 Wednesday – Men's Time Trial
17 September – Men's Road Race
Athlete/Sport:  Greta Streimkyte / 1500m (T13)
Blurb:Greta Streimkyte could be one of Team Ireland's biggest dark horses entering the Rio games. Having emerged as one of the world's top athletes in her classification at the AAI Games in Dublin in May this year, Streimkyte won bronze in the 2016 European Championships in June – her first ever event with team Ireland. Despite her relative inexperience, gold is very much within reach.

When to watch:
10 September  – T13 1500m Final
Athlete/Sport: Noelle Lenihan / Discuss (F38)
Blurb: At 17 years old, Noelle Lenihan is one of Ireland's youngest athletes. She won silver at the 2015 World Championships and gold in this year's European Championships. Having already twice broken the world record in the F38 Discuss, Lenihan is first in the world rankings and one of our best medal prospects.

When to watch:
17 September – F38 Discuss Final
Athlete/Sport: Patrick O'Leary / Canoeing (KL3)
Blurb: Rio will be the first Paralympic games to feature the event of para-Canoeing, with Patrick O'Leary the first Irish athlete to participate in the event. A long-time canoeist and para-canoeist, O'Leary placed first in the 'B' final of this year's Para-Canoeing World Cup. His continued improvement should lead to a top-10 finish and potentially medal contention.
When to watch:
Wednesday 14 September  – KL3 200m Heats
Thursday 15 Septemeber – KL3 200m Semi Final & Final*
Athlete/Sport: Helen Kearney / Equestrian (1A)
Blurb: Likely to be the best know athlete named here, Kearney won three medals at the London Games in 2012. Despite a World ranking of 30th, Kearney, a dressage rider since 2008, has a wealth of experience to draw upon. Ireland's first European para-equestrian medallist could yet again feature among Ireland's top representatives.
When to watch:
Monday 12 September – Grade 1a Team Test
Thursday 15 September – Grade 1a Individual Championship
Friday 16 September – Grade 1a Freestyle Championship
*Subject to athlete's progression through the competition
Patrick Flanagan is a former captain of the Irish Powerchair Football team, and works with Muscular Dystrophy Ireland.