Olympic silver medallist Annalise Murphy has spoken of the self-doubt she had to deal with as she prepared for what ultimately proved to be a memorable display at Rio 2016.
Murphy, who narrowly missed out on a place on the podium at London 2012 when she finished fourth, feared that bettering that performance in the Laser Radial class would prove beyond her.
"I've always thought for the last four years that maybe my best was in London, that I was never going to get close to a medal again, and in the sailing world a lot of people have told me that Rio wasn't going to suit me, and I wasn't going to be able to perform well there," the sailor told reporters on her return to Dublin Airport.
"So it was hard to have to try and overcome that and actually be able to believe that I would be able to do it, and up until a couple of months ago I wasn't sure if I was going to be able to perform in Rio.
"We had a kind of had running joke, I was going: 'Well, I just hope I don't finish last'."
All elite sport requires self-sacrifice, but Murphy has had to undertake a particularly demanding diet to achieve her success. However, she confirmed that nothing tastes as good as an Olympic medal.
"The last four years have been all about Rio," she said.
"We had a kind of had running joke, I was going: 'Well, I just hope I don't finish last'."
"I knew it was going to be a light-wind venue, so I knew I had to be on a diet.
"I've been on a diet for the last four years, but I haven't been very good at it!
"The last six months, I've had to be pretty strict about what I was going to eat and I knew that I had to get everything right to be in the best possible shape for Rio.
"It was definitely worth it, though, and when you achieve your dreams, sacrifices along the way actually don't seem so bad."
Few Olympians would have arrived in Rio more familiar with the city than Murphy, who said of her home from home: "I've spent so much time in Rio training over the last three years.
"I know the venue very well and even talking to other Irish athletes, they kind of didn't realise that there was anything happening outside the village, they thought 'oh, you can leave here?!'
"I've spend so much time there, I feel like I'm part local and able to speak bad Portuguese and get by.
"Also, the amount of time we spent at the venue meant that I knew all of the racecourse better than most of my competitors and that was what, I think, got me ahead."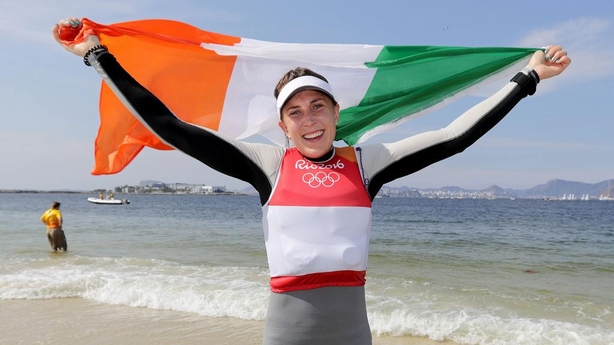 Her meticulous preparation extended to her planning for accommodation during the course of the Laser Radial race, with the 26-year-old eschewing the Olympic village in favour of quarters closer to the race venue.
"I was staying outside of the village because of logistical reasons," she revealed.
"It was just going to take too long every day to get the bus to and from the village.
"They were saying it was one hour if everything went well, but if there was traffic it was going to be longer, so when my competition was going to be going on over nine days that would just be exhausting if you were spending two-plus hours on a bus going to and from the venue every day
"So I wasn't in the camp, so I guess I didn't experience maybe the highs and lows that the rest of the team were experiencing."
Aside from being the poster girl for Irish sailing, Murphy may also prove an inspiration for those considering a digital detox, with the Rathfarnham native confirming that her hiatus from social media had been plotted with sports psychologist Kate Kirby and coach Rory Fitzpatrick.
"I actually signed out of all my social media and we kind of made a plan with Kate and Rory that I wasn't going to look at Irish media during the Olympics," she said.
"If everything is going well, if you start reading things, you start to believe your own hype.
"If something is going wrong it can really upset you if you've read a negative article.
"So from 1 August until I finished on the 16th I was completely unaware of what was going on in Ireland or what was going on anywhere.
"I'd only be asking 'how did the other Irish athletes do today?' and that was sort of how I was keeping up to date, but I was pretty unaware of anything until I actually finished."
"If something is going wrong it can really upset you if you've read a negative article"
Dun Laoghaire Rathdown County Council and the Irish Sailing Association are planning a civic reception to honour Murphy's achievements in People's Park and Dun Laoghaire harbour on Thursday evening.
Having come out on the wrong side of a tight finish to the medal race at the Games in London, Murphy relished the closing stages of her campaign in Brazil, which turned out to be plain sailing, as eventual overall winner Marit Bouwmeester and Anne-Marie Rindom trailed in her wake.
"I was lucky enough that Marit and Anne-Marie had actually dropped back quite a lot in the race.
"They were so far behind me, so I knew that they were never going to be able to catch me in the race.
"Once I was on that last leg I knew I was either going to get a gold or a silver medal.
"It was actually a pretty nice feeling, as opposed to being in a fight for bronze or fourth, so it was very different from London, where I was very stressed and worried about the last leg.
"This time I was more able to enjoy the moment and finish off the race on a high."
Murphy indicated that her absence from both social media and the Olympic Village had largely insulated her from the furore surrounding boxer Michael O'Reilly's failed drugs test, while she also was reluctant to be drawn on the recent arrest of OCI president Pat Hickey in Brazil.
However, she was adamant that the positives rather than the negatives of Ireland's Olympic experience needed to be accentuated.
"You don't want this to be affecting the athletes and the achievements the Irish team has had," she insisted.
"So many athletes have performed so well across every sport, particularly the minority sports, and I think that is what should be coming out, rather than the negative side of this."
Annalise's back https://t.co/L2wJKYoXzu

— RTÉ Sport (@RTEsport) August 23, 2016