Paul Pollock delivered a strong second-half display to lead the Irish challenge home in 32nd place in the Olympic marathon in Rio de Janeiro.
The Holywood athlete was right at the back of the field after the opening quarter of the race but surged through the field to finish just outside the top 30.
It was a well-paced and consistent run from the 30-year-old, who raised his arm in celebration after crossing the line in a time of two hours, 16 minutes and 24 seconds.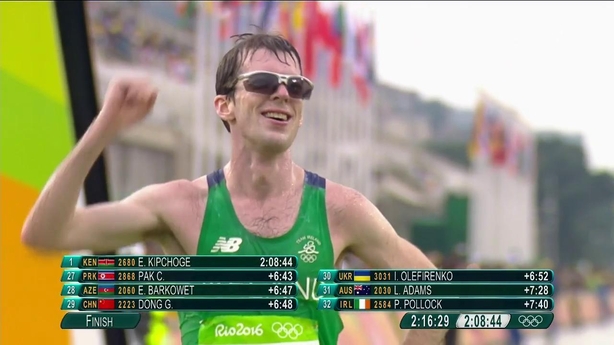 "It was an OK performance," said Pollock. "A top 20 performance was the first goal. I went out 30 seconds to a minute slower for the first half than the plan had been but the legs didn't come around until the second half.
"I came through strongly in the second half and this should give me a good platform to produce an even better performance in the major championships.
"It's been great to see the rise in the number of athletes get the marathon standards and I'm aiming for London (World Championships) in 2017."
Kevin Seaward followed a similar conservative strategy in the early and also reaped the rewards later in the race, moving up from 116th at the half-way mark to a finishing position of 64th in 2:20.06, while Mick Clohisey came home 103rd in 2:26.34.
Kenya's Eliud Kipchoge won gold with a dominating performance, running alone into the Sambadrome and finishing in 2:08.44.
Ethiopia's Feyisa Lilesa claimed the silver medal and American Galen Rupp took the bronze on a soggy course.
Kipchoge, 31, has now won seven of the eight marathons he has entered, including two London Marathon victories.
He began to split the field after around 30 kilometres, starting with a group of a dozen runners about him that slowly dropped away until he ran the final kilometres alone.
"It was a championship and it was a bit slow so I decided to take over. Maybe it was the rain, maybe not. Everyone wants a medal. I was coming here for gold," said Kipchoge.
In previous Olympic appearances, in 2004 and 2008, he had competed in the 5,000 metres before shifting his focus to the longer distance.
It marked the third straight time a Kenyan had claimed a spot on the Olympic podium, following silver and bronze performances in 2012 and a 2008 gold.