Arthur Lanigan O'Keeffe became the second Irish modern pentathlete to secure a top-10 finish at the Olympic Games with an eighth place-finish at Rio 2016. 
The Kilkenny man put together a stunning all-round performance to emulate Natalya Coyle, who came seventh in the women's event on Friday. 
The final result looked a long way off after a slow start to the competition, but Lanigan-O'Keeffe rocketed up the standings after a superb clear round in the show jumping and picked up further ground during the combined running and shooting finale.
"I knew it was going to be a real uphill battle after the fencing, but to get into the top-10, I can't be disappointed with that," Lanigan O'Keeffe told RTÉ Sport.
"I'm very happy. I started the combined in 15th place and executed my race perfectly - I did well.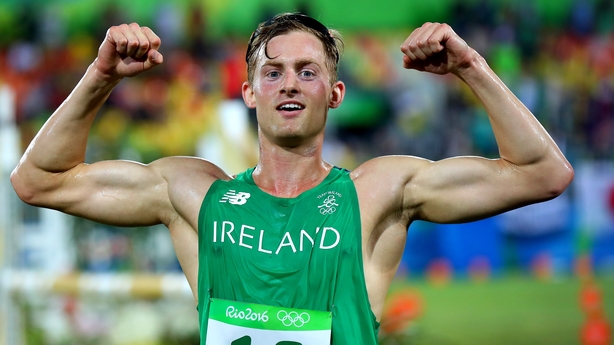 "Obviously the aim when I came here was to medal but pentathlon is a funny sport and you kind of need the stars to align sometimes. If they had aligned a little bit I definitely had the form to medal.
"I'm proud of myself, I gave it everything over the last few years. I worked so hard and to finish the event like that, I'm really happy.
"I had so much support from my friends and family and to do something like that with them there is magic." 
Lanigan O'Keeffe had begun the day in 25th position after Thursday's fencing round, but slipped back to 26th despite recording the 13th best time in the 200m swimming event.
He remained 26th after winning two bouts in the fencing bonus round, which left him on 529 points, 63 behind leader Alexander Lesun and 40 behind the medals.
But the 24-year-old knew that a clear round in the riding leg of the event could shoot him up the leaderboard, and much like Natalya Coyle 24 hours earlier, Lanigan O'Keeffe obliged with a superb round to earn the full 300 points and move up to 829 overall.
The value of that flawless display quickly became obvious as wet conditions brought about several disastrous scores for those ahead of the Irishman and saw him move up to 15th overall. 
More significantly, Lanigan O'Keeffe picked up huge chunks of ground on those ahead of him, putting him within 23 points off winning gold - which translate as seconds -  and 11 points off a medal and well within sight of the top-10.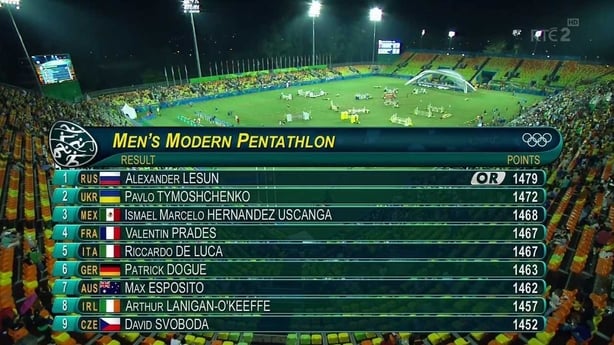 The shooting aspect of the combined event can make or break your chances and the Irishman put in a fine performance, hitting all five targets on at least one occasion as he moved up into the top 10, crossing the line just 22 seconds behind Russian gold medallist Lesun.
Ukrainian Pavel Tymoshenko moved up from eighth to claim silver, with Mexico's Marcelo Hernandez outsprinting Italy's Riccardo de Luca for third.