The United States Olympic Committee has condemned the behaviour of the four swimmers involved in an incident at a petrol station last weekend and apologised for the trouble caused.
Ryan Lochte, a 12-time Olympic medallist, claimed he and team-mates Gunnar Bentz, Jack Conger and James Feigen were stopped by armed robbers posing as police in their taxi back to the athletes' village following a party.
However, Rio police spotted inconsistencies in their initial statements and, following an investigation, civil police chief Fernando Veloso told a press conference that Lochte had lied to cover up a bizarre episode at a petrol station and the presence of two women the group had met at the party who were in a second taxi.
USOC appeared to corroborate Veloso's version of events and has promised a review into the incident.
USOC chief executive Scott Blackmun said in a statement: "The behaviour of these athletes is not acceptable, nor does it represent the values of Team USA or the conduct of the vast majority of its members.
"We will further review the matter, and any potential consequences for the athletes, when we return to the United States.
"On behalf of the United States Olympic Committee, we apologise to our hosts in Rio and the people of Brazil for this distracting ordeal in the midst of what should rightly be a celebration of excellence."
The story first emerged when Lochte's mother told US media her son had phoned her on Sunday to say he had been robbed at gunpoint.
But when journalists in Rio asked the International Olympic Committee and USOC what had happened they were told the story was "untrue". That, however, did not last long as Lochte then gave two interviews to US television that outlined the details of the alleged taxi ambush.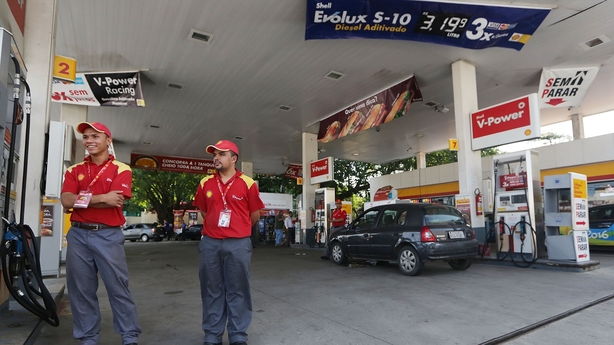 However, the inconsistencies in their initial statements were spotted by the Rio police, which also investigated CCTV images from a petrol station near the village and conducted interviews with the staff.
Veloso told journalists that police inquiries had substantiated the staff's account of what really happened: Lochte and his friends stopped to use the toilet but lost their temper over it being partly closed for repair.
USOC added in its statement: "As we understand it, the four athletes (Bentz, Conger, Feigen and Ryan Lochte) left France House early in the morning of 14 August in a taxi headed to the Olympic Village. They stopped at a gas station to use the restroom, where one of the athletes committed an act of vandalism.
"An argument ensued between the athletes and two armed gas station security staff, who displayed their weapons, ordered the athletes from their vehicle and demanded the athletes provide a monetary payment.
"Once the security officials received money from the athletes, the athletes were allowed to leave."
Veloso said he did not know if any of this would lead to charges being brought but he said if it did the four would be charged with vandalism and falsely reporting a crime.
While Veloso was speaking in a Leblon theatre lobby to more than 100 journalists, across the street Bentz and Conger were being questioned in a police station.
USOC confirmed the pair have given statements to the police and departed Rio on Thursday night, with Lochte reportedly already back in America, while Feigen provided a revised statement "with the hope of securing the release of his passport as soon as possible".
Earlier on Thursday Rio 2016's organising committee seemed more than willing to forgive this as the understandable release of steam.
"We need to understand that these kids were trying to have fun," said Rio 2016's spokesman Mario Andrada.
"They came here, they represented their country to the best of their ability. They trained for four years, they competed under gigantic pressure.
"I understand this issue is under investigation but let's give those kids a break. Sometimes you take actions that you later regret.
"Why should the swimmers apologise? No. They had fun, they made a mistake, it's part of life, life goes on."