Caster Semenya believes she will be competing against the world in Saturday's Olympic 800 metres final after cruising towards what appears to be an inevitable - and controversial - gold.
The 25-year-old, who found herself at the centre of a gender row following her victory at the 2009 World Championships and had to undergo gender testing before being cleared to return to competition, won her semi-final in one minute 58.15 seconds.
After qualifying fastest, she said: "I'm focused on my race. At the end of the day, this is a championship.
"It's not about the people, it's all about you. It's you up against the world."
Fifth at the bell and seemingly at jogging pace, Semenya moved up to third in the back straight before rounding Marina Arzamasova of Belarus and Great Britain's Lynsey Sharp coming out of the final bend.
Sharp, disappointed with reaching only the semi-final four years ago, was second in 1min 58.65secs.
The Scot, who earlier this summer claimed the women's 800m had become two different races, afterwards walked away when asked about the controversy surrounding Semenya.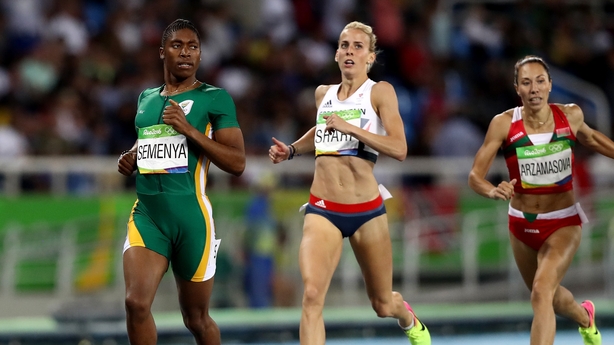 Semenya has been cleared to run as a woman, but the controversy surrounding her eligibility remains.
The Court of Arbitration for Sport, in a case brought by Indian sprinter Dutee Chand last July, suspended the rules of athletics' world governing body the IAAF on 'hyperandrogenism', which causes unnaturally high levels of testosterone, meaning athletes on testosterone-suppressing medication, like Semenya, could come off it.
Earlier this year Semenya ran her personal best and the fastest time in the world since 2008, 1:55.33.
She looks capable of challenging Czech Jarmila Kratochvilova's 33-year-old world record of 1:53.28, but may not wish to court the likely controversy which would accompany such a feat.
"I'm not focused on the world records," Semenya added.
"I just ran my PB a month ago. So the focus is just to enjoy the championship, you know, go back home with the gold medal.
"That is still the thing in my mind. I'm quite happy with the performance now. So I'm just looking forward to a final."
"It's not about the people, it's all about you. It's you up against the world."
Sharp maintains hope of an upset.
"Anything can happen in a final," she said.
"We've seen that enough in the last seven to 10 days. There's been so many shocks and surprises.
"I think it's going to be a really competitive race."
Kate Grace of the United States and world champion Arzamasova qualified from the semi-final as fastest losers behind Semenya and Sharp.
Margaret Wambui of Kenya won the first semi-final in 1:59.21 and Poland's Joanna Jozwik won the second semi-final in 1:58.93
Melissa Bishop of Canada (1:59.05) and Fancine Niyonsaba of Burundi (1:59.59) complete the line-up for Saturday's final.