It was long, arduous journey to Rio for Corkman Bryan Keane, pockmarked with the sort of obstacles few competitors will have faced in their Olympic odyssey.
Keane should have competed in the Triathlon at London 2012, but when a collision between his bicycle and a car left him with a shattered kneecap in 2010, his dreams were cruelly ended and his athletic future left in doubt.
He showed remarkable levels of guts and determination to make it back to top-level competition and his 40th-placed finish on Thursday was a serious feat.
Reflecting on his performance, Keane showed typical humility. "I'm a bit disappointed. I came across the line in 40th. I expected a lot more," he told RTÉ Sport.
"I was there out of the water, I was with (Richard) Murray and the guys who were that second chase pack. I couldn't get my helmet strap undone. I chased all the way on the back of the top of the hill and it's like an elastic, it just popped. You lose time.
"It's a bit frustrating to let the race get away from me like that. It was a silly mistake..."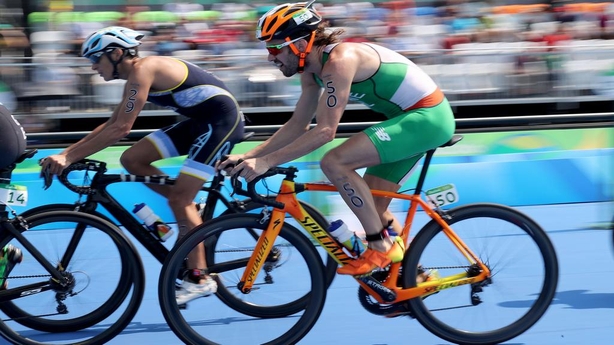 Keane is 35 years old. After his accident he spent 10 weeks in a leg brace, and actually made a valiant attempt to go to London. 
In 2013 he finished second at a World Cup event in Ishigaki, Japan. That achievement convinced him he could realise his Olympic dream, and he did it by leaving 15 other elite triathletes in his wake on Thursday - 40th in a field of 55 is good going. Still he refused to indulge in self praise.
"I don't know where I came out of the water but I was with a group just on the tail end of it," Keane added. "I came off the bike and I was too far down.
"You've got to be within a minute or a minute and a half of the leaders if that group are away. It was a slower race from me but that's racing.
"You race hard, you come across the line. I'm racing the same guys week in week out, I know I'm better than that. But that's just on the day, that's where I've ended up."