Security forces were called to the Olympic weightlifting arena overnight after Iranian coaches reacted furiously when Georgia's Lasha Talakhadze beat Behdad 'Salimi' Salimikordasiabi with a world record tally in the men's super-heavyweights.
Tensions rose at the Riocentro when Salimi's second 245kg clean and jerk attempt was approved by two of the three judges only to be overruled by all five members of the jury because the Iranian's left arm was deemed not straight.
Salimi and the head coach of Iran's team, Sajjad Anoushrivani, claimed there was a conspiracy led by an Iraqi on the jury with the lifter and his team furiously approaching the jury, which is against the rules.
"It was getting ugly and we asked the competition manager to call security because of the behaviour by the Iranian officials," said Sam Coffa, chairman of the International Weightlifting Federation's technical committee.
The Iran team face sanctions for their behaviour.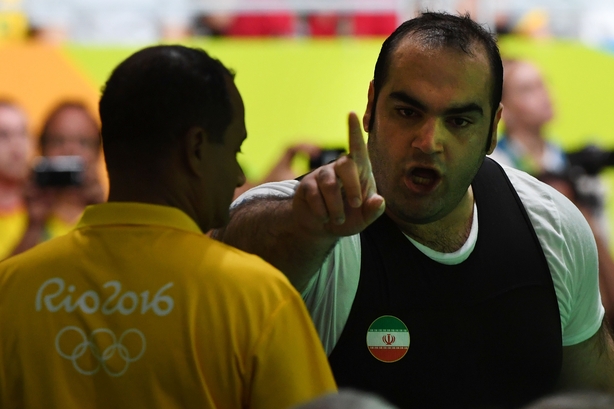 "It was an unfortunate end to the Games," said Coffa.
Salimi also failed to straighten his left arm sufficiently with his first effort and was never close with his third, a disappointing no score finish after setting a 216kg world record in the snatch earlier.
That left Talakhadze to claim the Olympic gold with a 473kg total, eclipsing the 472kg world record mark of another Iranian, Hossein Rezazadeh, set 16 years ago at the Sydney Games.
Iranian supporters in the crowd of more than 5,000 booed the Georgian, the final weightlifting gold medallist of the Rio Games.
Gor Minasyan of Armenia finished 22kg behind Talakhadze in second place, with another Georgian, Irakli Turmanidze, third on 448kg.
Talakhadze made six good lifts, just as he had done in winning the European title in April.
He returned from a two-year doping ban last year in time to compete at the IWF World Championships. He finished second to Russia's Aleksei Lovchev but was promoted to first place when Lovchev tested positive.
Talakhadze earlier broke Salimi's snatch world record in the first section of the competition when he lifted 215kg.
Salimi took it straight back with a 216kg effort and was favourite going into the clean and jerk before three failures.
Talakhadze's final lift of 258kg, 11kg more than his second, gave him the world record against what could have been a distracting backdrop.
"The Iranians were crying and yelling and maybe this gave me more strength to become the champion," said Talakhadze.