The International Olympic Committee has opened disciplinary proceedings against Kenyan coach John Anzrah and 800m runner Ferguson Rotich after Anzrah was allegedly caught providing a urine sample for a drugs test on behalf of the athlete.
This is the second scandal involving a Kenyan athletics coach at the Rio Olympics after Michael Rotich was filmed by undercover reporters earlier this year allegedly offering to provide tip-offs about anti-doping tests in return for £10,000.
Like Michael Rotich, Anzrah has been sent home from Rio in disgrace. No action has yet been taken against Ferguson Rotich (pictured below), who is one of the favourites in the 800m race, which begins on Friday with the heats.
An IOC spokesman said: "We take note of the decision of the Kenyan Olympic Committee to send home its athletics coach following a violation of anti-doping rules and we thank them for their swift action.
"The IOC has immediately created a disciplinary commission to look into the matter with regard to the coach and the athlete concerned."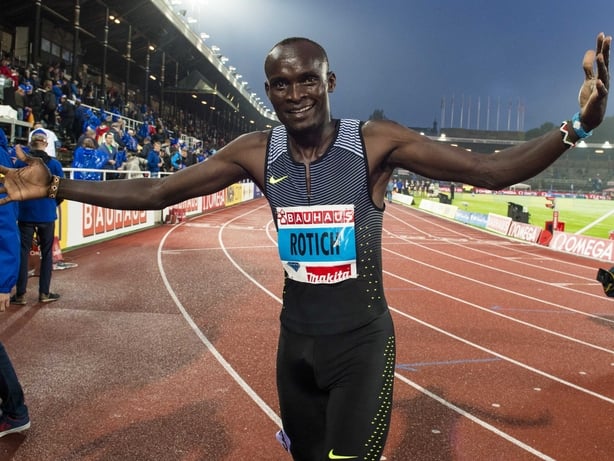 Ferguson Rotich's agent Marc Corstjens said that his runner lent Anzrah his athlete's pass so the coach could get a free breakfast in the Olympic Village on Wednesday.
Anzrah was then approached by a doping control officer who was looking for Rotich and asked to provide a urine sample, which the 61-year-old man did.
"Ferguson is completely confused as to why he would do this but the good news is that he found out straight away and went to the drug-tester and gave them blood and urine samples," said Corstjens, who only arrived in Rio on Thursday morning.
The 26-year-old Rotich finished fourth in last year's world championships in Beijing and is ranked ninth in the world this season.
World athletics' governing body, the International Association of Athletics Federations, said it has asked the IOC, which is responsible for anti-doping during the Games, for a full report and will then make an assessment on what disciplinary action should follow for the coach and athlete.
In another bad news story, Bulgarian runner Silvia Danekova has tested positive for a banned substance and has been temporarily suspended pending the test of her B sample, two sources familiar with the case said on Thursday.
The 33-year-old, who was due to compete in the women's 3000m steeplechase, tested positive in a doping control conducted in Rio a few days after her arrival in Brazil on 26 July, the sources said a day before the athletics programme begins.
According to the same sources, Danekova, who raced the steeplechase at the London Olympics in 2012 but did not get beyond the heats, used the banned blood booster erythropoietin (EPO).
Neither Danekova nor her coach Rumen Angelov were immediately available for comment.