Sinead Lynch and Claire Lambe eased into the semi-finals of the Women's Lightweight Double Sculls with a second-placed finish in Rio, with brothers Gary O'Donovan and Paul O'Donovan winning their Lightweight Double Sculls heat to emulate them.
The weather had left the Irish kicking their heels on Sunday, as organisers postponed the heats due to choppy waters.
They were straining at the leash to get their Games under way and, just behind South Africans Kirsten McCann and Ursula Grobler, Lynch and Lambe left the field in their wake.
They clocked 7:10.91, with the South African winning the heat in 7:07.37.
"It was a comfortable race. Job done and we're into the semi-final," Lambe told RTÉ Sport.
"We would have maybe liked to have been closer to the South Africans but we lost a bit too much on the first 500m.
"That's definitely something we can improve on. We didn't necessarily get out of the blocks as well as we can.
"We've something to work on tomorrow and up our game for the semi-final in two days' time."
The O'Donovan brothers were even more impressive as they took first in a time of 6:23.72, ahead of Italy.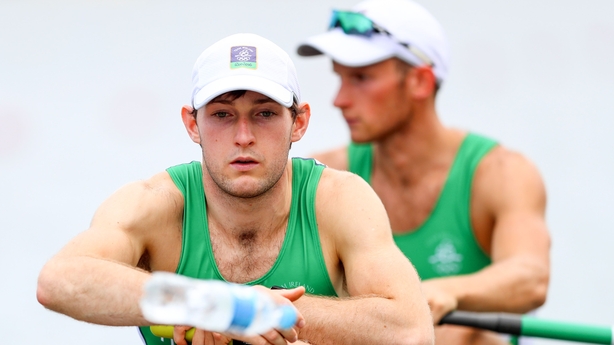 "We set out the plan going into this race and it fell perfectly into place for us," Paul told RTÉ Sport.
"We went through the Italians in the last 500. They came back at us a little bit but we had enough in the tank to hold them off.
"We're pretty pleased with that on our Olympic debut. It's looking for the next day hopefully."
As for the infamous conditions, the young Cork men, who are the reigning European champions, were far from flustered.
"We handled it very well. We were almost disappointed we couldn't race yesterday, it would have been a bit of craic," laughed Paul.
Gary added: "We're well used to be a bit of wind. That kind of thing wouldn't faze us at all."