Dan Martin matched Ireland's best-ever Olympic performance in the road race event with a 13th place finish, but claimed riders were "afraid to attack" in a challenging course.
Martin lead out a sprint from his group but was pipped back into 13th place by three-time Tour de France winner Chris Froome in an event won by Belgium's Greg van Avermaet.
His Irish teammate, and cousin, Nicolas Roche, finished in 29th place.
Martin's placing matches Ireland's highest ever in the event, achieved by Ciaran Power in 2004.
Van Avermaet outsprinted Denmark's Jakob Fuglsang alongside the Copacabana beach after a dramatic day of racing.
Italy's Vincenzo Nibali looked primed to win gold but crashed heavily on the final descent of the 237.5km route, leaving Poland's Rafal Majka out on his own.
Majka tried valiantly to hold on but with victory in sight he was caught less than two kilometres from the finish line by Van Avermaet and Fuglsang.
Van Avermaet's powerful sprint told in the final 100 metres as he sped across the line to claim the gold medal, with Majka hanging on for third place.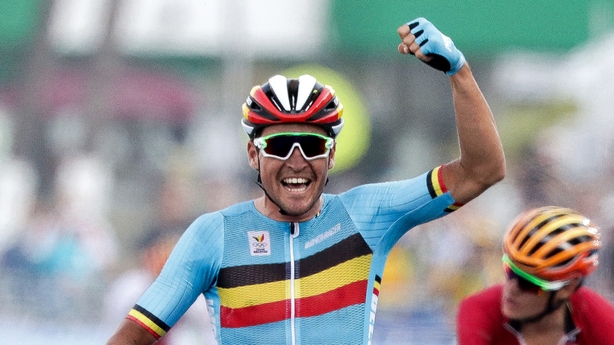 Martin expressed his satisfaction with the progress of Team Ireland after improving on London 2012, he lamented the fact the race was decided by crashes.
"It's a pity when mechanical problems and crashes decide a race," he told RTÉ Sport. "Obviously that's part of sport as well.
"The downhill was quite dangerous. If it was raining I don't think anyone would have finished, there would have been crashes everywhere.
"Fortunately we had good weather, but we still had a lot of guys crashing and you don't want to see that.
"I also think that the course…it was so difficult. I don't know how the race looked on TV, I hope it wasn't boring.
"Guys were afraid to attack because everyone is so exhausted anyway it makes the racing negative."
After a top-10 finish at the Tour de France, Martin and Roche had realistic ambitions of a podium finish, but the 29-year-old admitted that he wasn't at his best on the climbs
"It was a wearing down process, I just lacked that little bit on the climb. You lose a wheel and your race is gone.
"It shows how far we [Team Ireland] have come. For a nation like Ireland to be coming in with two guys who can medal, it shows the ambition."
Roche echoed the sentiments of his cousin and admitted he lacked the power to make a stronger challenge.
"Both myself and Dan came in with high ambitions. I think the course was a bit of a surprise," he said.
"The course and racing were harder than what a lot of people expected. We raced pretty well, but a mechanical happened at a bad place, and on a circuit that's hard it's non-forgiving.
"My legs were strong but it took a lot of energy to get back to the front.
"It's great to say my legs were strong but the thing with the Olympics is it is about results. Thing is today I came to give a bit more; I thought I was maybe going to be able to so I'm disappointed after the finish. These things happen."