With merely hours to go before the start of the Rio 2016 Olympic Games, there's no better time to look at where our boxers have come from and what they've had to go through to get to Rio, writes Darren O'Neill.
The success of our boxers over the last decade, especially in Beijing and London, inevitably means the pressure is on them to bring home the medals. 
This team of eight will be Ireland's largest ever representation of boxers at the Olympics and though the boxers range in age from 20 to 30, even our youngest member comes with a depth of experience and each will be hoping Rio brings their dreams to life. 
With the International Boxing Association (AIBA) bringing in the new semi-professional and professional sections under their umbrella, along with the traditional form of qualification, getting to the Olympic finals has become a very complicated process and each of our boxers had to go through their own various routes. 
PADDY BARNES - 49kg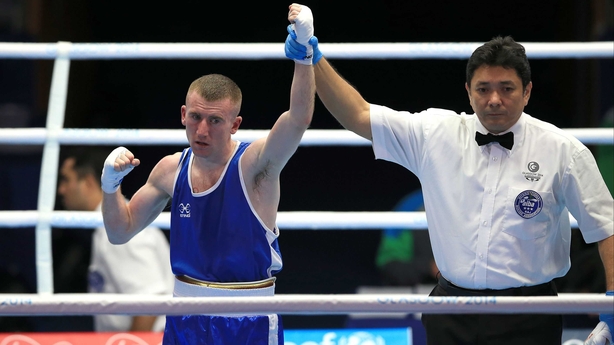 As team captain, Paddy Barnes is an Olympic veteran who will be competing in his third Games with two bronze medals already to his name. From the famed Holy Family club in Belfast, Paddy will carry the flag at the opening ceremony for Ireland. To qualify for Rio, Paddy went through a hectic 16 weeks of WSB action that involved travelling from Italy, Poland and Venezuela entailing seven successful fights. At 29 years of age, Paddy aspires to be a World and Olympic champion and claims his motivation for success is the hope of providing a good life for his partner Mari and child Eireann.
BRENDAN IRVINE - 52kg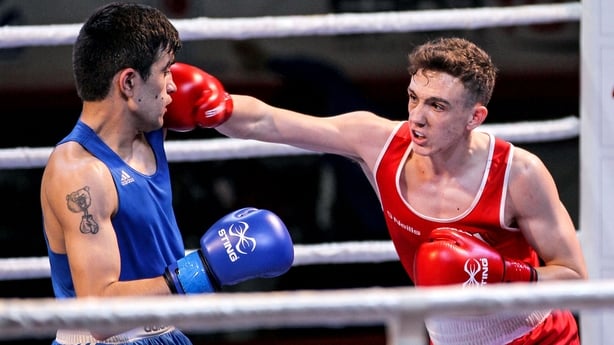 As the youngest member of the team, not long gone 20, 'Wee Rooster' is the least experienced of the team having just ventured into the senior category last year. Despite his tender years, Brendy has still managed to bag himself a major medal at last year's Inaugural European Games in Baku. From the St. Paul's Boxing Club in Belfast, he qualified for Rio in April's European qualifier, coming back from a rocky start to seal his place on the team. A big family man, Brendan takes inspiration and support from his mother and will be hoping Rio will be his first successful Olympics - indeed he hopes to repeat the feat in four years' time in Tokyo.
MICHAEL CONLAN - 56kg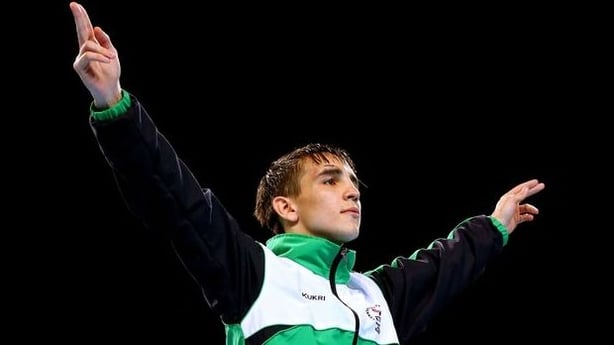 As reigning European and World champion Michael has no no secret of his hopes for Rio - to complete the set and add the Olympic gold medal to his bronze from four years ago. Like Paddy, Michael came through a gruelling WSB regime last year to claim his spot in Rio. However, Michael's official qualifying spot was eventually awarded to him as a result of winning his World gold in Doha last year, having done enough in both sections to qualify. He is supported and trained by his father John.
DAVID OLIVER JOYCE - 60kg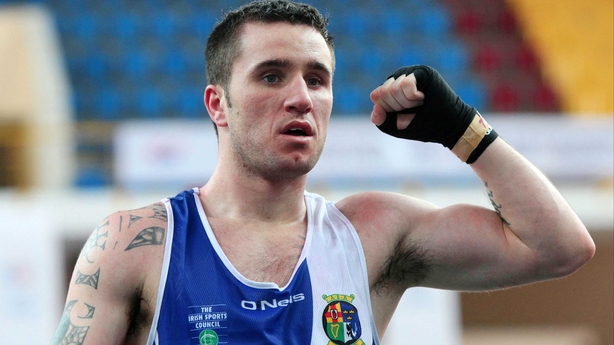 At 29 years of age, David Oliver Joyce is a stadium favourite and one the entire boxing community were delighted to see qualify. From Mullingar, but boxing for Athy BC, Davy eventually qualified for an Olympics after three cycles. A successful international for over a decade, with three European Union gold medals, he suffered the cruellest of fates in hoping to make the London Olympics where - with 10 seconds remaining in his qualifying bout - the referee issued Davy a public warning, awarding his opponent two points in a fight he lost by just one to miss out on qualification. Deciding to give the Games one more attempt, Davy entered the professional APB section and narrowly missed out on qualification. Set back again, Davy had to re-enter the AOB section and after beating European Games medallist Sean McComb in an enthralling National final. David Oliver then entered the Turkish European Qualifier in April. Following another controversial semi-final loss, Davy's fate was questioned again when he was then given the daunting task of facing off against local Turkish boxer Volkan Gokcek for his spot at the Olympic Games. After a decade supported by his wife and kids, he came through the gruesome and captivating fight to finally seal his place and add Olympian to his list of achievements.
STEVEN DONNELLY - 69kg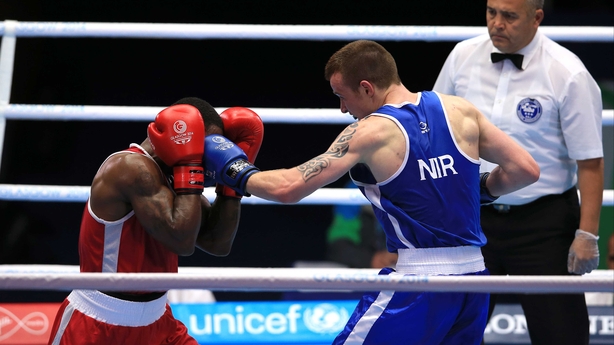 At 27 years of age, the Ballymena welterweight has had a strange and complicated qualification for the Rio Games. National champion in 2014, Steven won bronze at the Commonwealth Games and entered himself in the 2015 WSB series for the Polish Hussars. Finishing fourth in his group, with only two qualifying spots and having won five of his six bouts, Steven then benefited from the complicated qualification criteria put in place by AIBA. As with Michael Conlan, boxers from his group qualified through different routes and this allowed Steven to move up to second in his group and into qualification. In April 2015, Steven considered his qualification chances dead in the water when he finished his WSB season but was unaware of how the summer would unfold and it was not until December that he heard the good news.
MICHAEL O'REILLY - 75kg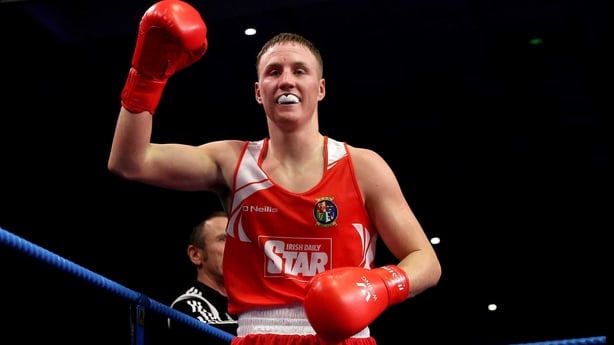 A talented youth boxer, Michael broke into the senior level in 2014 and within a year became European Games champion and World bronze medallist. From Portlaoise BC, Michael could be deemed very unlucky not to have qualified in Doha at the World Championships last year, losing a controversial decision in the third place box-off. He again suffered disappointment in the European Qualifier in April with a surprising loss to Finland's Ilari Kijala. At his final attempt, Michael travelled to Azerbaijan where he eventually won gold and guaranteed his qualification by beating the local Azerbaijani boxer Shinebayor Narmandakh.
JOE WARD - 81kg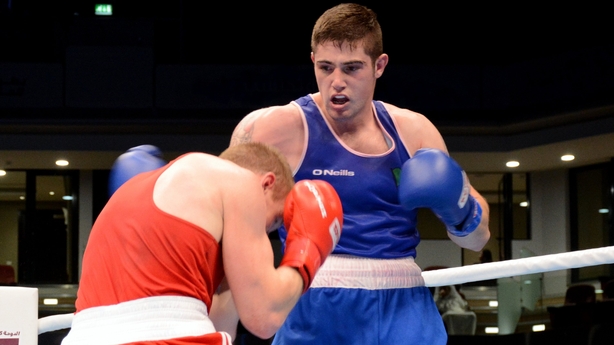 Highly decorated at all age levels, Joe Ward burst onto the senior stage at just 17 years of age when he defeated Kenneth Egan. In his first year he won European gold but was surprisingly beaten for a place in the London Olympics on two separate occasions. Since then Joe has managed another European gold, but was again surprisingly defeated in the APB ranks while aspiring to qualify for Rio. Like his cousin David Oliver Joyce, Joe reverted back to the AOB competition and in securing World silver in Doha last year, adding to his previous World bronze, Joe finally secured his place in the Olympic Games.
KATIE TAYLOR - 60kg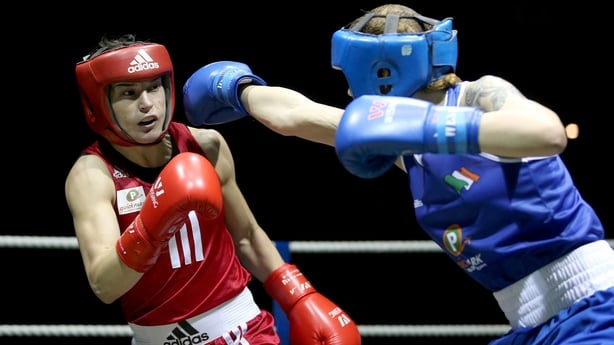 Well! Six times European Champion, five times World Champion, European Games Champion and, of course, reigning Olympic Champion - what more can be said about the country's golden girl? For starters, the landscape of female boxing seems to have changed in 2016, especially for our star. In this year's European qualifiers Katie tasted defeat for the first time in many years at the hands of Azerbaijan's Yana Alekseevna. To add to her woes, Katie's loss was added to a little over a month later when for the first time in 11 years Katie felt defeat in the World Championships in losing to France's Estelle Mossely. Katie's only consolation was securing Olympic qualification in winning a World bronze medal, which affords her the chance to defend her Olympic title against her two successors.