The International Olympic Committee's refusal to ban Russia from the Rio Games was widely condemned on Sunday.
Despite calls for Russia to be thrown out of the Games for running a state-directed doping programme, the IOC's executive board opted against a blanket ban and asked each sport to vet proposed Russian competitors individually.
Under-fire IOC president Thomas Bach announced the result of his board's emergency meeting in a hastily-arranged teleconference.
It was swiftly criticised by United States Anti-Doping Agency (USADA) chief executive Travis Tygart, who said the IOC had missed a chance to assert its leadership and left behind "a confusing mess".
Canadian Dick Pound, the former president of the World Anti Doping Agency (WADA), said on CNN that the IOC had a "huge opportunity to make a statement" which had been "squandered".
"In response to the most important moment for clean athletes and the integrity of the Olympic Games, the IOC has refused to take decisive leadership." - Travis Tygart
The United Kingdom's sports minister Tracey Crouch said that "the scale of the evidence in the McLaren report arguably pointed to the need for stronger sanctions rather than leaving it to the international federations at this late stage".
Athletics, the Olympics' largest sport, has already vetted Russian competitors, with only one US-based Russian now likely to take part in Rio's track and field programme.
But Tygart, who led the investigation that brought down disgraced cyclist Lance Armstrong, believes the IOC should be taking responsibility for clean sport.
"Disappointingly, in response to the most important moment for clean athletes and the integrity of the Olympic Games, the IOC has refused to take decisive leadership," said Tygart.
"The decision regarding Russian participation and the confusing mess left in its wake is a significant blow to the rights of clean athletes."
USADA was one of many anti-doping bodies, including WADA, that wanted IOC-level action against Russia.
Tygart fears the other 27 federations that govern sports in the summer programme will not have the time or resources to do what the International Association of Athletics Federations (IAAF) spent months planning.
With Rio's opening ceremony less than two weeks away, the IOC's decision means each sport will have to make an "individual analysis" of every Russian competitor, which will then be subject to approval by an "independent arbitrator" from the Court of Arbitration for Sport (CAS).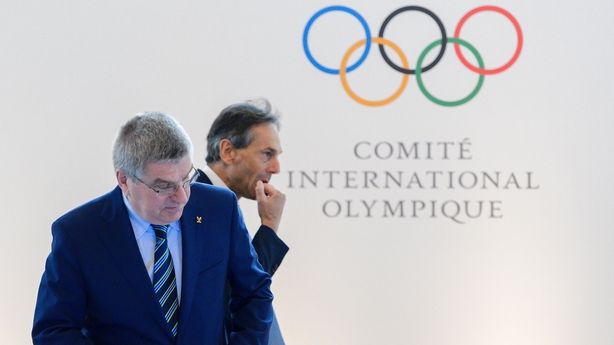 Tygart described this as a "glaring conflict of interest" and at odds with recent IOC statements that anti-doping should be independent of sports.
Earlier this month, USADA proposed selection criteria to WADA that it could suggest for each sport to follow.
The criteria included a minimum number of out-of-competition tests carried out by a credible agency over the last year and proof that each athlete had been tested for the full range of performance-enhancing drugs.
With many wondering how that can be done for the nearly 400 athletes Russia hopes to bring to Rio, IAAF president Lord Coe has offered his federation's help.
"We have created and been through the process," said Coe, referring to his sport's decision last month to uphold its ban of the Russian athletics team. "We know how hard it is emotionally and rationally to get the process right."
How many sports will take up Coe's offer, though, is uncertain, particularly as a number of past officials of the IAAF were shown to have been complicit in the cover-up of positive drug tests.
The International Tennis Federation has already said the players nominated for Rio by the Russian Olympic Committee have been subject to a total of 205 blood and urine tests since 2014, and will be allowed to play.
We need your consent to load this rte-player contentWe use rte-player to manage extra content that can set cookies on your device and collect data about your activity. Please review their details and accept them to load the content.Manage Preferences

Cycling's world governing body may follow suit, with president Brian Cookson saying it would be "difficult for us to ban an entire team".
Bach (pictured above on the left) has consistently argued against collective punishments in recent months, despite more information emerging about the scale of the cheating and the state's central role in it.
In defence of his board's decision, Bach said: "We have reversed the presumption of innocence for Russian athletes, making them assume collective responsibility.
"But natural justice requires that individuals have the chance to rebut this reversal. So we have set the bar by establishing strict criteria that every Russian will have to fulfil.
"We have balanced the desire for collective responsibility against the right for individual justice."
But Bach, a trained lawyer, has perhaps created more uncertainty with the decision to block Russia from proposing any athlete who has served a ban before.
This has already been challenged, most notably in 2011 when CAS ruled against the IOC's so-called Osaka Rule that said any athlete banned for six months or more automatically missed the next Games.
Russians have poured scorn on the idea of American athletes with histories of drug suspensions, such as Justin Gatlin and Tyson Gay, being allowed to compete while Russians with similar pasts are barred from Rio.
One athlete who may consider fighting the 'double punishment' is 800m runner Yuliya Stepanova, one of only two Russians to be cleared to compete by the IAAF who finds herself banned again by the IOC.
Stepanova and her anti-doping expert husband, who were forced to flee Russia and now live in the US, were the first two whistle-blowers to inform WADA and western journalists about Russia's cheating, but she has served a two-year doping ban.
"Today the IOC showed a balanced approach." - Russian sports minister Vitaly Mutko
Bach said the IOC was "expressing its gratitude" to Stepanova by inviting her and her husband to Rio as guests.
But Tygart voiced the feelings of many when he said: "The decision to refuse her entry is incomprehensible and will undoubtedly deter whistle-blowers from coming forward."
Without them, Pound would not have started his 2015 investigation into Russian doping in athletics and Canadian law professor Richard McLaren's more recent probe into the 2014 Winter Olympics and wider doping conspiracy would have been impossible.
For Russia, the IOC's compromise was probably the best they could have hoped for.
"Today the IOC showed a balanced approach," Russian sports minister Vitaly Mutko said on Sky News.
"An objective decision has been made as regards our country - it's a just and fair decision and we hope every federation will take the same kind of decision.
"Doping is a worldwide evil, not only of Russia. I am sure the national team will show good results at the Olympic Games and we will do everything to support them."