Olympic swimmer Shane Ryan says he's fully committed to the Irish cause and intends to return to competing for Swim Ireland when he finishes his time in college in the US.
The Penn State student is one of three Irish swimmers heading for Rio in the coming days but had been the subject of some negative feedback after transferring allegiance from the American team last year.
Ryan's first outing in an Irish cap came in May's European Championships after his eligibility was processed by governing body Fina, and while he will still race for Penn State next season, he insists his long-term ambitions lie with Ireland.
"Yeah, 100%. I can't swim for Ireland at NCAAs, so anything Penn State want me to do I will do for them, but once I'm finished with school it's Ireland 100%," Ryan told RTÉ Sport.
"I'm really happy to be here with Ireland. They're two good countries, but I chose this one and I'm happy.
"I'm getting really excited and itching to get going. I just want to get (to Rio) and kill it."
Ryan will swim three events at the Games, and admits that while he has the potential to reach a final in his favoured event, the 100m backstroke, a semi-final berth is a more realistic goal, while a change in technique could lead to a surprising performance in his freestyle events.
"When you qualify with an 'A' time you can then swim all your 'B' cuts and I got 'B' cuts in the 100 and 50 free as well," said the 22-year-old, whose father hails from Portarlington in Laois.
"I just put a best time in practice in the 50 free the other day so that's looking really good and also for the 100, because I've changed my stroke for the freestyle and it's looking very strong and very efficient.
"That's going to be a bit surprising and I hope it goes well."
Asked for his Olympic goals, Ryan added: "Semi-final for sure in the 100 back, and even the 100 free and 50 free now. Get out of the heat and move on to the next step and then go from there.
"Honestly the way I'm swimming now I probably can [make a final]."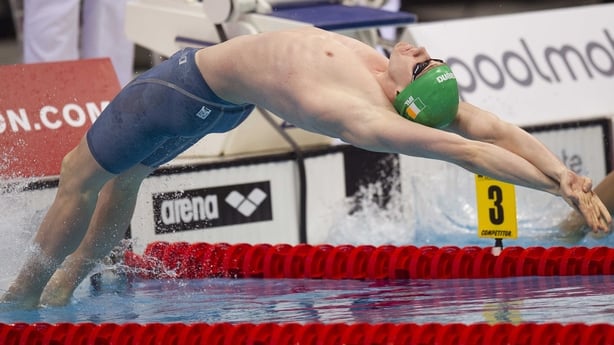 With just three swimmers qualified for Rio, Ryan acknowledges the huge difference between the strength of Irish swimming relative to the US set-up but insisted the future was bright.
Praising Swim Ireland's High Performance efforts, Ryan said: "It's great, the only thing it's lacking is people; people of my calibre.
"We've got some great swimmers, Brendan Hyland, Brendan Gibbons and Ben Griffin - they are some of the guys I train with who are around my age and are right there with me, but there is just a lack of older guys and quality swimmers.
"You have Conor Ferguson up in Belfast but you need to get somewhere where we are all together and training together, at least once a month or something like that, because that's what's lacking.
"It's hard to be the best when you're training by yourself, you need other people to be pushing you. 
"Over in the States there are so many people swimming compared to here. Ireland's like a small state in the US. It's getting people to do it.
"We have a good amount of young people swimming right now, a really talented group, we just need them to continue. If we do that then Swim Ireland is going to be sending a lot more Olympians than we are now."