Ireland's Yorkshire-born Olympic diving hopeful Oliver Dingley is aiming to create "a whole new legacy" when he takes to the board in Rio.
The 23-year-old will become the first Irish diver in 68 years to compete at a Games in Brazil after booking his seat on the plane with an 11th-placed finish at the FINA Diving World Cup back in February.
Dubliner Eddie Heron, who went to the 1948 Games in London, was the only Irish diver to make an Olympics until Dingley joined him in the history books.
Now Dingley, who won Commonwealth Games bronze for England two years ago before switching allegiances to the country of his grandmother's birth, is ready to fly the flag with pride.
"It's absolutely amazing," he told RTÉ Sport. "Eddie Heron, 68 years ago, he created a legacy, a legacy that's kind of dropped off a little.

"I've been fortunate to join his legacy and hopefully start a whole new legacy. Diving as a whole, it's definitely on the up.
"I think it's captured the imagination of a fair few members of the public. The boxers have already left, the hockey players have left, my housemate (100m swimmer) Shane Ryan goes on Monday.
"It's all becoming very surreal, and real. I go, very soon. I get to go to the opening ceremony, which in my opinion is the biggest show on earth, and I get to walk out in my Irish tracksuit. It's all about the results at the end of the day. I'm looking forward to it."
Heron used to wow the crowds with exhibitions of his diving prowess off the Blackrock Baths well into his late 50s.
The ripples of his feats may have petered out, but Dingley is now on a mission to whip Irish fans into a frenzy this August - even if he knows it will be tough just to find his bearings.
"Diving at the Olympic Games is going to be outside so we have the conditions to factor in," he said.
"It's going to be interesting because obviously the sky is blue, the water is blue, trying to see where you're going when you're spinning - there's so many different challenges.
"It's a one-dive-at-a-time process. It's a very mentally challenging sport as much as it is physical.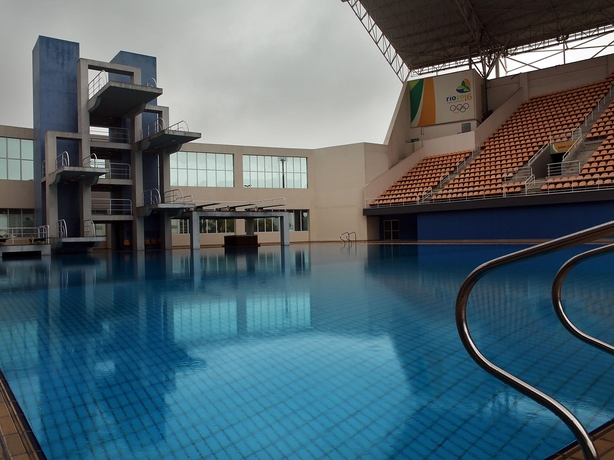 "It's a sport I absolutely love and to be involved in that sport and pushing it in a whole new direction Ireland is amazing. I'm very proud to be at the forefront of that along with my coach."
The host city has received a lot of negative press in the build-up to the summer showpiece.
The Zika virus has led to several high-profile withdrawals - most notably our own golfers Rory McIlroy, Shane Lowry and Graeme McDowell - with organisation and security concerns also casting a long shadow.
Dingley is ready to embrace the experience however, as he looks to return an Irish sporting hero.
"Rio is a fascinating city. I've heard so many different things, so many good things, so many bad things. It's great to form my own opinion. I have plenty of time to acclimatise to my event.
"The top 18 in the world who qualified at the World Cup will be there, with a few additions. I went through in 11th place. If I string six good dives together, do that twice - in the preliminary and semi-final - and I should be in there. You never know what could happen.
"Only a small minority of people are lucky enough to be involved in an Olympic Games, and I'm very proud to be one of them. The whole experience is going to be amazing. I can't wait."