Meet Ireland's sporting odd couple - Oliver Dingley and Shane Ryan.

In many ways Dingley and Ryan couldn't be more different. One born in the north of England, the other on America's east coast, one not much over five foot tall, the other a towering 6' 6".

However both moved to Ireland in pursuit of their Olympic dream and they were thrown together out of necessity.

The pair have put their lives on hold to represent Ireland in Rio and because cash was tight, Swim Ireland put them up in a house near their headquarters on the National Sports Campus (NSC) on Dublin's westside.

The NSC is where city meets the country and their back garden is a farm and a lake.

Their television has four channels and they've gone without an internet connection for the past two months. They also live about a mile from the nearest main road and with neither of them having a car - they rely on bikes, buses and the occasional taxi - they live a simple life.

Thankfully, they hit it off straight away and having put in countless hours of hard work they'll soon be part of Team Ireland at Rio 2016.

"They lock the main gates about 11.0 at night, earlier at the weekends," explained Dingley, a 3m springboard diver born in Harrogate, Yorkshire, who qualifies through his Irish grandmother.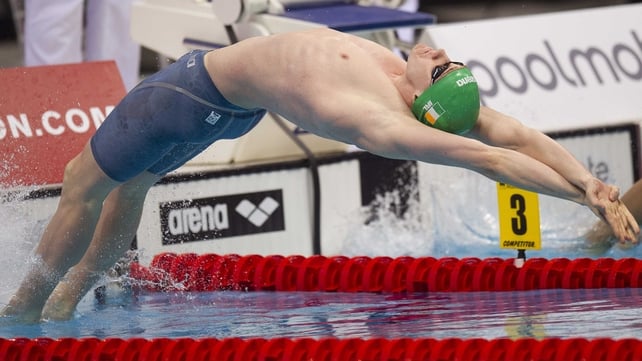 Ryan (above), a 50m backstroke specialist from Havertown in Pennsylvania, chips in: "They lock us in!

"We get badgers out here, some decent sized foxes."

Dingley, Ireland's first diving representative in 68 years, takes up the story from his friend: "Birds of prey as well, they circle over the lake out here. Our wildlife watching is going pretty well!"

Ryan adds smiling: "My friend came over here to work or Google and I was over at her place on Grand Canal and the windows were open. Just to hear people talking on the streets outside, I was like 'oh, my god!'"
"Where I'm from everyone is Irish. I'm from Havertown, Pennsylvania, just outside Philly, and my dad has been in the States for 30 years. He meets my friends and they still can't understand what he's saying - he still has such a thick country accent," he laughs.
"They call our town the 33rd county of Ireland.

"After practice on a Saturday morning I get a lift down to the train station and I go and visit my family in Portarlington. Play a bit of golf, relax and watch movies. 

"My dad is one of 10 and he's the only one who left, so I have nine other of his siblings down there and they're all on the one road. You drive down the road and there's my auntie Colette's, my auntie Mary's, my auntie Lisa's and all the rest of the guys!

"Every time I walk right into the house, go right to the fridge and Colette hates how I'm always eating! It's good because I'm starving right after practice and I have to eat something."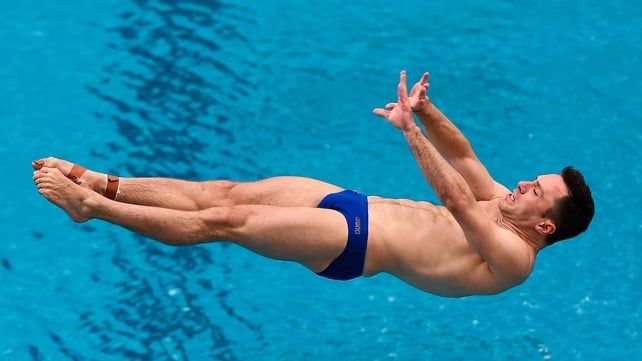 Ryan, who will return to the final year of his degree studies at Penn State straight after the Games, says he always wanted to represent Ireland. The route Dingley (above) has taken been a little more round-about.
They call our town the 33rd county of Ireland - Shane Ryan
He represented England at two Commonwealth Games, winning a bronze in 2014, but being controversially overlooked for the 2012 London Olympics helped push him back towards the country of his ancestors. 
"Everyone seems to be getting on the diving bandwagon, which is exciting, so I've been lucky to get a fair bit of interest from that," said the 23-year-old.
"I read the comments and 95% of everyone has been very welcoming and extremely positive. That's nice. Everyone has welcomed me with open arms and I'm very happy to be part of the Irish community."

Dingley and Ryan will move out of the house after Rio and the only long-term plan they both have is to continue to compete at the highest level, with Tokyo 2020 very much in their sights.
Ahaa now that's a nice looking facial expression 😂😂 #diverproblems pic.twitter.com/7tDpc1t7Xd

— Oliver Dingley (@OliverDingley) May 22, 2016
"I'm definitely out of here!" states Ryan emphatically. "I'll be at Penn State for my last year and my school starts on 22 August so I need to get there pretty quickly. It's very important to me to go to school because there is a life after swimming.

"I'll still be representing Ireland"

Dingley adds: "There's a lot to think about. I still want to train in Ireland, but I want to live my life a little outside the diving pool, have a very good preseason and come back strong for world championships next year in Budapest in the summer. 

"Springboard divers usually peak about 26. I'll be 27 for Tokyo so that's perfect and you never know about another Olympics after that."