Kildare rider Judy Reynolds has been nominated to represent Ireland in dressage at the Rio Olympics, Horse Sport Ireland (HSI) has confirmed.
Reynolds qualified the spot with her horse Vancouver K, with the pair recently setting a national record, and was expected to be put forward.
However, as HSI proved this week these things are far from straightforward when they confirmed Greg Broderick would be filling Ireland's sole show jumping spot at the Games.
Bertram Allen qualified the place and is ranked far higher than Broderick, though was overlooked.
This will be 34-year-old Reynolds' first Olympics - she missed out on London 2012 qualification and turned down the chance to go to Beijing in 2008.
Dressage, a sport which sees riders wearing top hat and tails, is sometimes jokingly referred to as 'horse dancing', a label Reynolds doesn't shy away from.
"When you're trying to get people to understand it, horse dancing is often the best way to give them a quick visual," she said.
"It's a 60 metre by 20 metre arena and there are letters at various points around the perimeter as reference. In the set tests there are 33 moves and every rider knows that when you get to A, you have to do this move, when you're at C it's this move and so on.
"There are five judges around the perimeter giving marks out of ten, which is then converted to a percentage.
"We have to show our horses at three paces - walk, trot and canter."
Two rounds are used to whittle the competition down from 60 to 18 riders for the final, which is a five and-a-half minute test set to music - hence the horse dancing reference.
Vancouver K is owned by Judy Reynolds' parents, Joe and Kathleen Reynolds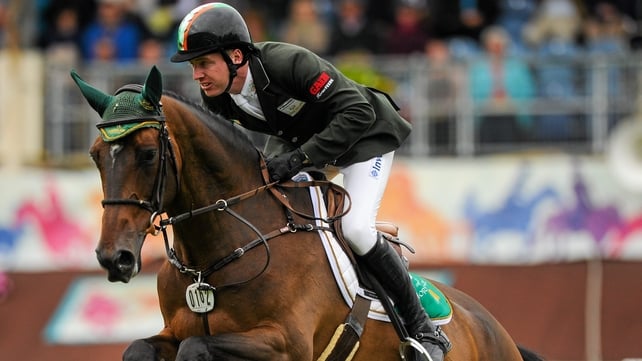 "Judy has continuously gone out and broken Irish records in her bid to secure a place for Ireland at the Rio Olympics," said Kevin McGuinness, Chairman of Horse Sport Ireland's Dressage High Performance Committee.
"In the process she has raised the profile of dressage in Ireland, competing against the best in the world. Judy and Vancouver K will travel to Rio on the strength of some outstanding performances and we wish her every success."
This brings Team Ireland equestrian's representation at the Rio Olympic Games to six athletes and one athlete competing at the Rio Paralympic Games.
They are Broderick (above) in showjumping, Clare Abbott, Jonty Evans, Mark Kyle and Padraig McCarthy on the eventing team, with the Paralympic qualifier to be confirmed shortly.