The Rio Olympics will be a family affair for sailor Annalise Murphy, with her father Con also due to be in Brazil on official duty.
Annalise Murphy is one of Ireland's leading medal contenders, going for gold in the laser class sailing on the famous Guanabara Bay.
Her father Con Murphy, a coach at the 1988 Seoul Games in Korea, has been selected as a race official on the water - though he won't have any input into his daughter's competition.
"It's a pretty big deal for him because only 18 are selected from around the world," explained the 26-year-old. "He won't be involved with me at all, he'll be completely doing his own thing and I'll be no relation to him for the two weeks!
"I guess I mightn't even be able to talk to him when I'm out there. It may be even more restrictive than if he was just there watching because of the conflict of interest and all that kind of stuff.
"It's a pretty big deal for him and I'm delighted that he gets the opportunity to see an Olympics from an official side. My mum and my sister will be there too for family support and cheer everyone on."
Murphy finished fourth in the London Olympics four years ago, just missing out on a medal in a dramatic final race.
Sailing my moth in Dun Laoghaire is something that makes me so happy! #flying #dublinbay #happygirl ?? Cian Guilfoyle pic.twitter.com/po7Qeh3BK2

— Annalise Murphy (@Annalise_Murphy) March 30, 2016
Since then she has lived and breathed sailing as he gets ready for Rio. She has spent time there on eight occasions over the past two years and even went so far as having a boat shipped over there to help her training.
Just recently, along with the rest of the Irish sailing team, she shipped the remainder of her gear to Brazil as the Olympics build-up really shifts into gear. Ahead of the competition, each of the 40 women sailors will be provided with identical, brand new laser boats which they will use.
"I think I actually had more confidence going to London than I do going to Rio," admitted Murphy, speaking to RTÉ Sport.
"I had performed well there in the two years before the Olympics, I had been the bronze medallist in the world cup that year and the year before so I knew I had good form there and I also spent a lot of time training there so I felt really comfortable and familiar with the venue.
"You can't say 'I'm going to get the gold' and have no idea how you're going to actually win it. It's about having processes; we have eleven races so it's about taking it one race at a time." - Annalise Murphy
"With Rio, I have gone out eight times so I have probably spent more time out there than a lot of people I'll be competing against, but it's still quite far away. Conditions are different to home, and it's definitely going to be a different experience.
"I think I'm probably just putting pressure on myself. If you go there worrying about what everyone else is going to think, it's not going to do much for your performance. I am going to go to try and sail my best and do as well as possible.
"Winning a medal is all I have been thinking about for the last four years. If you go there saying 'I'm going to win a medal', you can't just do that because you have to go through the processes to win a medal.
"You can't say 'I'm going to get the gold' and have no idea how you're going to actually win it. It's about having processes; we have eleven races so it's about taking it one race at a time.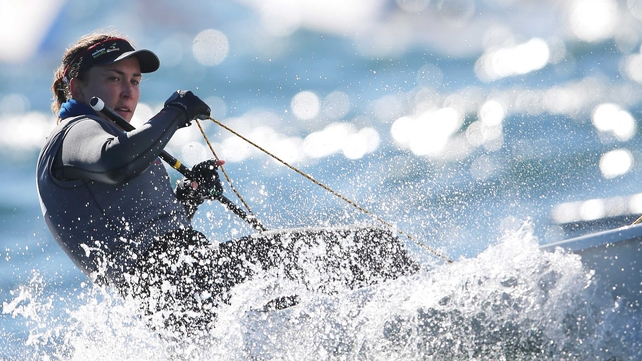 "It's about not getting ahead of myself if things are going really well and if things aren't going well it's about not panicking and thinking it's all over because it's a big series and it's about sailing well consistently throughout the entire week."
As part of her training Murphy likes to cycle in the Wicklow Mountains, which aren't too far from her home in the Dublin suburb of Rathfarnham, and she regularly commutes on two wheels to help beat the traffic.
She has had a number of accidents recently, though thankfully none of them serious and they haven't put her off using her bike.
She feels that it's a risk worth taking, pointing out that she hasn't skied in over ten years even though she loves the sport because she knows the danger of injury on the slopes is simply too great.
Having done so well in London, the Irish public is looking to her to get on the podium in Rio - a fact that she is all to aware of.
Murphy said: "It's just also about not believing the hype about yourself as well. People keep on coming up to me and saying 'you're guaranteed the gold' and you can think 'I can go and chill out for the next few months according to public opinion'!
"It's about knowing that I have to work on what I'm thinking in my head and not getting hyped up about myself after listening to people who don't really know what's going on."