The first time Shannon McCurley put on her Irish team kit and competed for Ireland she had never even set foot in the country.

The 24-year-old track cyclist was brought up by Irish parents, Ann Corcoran from Dublin and Belfast born and bred Neale McCurley, amongst similarly Irish-reared cousins Down Under.

In August she'll become Ireland's first-ever female track cyclist at an Olympic Games.

"When we were growing up we used to spend a lot of time together and we all and Irish accents - when we went to school no one could understand us, but that was beaten out of us pretty quick!" she laughs at the memory.

"My grandparents moved over to Australia around the same time as my parents. My grandad Harry from Belfast is one of the big reasons I declared for Ireland - he always encouraged me."

In 2011, having shown promise in the Aussie underage programme, McCurley declared for Ireland and raced in green at that year's Aussie nationals, where she finished second to Annette Edmondson, who went on to win gold at the London Olympics.
Check out this bike! Shannon McCurley getting ready for the keirin heats #TrackWorlds #TWC2016 pic.twitter.com/RSWoyG8WKD

— Cycling Ireland (@IreCyclingFed) March 3, 2016
The following year she visited Ireland for the first time on her way to the World Under-23s in Portugal, which ended with a third place behind British track star Laura Trott.

"It was amazing to meet all my cousins and aunts and uncles - it was my first time meeting them and it was so good to spend time with them. I've been over heaps of times since," said the first woman to qualify for Ireland in track cycling at an Olympic Games.

"It's hard to stay in shape in Ireland though, everyone's trying to feed me up - the chipper, batch loaf, mmmm…"

She was so active as a youngster - a bit of a head case she says herself - McCurley's classmates used say that she was a cert to compete at the Olympics. "I was just something that people used to say and now it's coming true!" she marvels at how far she has come.

Her road to Rio was far from straightforward though. She grew up as a runner - 800 metres, 1,500 and cross-country - and was in the top five in Australia in her age groups. She tried soccer, netball, and taekwondo too.

At 12 she picked up a nasty knee injury - the surgeon had apparently never seen such wear and tear on such a young joint - and she was advised to get on her bike.

From there McCurley (pictured below, second right, with family members in Australia) tried triathlon, but didn't much like the swimming, so cycling became her thing, starting with road races and criterium on closed roads around towns and cities.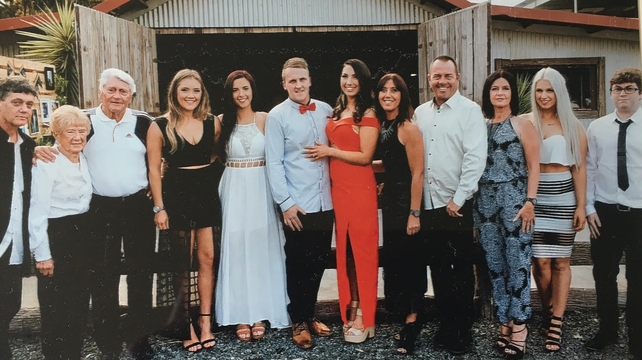 Her best results came after bunch sprints and she realised that her explosive power was best suited to the track.

Brave or foolhardy, she has had lots of accidents, including one that left her with a punctured quad muscle in her thigh. That injury ruled out races that required fast starts out of the gates and that's how she finds herself getting ready for the Keirin (pictured below) at August's Olympic Games.

"It's an eight lap race and the pacer on a motorbike starts off and gets us up to 50k/h over the first five and-a-half laps before pulling off for the last two and-a-half. It's a free-for-all then!" notes a smiling McCurley, who regularly crosses the finishing line at 70k/h-plus.

"It's fast, it's explosive, it's tactical and there's a fair bit of contact between the riders. My coach John Beasley says that I don't think, I react, so the event is good for me. Maybe it's a good thing not being that smart!

"I'm a bit smaller than a lot of the girls so I go for the gaps and try to squeeze through.

"The Tokyo Games in 2020 was always my goal. I didn't exactly expect to qualify for these games. I haven't had the best season; I had an operation to take my appendix out and I've had three crashes.

"I was taken out by a car three weeks before the New Zealand World Cup, I had a crash in Adelaide and another in Germany when I fractured my coccyx. I had two races after that because I needed the world cup points and I have never been in so much pain in all my life!"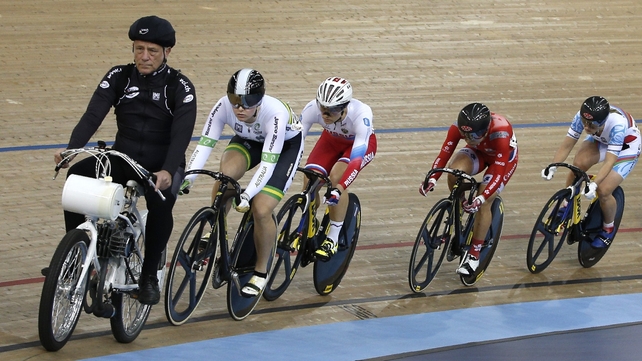 McCurley lives in Gippsland, two hours east of Melbourne. Every morning she trains in a gym near home and them makes the long trip into the city to train at a velodrome - with the return journey three hours because of rush hour traffic - to train with two elite Malaysian cyclists, one male and one female.

Her life at the moment is eat, sleep, train, travel and compete. She still lives at home with her parents and hasn't got the time for a job that would giver her the money to facilitate a move closer to her Melbourne training base.

But she's not complaining. Life is good at the moment and she only has eyes for Rio.

"Realistically I want to qualify for the semi-finals and once you make it that far, you never know," she explained.

"There are heats and then two semi-finals with a total or 12 racers. The top six go into he final and the next six go into a consolation final to sort out seventh to 12th and there's a massive difference there in terms of ranking points. I think that's a realistic goal for me."