By Scott Evans
2012 was a year with plenty of ups-and-downs, but finishing the year like I have, I couldn't have asked for more.
Starting back in January, I remember having a very good Christmas and putting in a lot of physical work to get in as best shape as I could for what I knew would be a very hard five months to finish out the Olympic qualification period.
Over Christmas 2011, I was running every day, and sometimes twice a day, and what I didn't know was that this would be a nightmare in two ways.
Injuries and decent results
I began having huge problems in the mornings when I went training. It was taking me 30-40 minutes before I could do any sort of exercise on court fully as my body was just in agony all over the place.
Secondly, I ended up getting another injection in my foot as the pain from an injury I had had before was back and worse than ever.
I started off the year in Estonia by reaching the semi-finals and had to pull out with an injury in my wrist, which at the time I was worried would cost me a few vital weeks.
Luckily, with a lot of treatment, I was able to play the Swedish Open seven days later and reached a quarter-final there.
These were decent enough results considering how I had been playing over the previous six to eight months. Next up was the Irish Nationals. It's always great to go back and win and that gave me my seventh title in-a-row.
Change of training regime
At this stage I had been training back at the International Badminton Academy in Copenhagen, the place I first trained when I moved to Denmark when I was 17.
This was a big change for me at the time as I had been training there before and left to work with Jim Laugesen and now suddenly after five years I was back there again. I felt I needed to change a bit and at the time this was my only option.
It was very good to train with two friends of mine Christian Lind and Rune Ulsing every day, but after training there for a few months I felt I was not training as well as I normally did. It was tough for me to go from individual training every morning into a group session.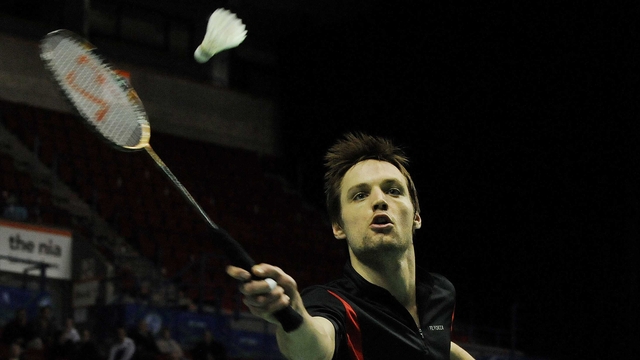 I had previously been only working on things I needed to work on day in and day out, and having the sessions planned around me. Now I was now in a bigger group and sessions were planned around the group which I felt didn't fit well for me.
The quality in my training was going down and my speed and aggressive play was turning into more of a slow running type of game, which wasn't suiting me at all.
It got to April time and I was then mixing my training up having a few days a week with Jim and a few days at the IBA.
It was after the Europeans in April where I decided to go back training with Jim full-time.
A poor Europeans and loss of confidence
I had the worst European Badminton Championship I've ever had. I lost to a player who I have never beaten before, but always felt that this was a player I shouldn't be losing to.
It was a weird kind of feeling as I said to myself: "Well, why aren't you beating him then?"
I had played him twice before and in both those matches I had an absolute nightmare and I guess this time around I felt that I had been training very hard as usual, but also playing well in training right up to the tournament, so I was thinking I had a great chance to win.
I ended up getting killed and playing one of the worst games I have ever played.
This hurt me more than anything. Again I was back in that black hole thinking about my career and what the f**k I was going to do.
It was killing me inside that I was working so hard all the time, but nothing was working for at all; all this was on my mind as well as the fact that I might not qualify for the London Olympics. The next six weeks for me was dreadful.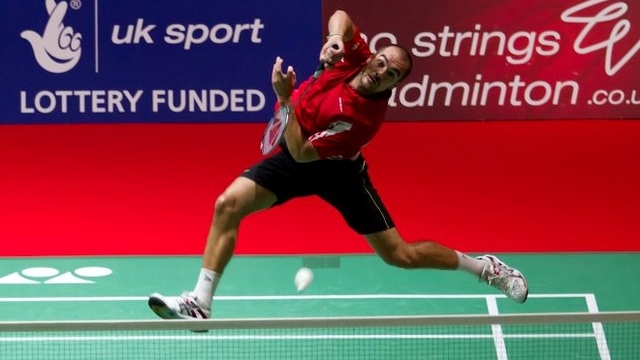 I was struggling to find motivation as I really had just finished the worse year of my career and then the Olympics in August was now in doubt.
I didn't make the first list for qualification which meant I had to wait another four weeks to find out if I would go or not, another horrible four weeks where I had trouble dealing with all these issues. I did feel lucky in a way that I had my coach Jim back helping me.
Coaching proves invaluable
Jim knows me inside out both on-court and off-court and he knew what I needed in training to get my game back and my motivation back. We started back doing things that I enjoyed in training and slowly the positive feelings were coming back.
I got a big boost after two weeks when my agent Derry McVeigh got me in to Paul Byrne's gym in Dublin to get some new ideas for weight training.
Paul is a fantastic person and a man who in my mind can get the fight, motivation and anything else a person is looking for back into their psyche.
He just kills you in the gym and makes it enjoyable. How can that be fun? For a guy like me, there is nothing better in this world than having someone like that to take you in, push you to the absolute maximum and then make you want more when the hour's training is up. Jim was like that as well when things went well between us.
Working with Keith Barry
I got another break while working with Paul in Dublin. The hypnotist Keith Barry works out in the same gym. Anyone who is reading this that doesn't know Keith should go straight onto Youtube and watch some of his videos.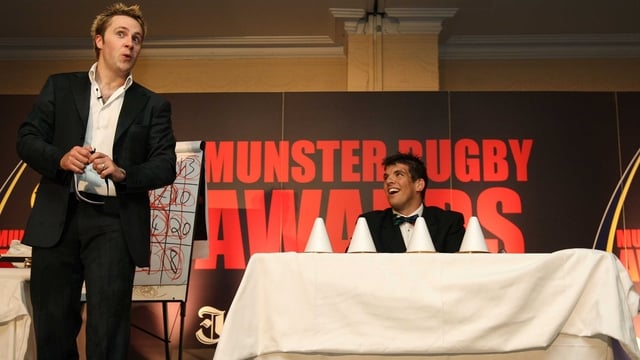 I made the mistake of doing that a few days before meeting him for the first time. The guy is an absolutely genius. I was very nervous meeting Keith for the first time, not because he was famous, but because I knew how good he was and I really hoped that he could help me get back to my old self and get back the fight that I'd been missing since getting a black card last year and facing expulsion from badminton for my behavior and bad language.
We worked together a few times and I had some training to do when I was not in Dublin which I did every day for weeks and weeks.
I was putting a lot of pressure on myself in this area of my training and wanting it to work straight away instead of thinking that these things take time.
Mentality doesn't just change from one day to the next and I can tell you now that October was when all the work with Keith kicked up.
Before talking about that, I of course qualified for my second Olympics; I was unbelievably happy and unbelievably relieved.
There was a point back in November 2011 - when the black card was issued - that I thought my dream of London was over.
But I made the Olympics, and my dream of playing a second Olympics was going to become a reality.
London 2012 and playing Lin Dan
I had a great Olympics. I played Lin Dan in the first round, the Roger Federer of the badminton world, and he put me to the sword.
Some would say it was hard luck on me playing the eventual tournament winner in the first round. But there would have been no better way to start the Olympics than to beat the best ever badminton player in history.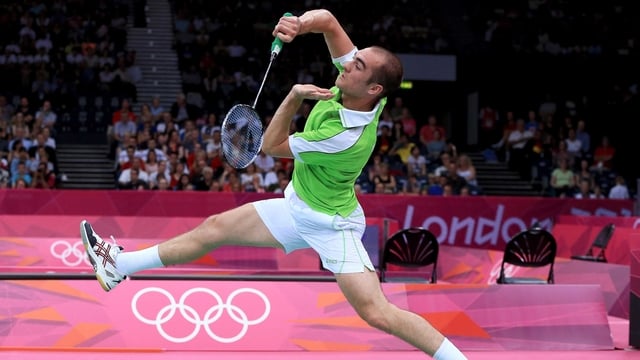 That was not to be though; he is just a level above and I certainly didn't bring my best game on the day.
Ultimately, it was another very disappointing game of badminton and I was back to the black hole again. These words came into my mind yet again: "What am I doing? And what am I going to do?"
The rest of the time in London I had a lot of fun, but only really had one thing on my mind: "Do I stop?" The answer to that question answer came to me very quickly: "No."
The future
I haven't achieved anything close to what I want to with badminton.
And plenty of questions have come into my mind about what the next step is in my career. Where am I going to train? And who is going to train me?
I was no longer going to work with Jim and he is no longer working for Badminton Ireland, which meant if I continued with him, it would be self-funded.
I then made a call to Kenneth Jonassen, the British national coach, about coming over to train with Raj Ouseph, the British No 1, and the other three men's singles players in the Team GB national squad. Since mid-September I have now been there full-time.
This has no doubt been the reason my game had come back again. Of course I have put in all the work to put myself there, but having a new environment and new players to practice with has been brilliant.
Winning the Irish Open
I had three good tournaments in October. Two quarter-final appearances and qualifying for the main event at the Danish Open by beating a former top-15 player and the most recent World Junior champion.
Things where going well and coming up was the biggest tournament for me all year: the Irish Open. I was seeded No 1 and put a lot of pressure on myself to do well in Dublin. Why?
Firstly, I always want to play my best when I play at home. Secondly I knew I had a good chance of winning my first international tournament.
I played well all weekend and finally, after seven failed attempts, I won my first international tournament.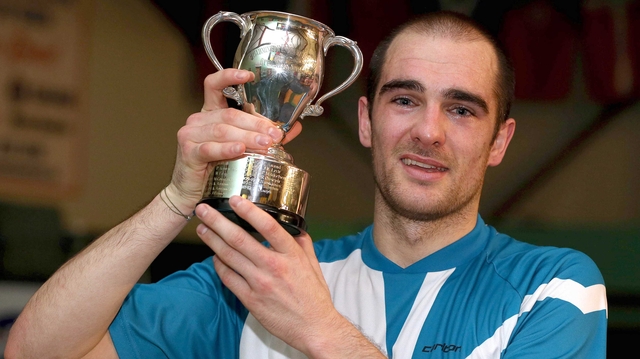 It's hard for me to describe the feelings I had all through that tournament. I still think about it all the time and it's now several weeks ago.
I'm very excited about 2013. I'm going to work harder than ever to keep on improving, as I want to win more and more tournaments