While I probably would have preferred an easier draw in the first round, walking out to face Lin Dan in the Olympics was one of the most amazing experiences of my life.
Although I had played him before, nothing prepared me for the support I received as I walked onto the centre court in front of 6,000 people in London.
When you are an Irishman at the Olympics and are about to face the best player ever to play badminton in the history of the sport, you don't expect 95% of the crowd to be cheering for you.
To be honest, I had prepared mentally for almost every eventuality, but the fact that I might have such enthusiastic support never even entered my head, and it kind of knocked me for six, and possibly affected my game, slightly.
Looking back, I don't feel like I played anywhere near as well as I can.
I had some good rallies and pulled off some good shots against him, but in general I made a lot of errors and tried to win quickly instead of being patient and taking whatever rare chance came up.
He's a fantastic player and he just knocked down everything I threw at him, but trying to play upwards from the net, straight into Lin is not a tactic I'd recommend and sometimes I handed him points on a plate.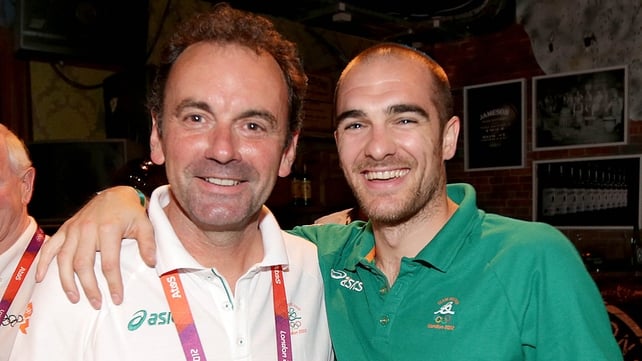 Being part of Team Ireland in London was fantastic and I made some good friends at the Games.
Swimmer Barry Murphy, runner Ciaran O'Lionaird and sailor Scott Flanagan were great guys to experience London with and I'm grateful to have had that opportunity.
I got on very well with the cyclists too, with Dan Martin even inviting me over to his place in Girona to do some training in the future. That's an offer I'm definitely going to take up at some stage.
"I got on very well with the cyclists too, with Dan Martin even inviting me over to his place in Girona to do some training in the future. That's an offer I'm definitely going to take up at some stage" - Scott Evans
After the homecoming reception in the Mansion House, I somehow fell into the role of event manager for the whole Olympic squad and ending up arranging a party for that night.
Everyone had planned to go out to celebrate, but there was nothing officially arranged so that we could all spend the night together, so I was delighted to be able to help.
Thanks to the generosity of 37 Dawson Street and then Copper Face Jacks, we never had to put our hands in our pockets all night and the overwhelming hospitality shown towards us was really appreciated by the whole Olympic team.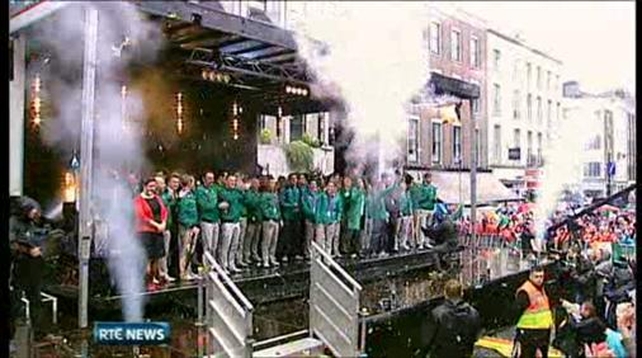 The party was a nice way to close off a good couple of weeks together and let our hair down before getting back to the grindstone of training and competing.
Speaking of training, my next event is - believe it or not - a half-Ironman triathlon in Galway. As part of Keith Duffy's Action Autism team, I will be riding a 90km cycle at the Galway 70.3 event next weekend (2 September).
I've never tried something like this before and I'm really excited about going over there, not least because Rosanna Davidson is my team-mate and will be doing the run.
It's not too often you get a former Miss World running out of a crowd looking for you, so I'm looking forward to the challenge of helping out a fantastic group of people.
A few days later I leave for Asia and the China Masters on 8 September. I'm in the main draw, which is great for my world ranking points and I'm looking forward to some great matches.
The only downside is that I have to pay for the whole trip myself and unfortunately it's back to looking for sponsors if I want to continue playing badminton for the next Olympics.
Thanks to my sponsors for making it possible so far and I hope I can continue getting support as I will need every bit of it to fulfil my dream.
A special mention has to go to Silverhatch Sports, Paul Byrne, ROS Nutrition, Carlton, Hegarty Financial, off-piste, the Irish Sports Council, the Irish Institute of Sport, the Irish Olympic Council and Badminton Ireland.
Thanks to everyone for their support over the last few months, and for all the calls, texts, emails, Facebook messages and tweets.
You have made this experience even more special for me, and if you know anybody that has a few bob burning a hole in their pocket and might be able to help me play a few more world-ranking tournaments in the lead up to Rio, then give me a shout.
Finally I would like to thank RTÉ for giving me the opportunity to do a blog. I hope I can continue doing some to help badminton in Ireland and also my own career.